More than half of the people who bought insurance through new Affordable Care Act Exchanges ("Marketplaces") were previously uninsured, according to a new report by the Kaiser Family Foundation (KFF).
The report provides a snapshot of Marketplace enrollees and offers insight on the changing individual health insurance market.
According to KFF, the Affordable Care Act (ACA) motivated many non-group enrollees to get coverage, with nearly six in ten (57%) Marketplace enrollees previously uninsured. Fourteen percent (14%) were covered by an employer or COBRA, 16% were covered by a different non-group plan, and 9% were covered by a public program.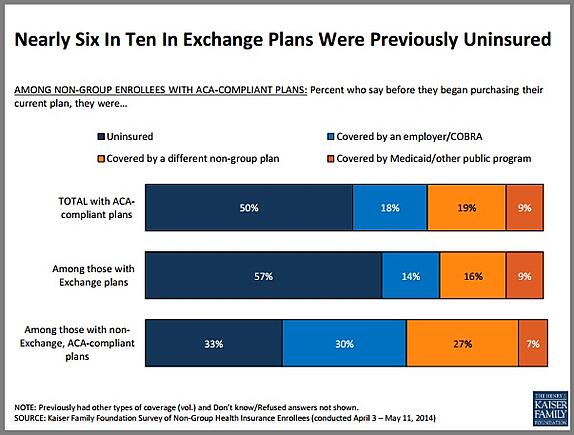 Additionally, the report found that seven in ten (72%) previously uninsured said they got insurance because of the ACA. And, the number one reason the uninsured did not have insurance prior to the ACA was because it was "too expensive".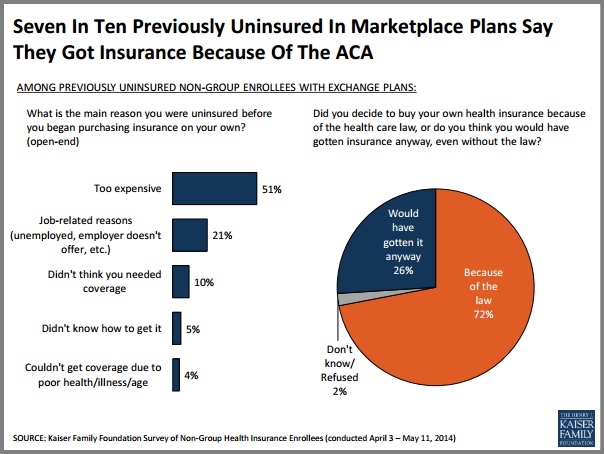 The report also highlighted the following Marketplace enrollee trends:
Enrollees in ACA-compliant plans report somewhat worse health than those in pre-ACA plans.

The majority of enrollees give positive ratings to their new insurance plans and says they are a good value, though four in ten find it difficult to afford their monthly premium.

Among plan switchers, as many report paying less as paying more for their new plans, but survey shows some signs of a trend toward narrower provider networks.

Plan switchers are less likely to be satisfied with plan costs, maybe because half of them report having their previous plan canceled.

Half got help with enrollment; most say the shopping process was easy, but a third say it was difficult to set up a Marketplace account.

In the non-group market, those most likely to feel they have benefited from the ACA are people getting subsidies, those most likely to feel negatively impacted are those who had their plans canceled.
Read the full KFF report here.
About the Report
The Kaiser Family Foundation Survey of Non-Group Health Insurance Enrollees is the first in a series of surveys taking a closer look at the entire non-group market. This first survey was conducted from early April to early May 2014, after the close of the first ACA open enrollment period. It reports the views and experience of all non-group enrollees, including those with coverage obtained both inside and outside the Exchanges, and those who were uninsured prior to the ACA as well as those who had a previous source of coverage (non-group or otherwise).
See related articles: