With the passage of the American Rescue Plan Act of 2021, there's been a lot of talk about the changes made to premium tax credits and lowering health insurance costs. But, what is a tax credit for health insurance, and what do these credits have to do with how much you pay for health insurance?
In this article, we'll cover what premium tax credits are, who qualifies for them, and how to calculate exactly how much you can expect to pay for health insurance premiums:
What are premium tax credits?
Premium tax credits, also known as health insurance premium subsidies, were created by the U.S. government in 2014 to provide discounts for health insurance coverage to eligible individuals and families.
The subsidy was designed to help lower-income Americans buy affordable individual or family health insurance coverage through the health insurance marketplaces, also known as exchanges, created by the Affordable Care Act.
How do you qualify for a premium tax credit?
Up until the American Rescue Plan was put into place, you were considered eligible for a premium tax credit if your household income fell between 100% and 400% of the federal poverty level (between $12,760 and $51,040 if you're single) and if you didn't have affordable coverage through an employer or government program—that includes Medicare and Medicaid.
So how much money can you save with the healthcare tax credit? Your tax credit would cap the cost of health insurance between 2% and 9.5% of your annual household income, depending on how much money you made relative to the FPL.
Fast forward to today, and now all Americans who purchase health insurance under the federal exchanges or state-run markets will pay no more than 8.5% of their household income through the end of 2022.
Here's how the old Affordable Care Act rules compare to what's been put in place by the American Rescue Plan: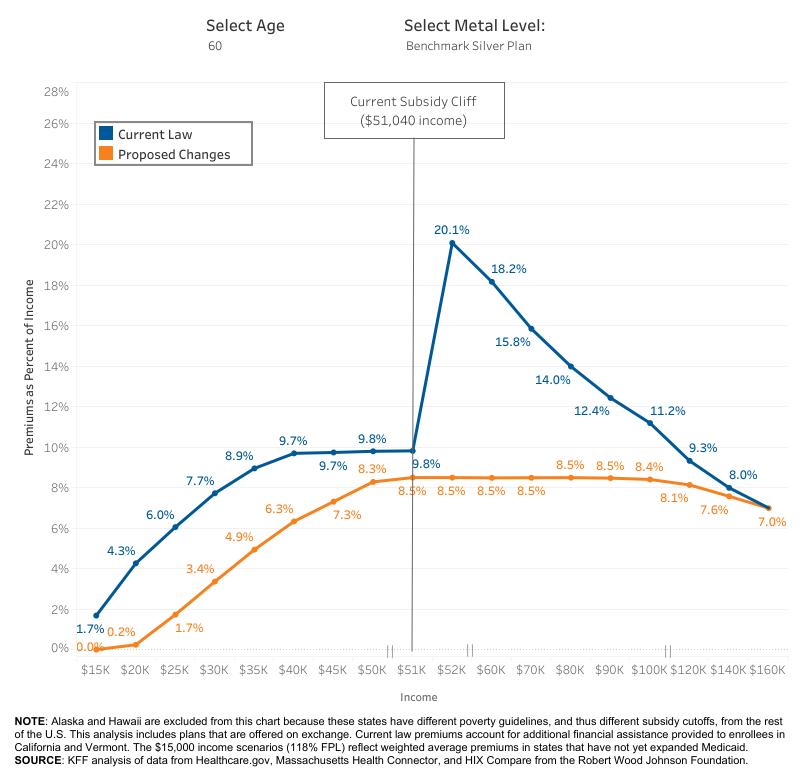 How do I calculate my premium tax credits?
Several online tools are available to help you calculate your premium tax credits, including the Kaiser Family Foundation's Health Insurance Marketplace Calculator.
This tool gives you an estimate on what you will pay for health insurance and how likely you are to be eligible for a premium tax credit based on the personal information you provide.
We'll walk you through how it works.
How to use the health insurance premium and tax credit calculator
First, click here to get to the calculator. Once you're there, you'll enter your basic personal information and click submit when you're finished.
The information you'll enter includes:
State
Zip code
Household income
Whether or not you have job-based coverage
Total number of people in your family
Number and ages of adults in your family
Number and ages of children in your family
Whether or not you use tobacco
These are all factors that can affect how much premium tax credit you can claim.
Tip: Be sure to enter all of the information as accurately as possible for the best results, including your household income (which is calculated using MAGI).
Example for a single adult in Arkansas earning $52,000/year
Let's take a look at an example so you can see how it all works.
Here we have a health insurance premium and tax credit estimate for a single adult living in Arkansas, earning $52,000/year.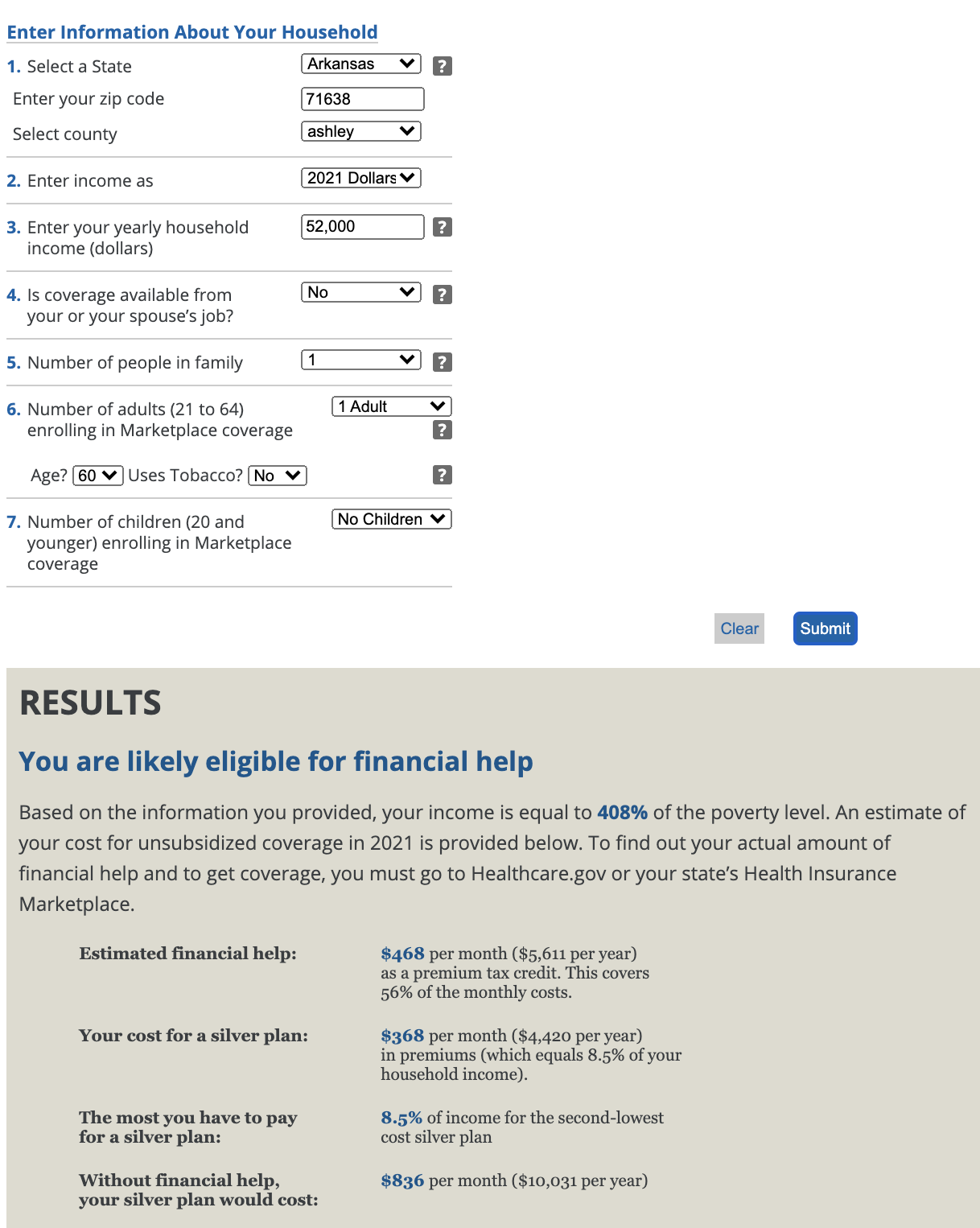 This example shows the difference the American Rescue Plan made in lowering health insurance premiums for Americans on the edge of the subsidy cliff.
Before, a single adult in Arkansas making $52,000 would have barely missed the cutoff for receiving a premium tax credit by less than $1,000, forcing them to pay the full premium of $836/month ($10,031).
Now, a single adult making $52,000 would qualify to receive a premium tax credit of $468/month ($5,611/year) and pay only $368/month ($4,420/year) for a silver plan.
Example for a family of three in Utah earning $70,000/year
Here's a look at a health insurance premium and tax credit estimate for a family of three living in Utah earning $70,000/year.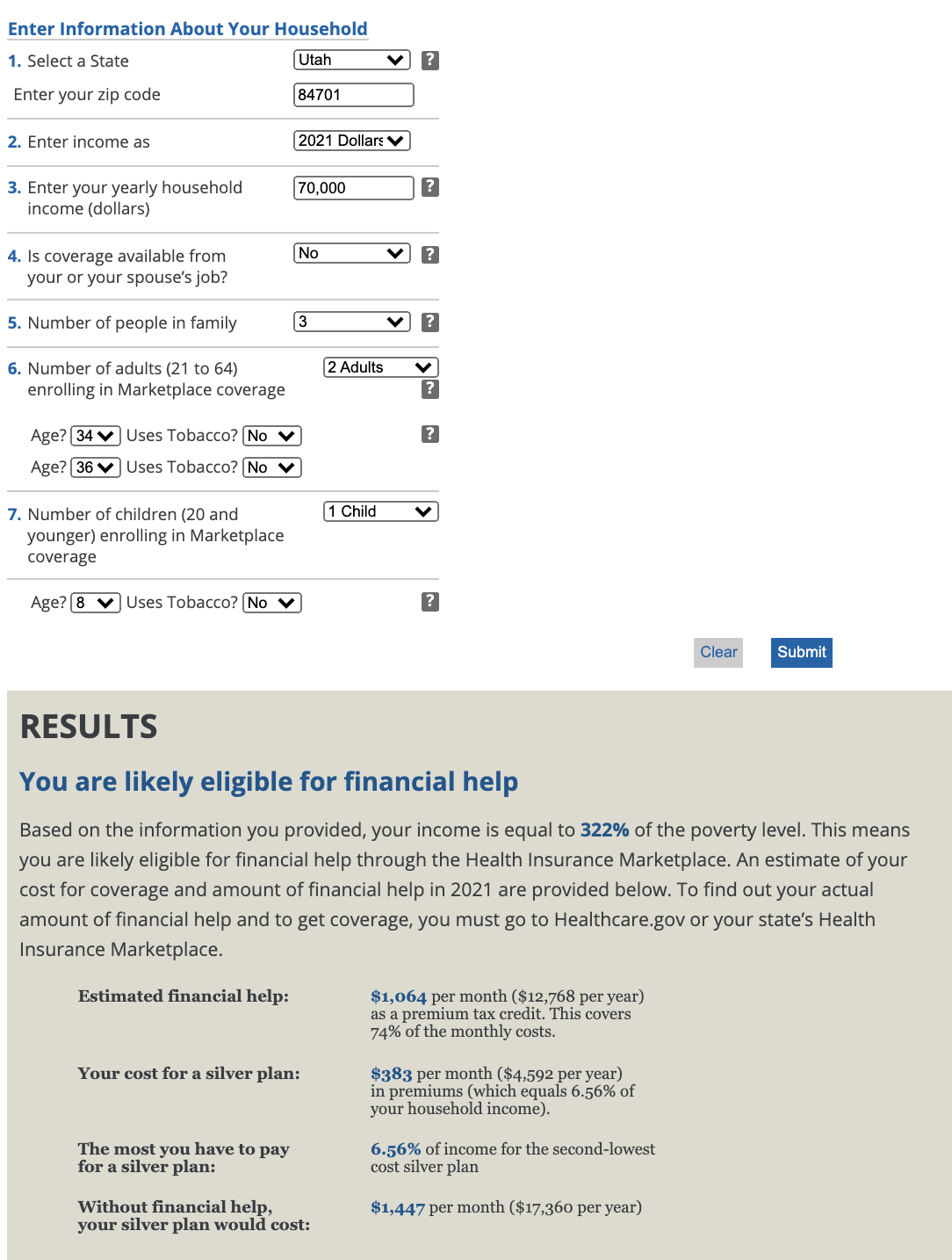 In this example, the family would pay about $383/month ($4,592/year) for a silver plan, receiving a premium tax credit of $1,064/month ($12,768/year). Without financial help, the silver plan would be $1,447/month ($17,360/year).
If you qualify for a tax credit, using it can be a great idea for lowering your monthly healthcare costs.
How do I access the premium tax credits?
You may be wondering, does the premium tax credit work with any type of insurance? No; to receive your premium tax credit, you must purchase health insurance through the federal marketplace, healthcare.gov, or your state's marketplace.
You can purchase a qualified health plan during your state's open enrollment period. Otherwise, you can only get health coverage during a special enrollment period (SEP).
Most states have a website where you can view and compare policies, enroll in a plan, and receive the premium tax credit. A licensed health insurance broker is a great resource for help selecting a health plan. Look up your state marketplace here.
Does the premium tax credit have to be paid back?
If you receive premium tax credits, you don't have to pay the credit back during tax time. But, you can also use what's called the Advance Premium Tax Credit (APTC) to lower your marketplace coverage monthly premium.
If you've taken more premium tax credit in advance than you actually receive, you have to pay that excess amount back to the Internal Revenue Service (IRS) on your income tax return.
How do you reconcile APTC with the actual premium tax credit on your return? You'll need Form 1065-A and Form 8962 for your tax return. Once filled out, you'll see the amount that will affect your refund for the tax year.
How do I coordinate premium tax credits with HRAs?
Health reimbursement arrangements (HRAs) allow employers to reimburse employees for individual health insurance policies tax-free. Employees can choose their own health plan, and their employer reimburses them for premiums and other qualifying medical expenses up to their monthly allowance.
This gives employees more freedom to choose than group health insurance while saving employers money. But what about employees with premium tax credits? How can they take advantage of an HRA?
Because HRA allowances pay for health insurance premiums, employees must account for their allowance and premium tax credits. However, this works differently under each type of HRA.
With a qualified small employer HRA> (QSEHRA), employees can keep their health coverage tax credit and participate in the QSEHRA. However, employees must reduce their premium tax credit by the amount of their QSEHRA allowance, and they don't have the option to opt out.
If your employer offers an individual coverage HRA (ICHRA), you must choose between the ICHRA or your premium tax credits. You can waive your subsidy altogether if your ICHRA is considered affordable. But, if it's not considered affordable, then you can opt out of the ICHRA and continue to collect your premium tax credits.
Watch our video to learn how to coordinate a premium tax credit with HRAs.
How do you coordinate premium tax credits with stipends?
There's another option for employers looking to offer a health coverage benefit to employees who have premium tax credits, and that's through stipends.
Healthcare stipends are taxable allowances provided to employees to cover health-related costs, including insurance premiums and out-of-pocket expenses. Some stipends are offered up-front like a bonus, while others are paid through reimbursements, much like an HRA.
Because stipends are taxable non-wage income, they can be offered to employees who receive premium tax credits. This allows employees to participate in their employer's benefits package while still taking advantage of their tax credits.
Just keep in mind that employees will be responsible for paying income taxes on their stipend.
Conclusion
Premium tax credits can be a valuable way to lower the cost of your health insurance premiums, especially for low-income families. With the passage of the American Rescue Plan, it's now easier than ever to get affordable coverage you and your family need to stay safe and healthy.
Are you interested in offering an HRA or healthcare stipend to your employees? PeopleKeep can help!
Our WorkPerks benefit administration software allows you to easily offer a taxable health stipend to your employees. From setting up employee classes to choosing a monthly allowance, WorkPerks is completely customizable to your organization's needs.
Connect with a personalized benefits advisor today to see how HRAs and stipends can fit your business!
This blog article was originally published on November 17, 2014. It was last updated on February 24, 2022.