Since its inception in 2010, the Affordable Care Act (ACA) was designed to extend health coverage to millions of uninsured Americans. It expanded Medicaid eligibility, created federal and state Marketplaces, prevented insurance companies from denying coverage due to pre-existing conditions, and required plans to cover a list of essential health benefits.
However, a critical aspect of the ACA is how regulations pertain to those who reside in certain states and how that will affect their health insurance options and accessibility.
In this article, we'll provide a general overview on what parts of the ACA will affect everyone and what parts of the ACA will depend on the state you reside in.
Looking for a specific section? Click on a link below!
Is the ACA available in all states?
Prior to the ACA being enacted, the CDC estimated that 48 million Americans were without health insurance. But now the ACA guarantees basic health coverage, making quality health coverage available no matter what state you reside in.
The ACA has three primary goals:
Make affordable health insurance more accessible.
Expand the Medicaid program to cover more adults.
Reduce healthcare-related costs that affect both consumers and the federal government.
To meet these goals, according to the ACA, all states must set up a health insurance exchange, or a health insurance marketplace. And although individual participation is optional, all 50 states must participate in the federal Medicaid program.
How the ACA is the same in every state
Health insurance exchanges are a main way that the ACA functions in all states. Federal and state health insurance exchanges create a competitive marketplace of qualified health plans. Through these health insurance exchanges, individuals, families, and small businesses can register and enroll in a health insurance plan.
Before 2017, the ACA required most people to obtain health insurance or pay a penalty. This was known as the individual mandate. However, starting in 2019, that requirement was repealed.
In every state, the health insurance exchanges must offer premium tax credits to those who meet certain income requirements. The eligibility requirements for the subsidies are the same from state to state.
All plans, regardless of state, will fall into one of four plan categories: Bronze, Silver, Gold, or Platinum. These four 'metal plans' adhere to a price structure that matches their coverage rates.

Source: GetHealthInsurance
Generally, bronze and silver plans are best suited for young, relatively healthy individuals who don't make frequent doctor visits, while gold and platinum plans are the best option for individuals with more medical needs.
All insurance plans offered through the health insurance exchanges will cover a set of ten essential health benefits and will qualify as minimum essential coverage(MEC). Health insurance companies are only allowed to vary premium rates based on age, region, and tobacco use. Under the ACA, insurance companies can't refuse you coverage or charge you more if you have a pre-existing condition.
The annual open enrollment period to enroll or change health insurance plans is the same for all states using the federal marketplace on healthcare.gov. This period is typically from the beginning of November through mid-December. The only time you can shop for health insurance outside of open enrollment is if you qualify for a special enrollment period during the year. State marketplaces can differ for enrollment periods.
How the ACA varies by state
Even with all of these similarities, each person's health insurance experience will differ depending on which state they live in. Here are three key differences of the ACA state-to-state:
1. How the health insurance exchange is run
Each state has the option to design their own exchange, partner with the federal government, or default to the federally-run exchange.
If your state uses the federal exchange model, then the exchange website for employees, employers, and brokers is healthcare.gov. If your state is running its own health insurance exchange, it will have its own website where you can purchase insurance.
Before you shop for insurance, check out our state-to-state guide to open enrollment
2. Medicaid expansion
Under the ACA, you can qualify for Medicaid based on income, household size, disability, family status, and other factors. During the initial proposal, the ACA attempted to implement Medicaid expansion to the entire population earning at or under 138% of the federal poverty level (FPL).
However, after 2012, it was decided that each state wouldn't be required to participate in the Medicaid expansion. In states that have expanded Medicaid coverage, you can qualify for Medicaid if your household income is below 133% of the federal poverty level.
If your state hasn't expanded Medicaid, your household income is less than the federal poverty level, and you don't qualify for Medicaid under your state's rules, you won't qualify for Medicaid coverage. Currently, 39 states have adopted the Medicaid expansion plan.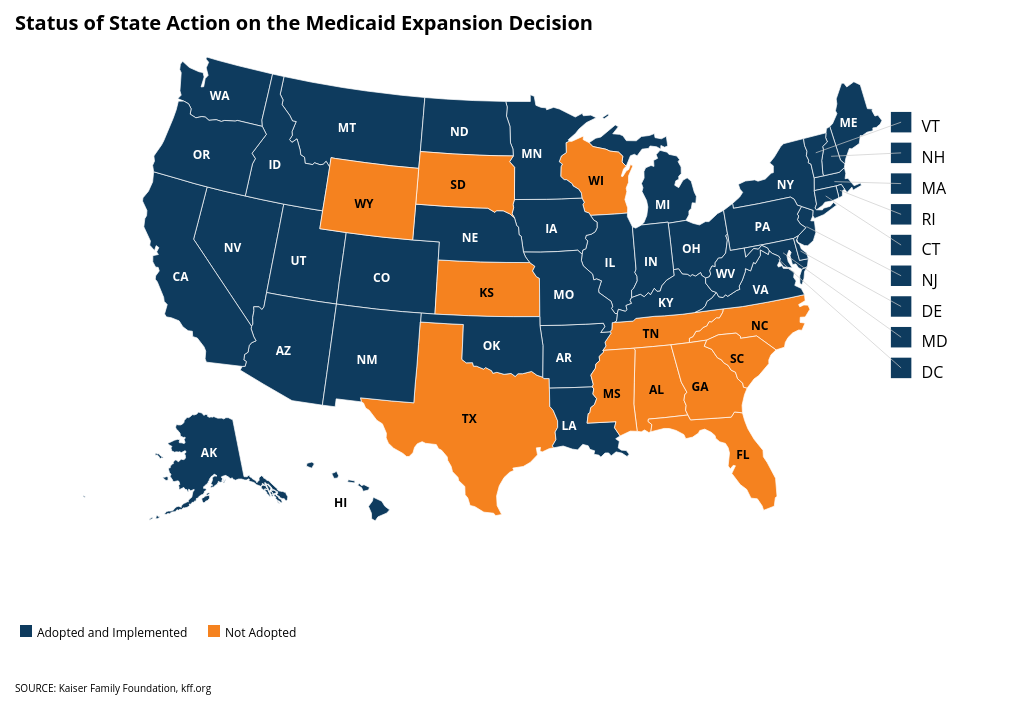 Source: Kaiser Family Foundation
3. Health plan availability and cost
The availability and cost of health plans also vary by state. This is because each state has their own exchange, as well as different regional populations and demographics, varying the state's providers and number of plans.
The prices of plans will differ depending on which state you live in and even which region of your state you live in. Factors will include your age, location, and health plan selection.
Many states have sample health insurance exchange rates available, and all states will have final health plan rates available for comparison during enrollment.
Conclusion
The ACA set out to ensure more Americans were insured regardless of their income or the state of their health. Americans lacking health insurance has dropped by almost 50% since its inception. However, premium costs, Medicaid accessibility, and plan availability may differ from state to state.
When considering health insurance, it's important to know how your state ranks against the rest of the country in terms of cost and access to care. Through careful research, you'll have a greater understanding of where each state stands and how regulations in your state impact the overall health of its residents.
This article was originally published on September 23, 2013. It was last updated December 3, 2021.