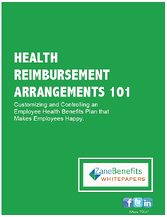 New HRA Whitepaper provides Insurance Professionals, CPAs and Small Businesses with Employee Benefits Ideas

Zane Benefits, which provides small businesses with comprehensive and flexible health reimbursement arrangements, today announced it had published a free white paper named "Health Reimbursement Arrangements (HRAs) 101" to provide insurance professionals, CPAs and small businesses simple ideas on how to offer better health benefits online.
According to the Zane Benefits website, health reimbursement arrangements (HRAs) are the future of health benefits because they provide the basis for defined contribution health benefits. With health care reform taking full effect in 2014, defined contribution health plans are expected to become a mainstream employee benefit.
The whitepaper is available for free download at the zanebenefits.com website and covers the following topics:
• What an HRA is and its advantages
• How to implement an HRA for small business
• The difference between HRAs, FSAs, and HSAs
• How to use HRA Administration Software to offer better health benefits
• Examples of the growing market for HRAs
About Zane Benefits, Inc.
Zane Benefits, Inc, a software company, helps insurance brokers, accountants, and employers take advantage of new defined contribution health benefits and private exchanges via its proprietary SaaS online health benefits software. Zane Benefits does not sell insurance. Using Zane's platform, insurance professionals and accountants offer their clients a defined contribution health plan with multiple individual health insurance options via a private health exchange of their choice. Learn more at http://www.zanebenefits.com.