A common question from both employers and employees when setting up a Health Reimbursement Arrangement (HRA) is about the timing rules of HRA claims and reimbursements. This article answers frequently asked questions (FAQs) from employers and employees about the timing rules with an HRA.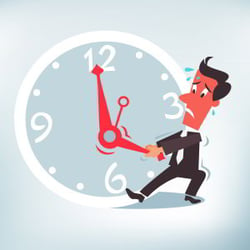 HRA Timing FAQs for Employers
Q) How long do I have to reimburse an employee?
A) Your HRA plan documents will specify how long you have to reimburse an employee for an approved premium or medical expense. Most often, it is 90 days from the date the claim was approved.
Q) When is our HRA plan year?
A) Your HRA Plan documents will specify your plan year, and you'll decide this date range when you set up your HRA.
An HRA plan year acts similarly to insurance or other employee benefits in that it defines certain aspects of the benefit. Typically, HRA plan years last for 12 months, but can be a shorter or longer time period depending on how you set up your HRA. For example, if you set up your HRA in August, your first plan year might be August to December, and then January to December going forward.

Your HRA plan year defines:
HRA allowance amounts (if you offer an annual HRA allowance, employees will receive their HRA allowances on the first day of each plan year).

Any HRA deductible and/or expense maximums (at the start of a new plan year these amounts reset).

When employees can submit your claims for reimbursement (see below).
HRA Timing FAQs for Employees
Q) How long can I wait to submit a medical expense to my HRA?
A) Your HRA plan documents will specify a length of time that you need to submit your HRA claim (your request for reimbursement) and your supporting documentation (invoice, EOB, etc.).
Usually, this is 180 days after the date of service, but it varies by how the employer has set up the HRA (refer to your HRA plan documents).
Tip: The date range is usually from the date of service (such as the date of the doctor visit, or the month of health insurance coverage). This can be different than the date of payment.
Also, HRA claims and documentation for dates of service in a previous plan year must be submitted within 90 days of the close of the previous plan year.
Q) I am making payments on an old medical expense. Can I submit these payments for HRA reimbursement?
A) It will depend on the date of the procedure (the "date of service"), not on the date of the payments. With this in mind, the above timing considerations apply.
Q) I've left the company. Can I still use my HRA funds?
A) Once you've terminated employment, and/or you've terminated participation in the HRA plan, you will have 90 days from your termination date to submit claims for reimbursement (refer to your HRA plan documents to confirm).
Only claims with dates of service, up to and including the date of termination, may be eligible for reimbursement.

The date of service needs to be during the time you were effective in the HRA. Claims for reimbursement with dates of service before your effective date, or after your termination date, are not eligible for reimbursement through your HRA.
Do you have additional questions about HRA timing rules? Let us know in the comments below and we'll be happy to answer them.