Guide to employee benefits and HR rules in Virginia
As a human resources professional or private employer with employees in Virginia, you need to know which employee benefits and policies the Old Dominion requires.
Want to offer personalized benefits that work for your employees no matter where they live? Schedule a free consultation with a personalized benefits advisor.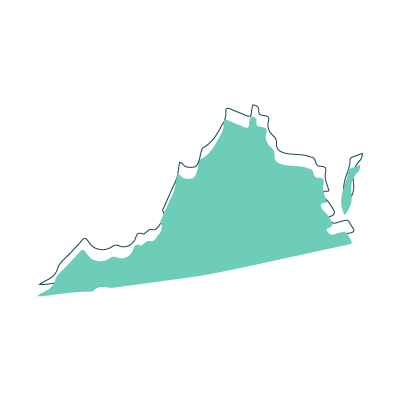 Is your organization compliant with Virginia's employment and HR laws?
If you're based in Virginia or employ workers in Virginia, it's important to familiarize yourself with the state's benefits and HR compliance laws. This guide to HR laws in Virginia will provide a general overview of the laws you need to know.
Topics covered in this guide include:
What are an employee's rights in Virginia?
State and federal laws protect employee rights. If you currently have or plan to hire workers in the state, you must know what rights your employees have.
Some Virginia-specific state rights include:
At-will employment

Virginia employers and employees can end their relationship anytime, for any reason, without notice.

Right-to-work laws

Under Virginia law, an employer isn't allowed to discriminate against an employee based on their membership or non-membership in a labor union or labor organization.

Whistleblower laws

The Virginia Fraud Against Taxpayers Act punishes people who make false claims, misuse state property, or evade payment to the state. Successful claimants can receive 15-30% of the recovery, depending on the involvement of the Virginia Attorney General. Additionally, employers can't retaliate against whistleblowers for filing a claim or helping the state with its own claim.

Employment applications

It's against Virginia law for an employer to ask about expunged criminal charges. A "ban the box" order prohibits questions about criminal history on state job applications, except for certain positions.
Applications must ask if applicants are legally eligible to work in the United States. It's a Class 1 misdemeanor to hire someone not authorized to work in the country.

Equal pay

Virginia's Equal Pay Act prohibits business owners from discriminating on the basis of race, religion, sex, sexual orientation, gender identification or expression, political affiliation, national origin, marital status, veteran status, disability, or age when determining pay.

Weapons in the workplace

In Virginia, there's an exception to the general prohibition on carrying a concealed weapon. It allows individuals who can legally possess a firearm to carry a handgun in their personal vehicle, as long as it's secured in a container or compartment.

However, a Virginia Attorney General opinion about the exception states that an employer can prohibit firearms in vehicles on their premises if there is a company policy or signage.

Immigration verification

Along with Federal I-9 compliance, Virginia requires all state agencies to use E-Verify for new hires.
What are employers required to provide to Virginia employees?
In addition to what federal law requires, Virginia employment law mandates that employers must provide eligible employees with specific employee benefits and accommodations.
Required benefits include:
Retirement plans
Jury duty leave
Family and medical leave
Witness leave
Crime victim leave
Military leave
Sick leave
Other leaves of absence
Workers' compensation insurance
Breastfeeding breaks
Unemployment benefits
Virginia doesn't require the following benefits:
Vacation leave
Holiday leave
Voting leave
Bereavement leave
Severance pay
Parental leave

Virginia doesn't require an employer to offer its employees parental leave. But, under the Virginia Human Rights Act (VHRA), pregnancy is considered a disability, and employers must provide the same leave benefits to pregnant women as they do to other employees with temporary disabilities. The federal Family and Medical Leave Act (FMLA) also requires employers with 50 or more employees to provide up to 12 weeks of unpaid, job-protected leave for specified medical or family reasons under certain circumstances.

Meal breaks

Virginia law only requires a meal break for minors. Employees under 16 can't work for more than five hours without a 30-minute lunch period.

Health insurance benefits
Health insurance coverage in Virginia
Even if you aren't required to provide health insurance to your employees, health benefits are an excellent way to attract and retain top talent, especially in a tight labor market. However, rising premium costs have made it challenging for small and medium-sized businesses to offer traditional group health insurance.
But in Virginia, individual health insurance is cheaper on average than group coverage in every county. The chart below shows the difference in monthly premiums for Virginia's three most populated counties.
| | | | | |
| --- | --- | --- | --- | --- |
| County | Group coverage premium cost for a 27-year-old | Individual silver-level premium cost for a 27-year-old | Group coverage premium cost for a 50-year-old | Individual silver-level premium cost for a 50-year-old |
| Fairfax | $256/month | $214/month | $437/month | $364/month |
| Prince William | $256/month | $214/month | $437/month | $364/month |
| Virginia Beach | $289/month | $246/month | $493/month | $419/month |
Let's go over how you can take advantage of this.
Health reimbursement arrangement (HRA)
A health reimbursement arrangement (HRA) is an IRS-approved, employer-funded health benefit that allows you to reimburse your employees, tax-free, for their individual health coverage premiums and other qualifying medical expenses.
With an HRA, you have complete control over your benefits budget while giving your employees more freedom to choose how they want to use their benefits.
Some HRAs, such as the individual coverage HRA (ICHRA), can satisfy the federal requirements for applicable large employers (ALEs). This allows organizations of all sizes that offer an HRA to save money on their health benefits.
Learn more about each HRA
Health stipend
A health stipend is a fixed sum of money offered to your employees to help pay for their healthcare expenses. A health employee stipend isn't a formal group health plan, so you have complete control over which expenses are eligible for reimbursement.
This makes a health stipend an excellent option for small businesses looking to offer a health benefit that covers costs health insurance or HRAs may not cover, such as mental health expenses.
However, a stipend doesn't satisfy the Affordable Care Act's employer mandate, and all reimbursements are taxable for employers and employees.
Learn all about employee stipends with our ultimate guide
Wage laws in Virginia
There are various federal and state laws you need to consider when it comes to setting employee wages in Virginia.
Minimum wage laws
As of January 2023, Virginia's standard minimum wage is $12 per hour. It will increase to $13.50 per hour in January 2025 and to $15 per hour in January 2026.
Tipped employees
Virginia laws don't regulate tipped minimum wage. Employers can offer tipped positions, but tips and employer contributions must equal at least the regular rate of $12.
Subminimum wage rate
The subminimum wage is the regulated hourly rate for specific categories of workers.
Only two types of workers in Virginia can receive pay below the state minimum wage:
Part-time student workers
Trainees under 20 during the first 90 days of employment
Employers must pay student workers at least 85% of the minimum wage. Employers must pay trainees under 20 at a rate of at least $4.35 for their first 90 days of employment.
Overtime hours
Federal law dictates that non-exempt employees must receive an overtime rate of 1.5 times their regular pay for any hours worked beyond 40 in a single workweek.
Along with federal exemptions, Virginia also enforces overtime restrictions on additional occupations:
Farm workers
Caddies on golf courses
Taxicab drivers
Summer camp workers
Minors under 16
Student workers
Any person who is enrolled in secondary and trade schools
Babysitters who work up to 10 hours per week
Any person employed as a temporary foreign worker
Salespeople
Mechanics
Payment of wages
In Virginia, employers are legally obligated to provide regular compensation to their employees every two weeks.
Final pay
In Virginia, employers must give a final paycheck on or before the scheduled payday to anyone who leaves or is fired. This includes all unpaid wages and benefits.
Recordkeeping
Virginia law requires employers to maintain employee records for three years, including their personal information, wages, and work history.
Child labor standards in Virginia
Child labor laws in Virginia prohibit minors under the age of 14 from working. Minors under 16 need permits and have work-hour restrictions. Employers must keep records that verify the hours per week worked and breaks given to minors under 16. Additionally, there are regulations that outline the particular types of work that are prohibited or restricted for children under the age of 18.
Minors under 18 can't work in the following places or occupations:
Any job with hazards that can cause serious harm or death, such as mining, logging, manufacturing, or explosive storage.
Worksites that manufacture paints, colors, or white lead.
Establishments where the consumption of alcoholic beverages is the main business.
As a driver or helper on a truck or a commercial vehicle with more than two axles.
Other HR rules in Virginia
There are a few other HR rules you need to be aware of in Virginia.
Veteran's preference
In Virginia, employers can give preference to veterans for hiring or promotion-related decisions.
Discrimination
Law

Summary

Virginia Human Rights Act (VHRA)

The VHRA prohibits discrimination on the basis of race, color, religion, sex, pregnancy, age, national origin, disability, or marital status. While the VHRA covers all employers, civil lawsuits can only be brought against employers with five or more employees for unlawful discharge or 15 or more employees for other claims.

Virginians with Disabilities Act

This Act mimics the federal Americans with Disabilities Act of 1990. Employers can't discriminate against individuals with disabilities. They must also provide them with reasonable accommodations. Employers covered by the federal

Rehabilitation Act of 1973

are

exempt

from the Virginians with Disabilities Act.

Safety provisions

Virginia safety provisions

prohibit

employers from terminating or discriminating against employees who report safety or health concerns.
Anti-retaliation provisions
In Virginia, there are specific circumstances where employers can't retaliate against their employees.
These include:
Protection from defamation
Virginia law protects employers from defamation if they disclose factual information about a current or former employee's job performance.
Marijuana use
In 2021, Virginia passed a law decriminalizing the possession of up to one ounce of marijuana for people 21 or older. The law also included strengthened protections for medical marijuana users. Virginia House Bill 1862 states that employers cannot punish or fire employees for using cannabis as long as it doesn't affect their work. However, employers can take action if employees use or possess marijuana during work hours.
No smoking
Smoking isn't allowed in enclosed areas unless exempted by statute according to the Virginia Clean Indoor Air Act.
Drug testing
Virginia allows employers to drug test employees and terminate them if they test positive. State contractors with contracts over $10,000 must also follow drug-free requirements.
Licensed home health organizations and exempt home care organizations must establish drug-free workplaces, including employee testing. They must also report positive results to health regulatory boards.
Employers are not allowed to charge job applicants for their own medical exams, and both prospective employees and current employees must give consent to a test. Also, employers can't force current employees to cover the cost of their own exams.
FAQ
Frequently asked questions
What is the minimum wage in Virginia?
The minimum wage in Virginia is $12 per hour.
Do you have to pay overtime in Virginia?
Yes. Non-exempt employees must receive 1.5 times their regular pay for any hours worked over 40 in a week, according to federal law.
How does someone get an employment certificate in Virginia?
What types of work is someone under 18 not allowed to do in Virginia?
Minors under 18 can't work any job with hazards that can cause serious harm or death, such as mining, logging, manufacturing, or explosive storage. They can't work at sites that manufacture paints, colors, or white lead. They also can't work at bars or as a driver or helper on a truck or commercial vehicles with more than two axles.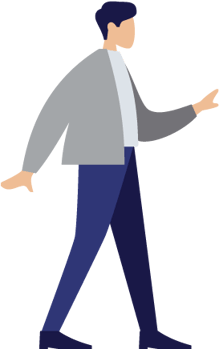 GET IN TOUCH
Looking to enhance your benefits package?
Speak with a PeopleKeep personalized benefits advisor who can help you answer questions and help you select the right benefits package for your team.