Guide to employee benefits and HR rules in Minnesota
As a human resources professional or private employer with employees in Minnesota, you need to know which employee benefits and policies the Land of 10,000 Lakes requires.
Want to offer personalized benefits that work for your employees no matter where they live? Schedule a free consultation with a personalized benefits advisor.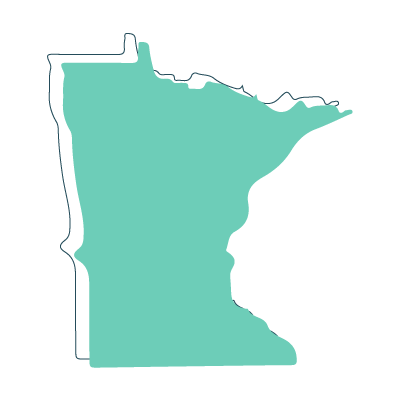 Is your organization compliant with Minnesota's employment and HR laws?
If you're based in Minnesota or employ workers in Minnesota, it's important to familiarize yourself with the state's benefits and HR compliance laws. This guide to HR laws in Minnesota will provide a general overview of the laws you need to know.
Topics covered in this guide include:
What are an employee's rights in Minnesota?
State and federal laws protect employee rights. If you currently have or plan to hire workers in the state, you must know what rights your employees have.
Some Minnesota-specific state rights include:
At-will employment
Right-to-work laws

Minnesota law prevents discrimination against employees based on their membership or non-membership in a labor union or labor organization.

Non-compete agreements

In Minnesota, common law governs non-compete agreements. Courts are cautious about enforcing them, considering both the employer's need for protection and the employee's right to earn a living.

Whistleblower laws

Under the Minnesota Whistleblower Act, employers can't take adverse action against employees employees for reporting illegal activities, participating in investigations, or refusing illegal acts at work.

Equal pay
Weapons in the workplace

What are employers required to provide to Minnesota employees?
In addition to what federal law requires, Minnesota employment law mandates employers to provide eligible employees with specific employee benefits and accommodations.
Required benefits include:
Retirement plans

House Bill HF 782, known as the Minnesota Secure Choice Retirement Program, requires employers to either enroll employees in the Secure Choice Retirement Program or provide another qualifying retirement plan.

Jury duty leave

In Minnesota, it's against the law for employers to interfere with or punish employees for serving on a jury. An employer can't make an employee use their personal leave for jury duty. However, no state law requires employers to pay wages for time spent responding to a jury summons.

Voting leave

On election days, employees can take time off work to vote without losing any pay. This applies to all major elections.

Parental leave

To qualify for parental leave, a full-time employee must complete 12 months of employment with the employer and work at least half of the required hours for a full-time position during the preceding 12-month period.
Adoptive parents get the same amount of leave as biological parents unless the company policy gives more than four weeks' leave to biological parents, in which case adoptive parents get at least four weeks' leave.

Sick time and safe leave

Starting January 1, 2024, Minnesota employers must provide at least one hour of paid earned sick and safe leave (ESSL) for every 30 hours worked to all employees who work at least 80 hours during the year. Employees can earn a maximum of 48 hours of leave annually unless employers agree to more.
Employees can use ESSL for treating personal health conditions, caring for sick family members, domestic violence, school or work closures, care facility closures, weather emergencies, public emergencies, and communicable diseases.

Crime victim leave

Employers must give crime victims and their immediate family members sufficient time off work for court hearings.

Witness leave

An employer must grant a victim or witness who's subpoenaed or requested by the prosecutor to appear in court and provide testimony with reasonable time off from work to attend criminal proceedings related to the victim's case.

Military leave

Employees in Minnesota can take leave for active military duty or during a federally declared emergency. This includes time for recovery from any illness or injury sustained during active duty.

Meal breaks

In Minnesota, employees working eight or more hours must receive a 30-minute meal break, which can be unpaid if they aren't required to do any work.

Rest breaks
Workers' compensation

Minnesota requires workers' compensation for most workers, except for independent contractors and sole proprietors.

Pregnancy accommodations

Minnesota employers must make reasonable accommodations for pregnant employees. This includes:

A temporary transfer to a less strenuous or hazardous position
Temporary leaves of absence
Modifications to work schedule or job assignments
More frequent or longer breaks
Limits on lifting

Breastfeeding breaks

In Minnesota, an employer must give a breastfeeding employee reasonable break times each day for up to 12 months after giving birth. However, if providing these breaks would significantly disrupt the employer's operations, they aren't required to do so. Additionally, the employer can't decrease the employee's pay for the period of time taken to express milk.
The employer should provide a private, secure room near the work area with access to an electrical outlet and be free from intrusion from coworkers and the public.

Unemployment benefits
Minnesota doesn't require the following benefits:
Vacation time

Minnesota doesn't mandate paid vacation for employers, but employers can choose to include it in employment contracts. In that case, employers aren't required to pay for unused vacation upon termination if specified in the employment contract.

Paid family and medical leave

Paid family and medical leave benefits will start for Minnesotans on January 1, 2026.

Holiday leave
Bereavement leave
Severance pay
Health insurance benefits
Health insurance coverage in Minnesota
Even if you aren't required to provide health insurance to your employees, health benefits are an excellent way to attract and retain top talent, especially in a tight labor market. However, rising premium costs have made it challenging for small and medium-sized businesses to offer traditional group health insurance.
In Minnesota, individual health insurance is cheaper than group coverage across most of the state. The chart below shows the difference in monthly premiums for Minnesota's three most populated counties.
| | | | | |
| --- | --- | --- | --- | --- |
| County | Group coverage premium cost for a 27-year-old | Individual silver-level premium cost for a 27-year-old | Group coverage premium cost for a 50-year-old | Individual silver-level premium cost for a 50-year-old |
| Hennepin | $256/month | $214/month | $428/month | $358/month |
| Ramsey | $251/month | $210/month | $428/month | $358/month |
| Dakota | $252/month | $210/month | $493/month | $419/month |
Let's go over how you can take advantage of this.
Health reimbursement arrangement (HRA)
A health reimbursement arrangement (HRA) is an IRS-approved, employer-funded health benefit that allows you to reimburse your employees, tax-free, for their individual health coverage premiums and other qualifying medical expenses.
With an HRA, you have complete control over your benefits budget while giving your employees more freedom to choose how they want to use their benefits.
Some HRAs, such as the individual coverage HRA (ICHRA), can satisfy the federal requirements for applicable large employers (ALEs). This allows organizations of all sizes that offer an HRA to save money on their health benefits.
Learn more about each HRA
Health stipend
A health stipend is a fixed sum of money offered to your employees to help pay for their healthcare expenses. A health employee stipend isn't a formal group health plan, so you have complete control over which expenses are eligible for reimbursement.
This makes a health stipend an excellent option for small businesses looking to offer a health benefit that covers costs health insurance or HRAs may not cover, such as mental health expenses.
However, a stipend doesn't satisfy the Affordable Care Act's employer mandate, and all reimbursements are taxable for employers and employees.
Learn all about employee stipends with our ultimate guide
Wage laws in Minnesota
There are various federal and state laws you need to consider when it comes to setting employee wages in Minnesota.
Minimum wage laws
Minnesota's minimum hourly wage is higher than the federal minimum wage of $7.25 per hour.
| | | |
| --- | --- | --- |
| Provision | Amount as of January 1, 2023 | Amount as of January 1, 2024 |
| Large-employer wage | $10.59 per hour | $10.85 per hour |
| Small-employer wage | $8.63 per hour | $8.85 per hour |
| 90-day training wage (under 20 years of age) | $8.63 per hour | $8.85 per hour |
| Youth wage (under 18 years of age) | $8.63 per hour | $8.85 per hour |
As of January 1, 2023, the minimum wage rate in Minneapolis is $15.19 for franchises and large businesses. Effective July 1, 2023, small employers with 100 or fewer employees must pay an hourly wage of at least $14.50.
In Saint Paul, the minimum wage rate for small employers is $13.00 as of July 1, 2023. Large business owners must pay $15.00.
Tipped employees
In Minnesota, employers can't count tips toward an employee's minimum wage.
Subminimum wage rate
Minnesota allows employers to pay employees with disabilities a subminimum wage with a permit. The wage must be at least 50% of the regular rate unless the employer has a permit from the U.S. Department of Labor to pay less.
Employers can also pay employees under 20 a subminimum wage rate of $8.63 for the first 90 days of employment.
Overtime hours
Typically, if an employee exceeds 48 hours of work, they should receive compensation at a rate of one and a half times their regular pay rate. Certain occupations are exempt from overtime requirements, such as agricultural workers, police and firefighters, and elected officials.
Payment of wages
Employers must pay employees regularly, at least once every 31 days, and commissions at least once every three months.
Final pay
If you fire an employee in Minnesota, they must receive all wages immediately upon written request. If an employee quits, they must receive their pay on the next payday.
Recordkeeping
Minnesota law requires employers to keep records of employee information, including name, address, occupation, rate of pay, amount paid, hours worked, and number of workweeks. Employers must also maintain information the Minnesota Department of Labor and Industry requires.
Employers must keep these records for three years and have them easily available for inspection upon request by the Minnesota Department of Labor and Industry Commissioner.
Child labor standards in Minnesota
According to Minnesota state law, the minimum age for employment is typically 14. However, there are restrictions on the total hours of work, the time of day work can take place, and the type and location of the work for minors.
Additionally, minors under the age of 18 can't work in places deemed hazardous by the U.S. Department of Labor.
Employers in Minnesota need certifications to employ minors. Employment Certificates are for minors under 16 who can work outside of school hours. Age Certificates are optional but useful for keeping track of employees' ages.
Other HR rules in Minnesota
There are a few other HR rules you need to be aware of in Minnesota.
Discrimination
The Minnesota Human Rights Act protects against discrimination or retaliation in employment for people in protected classes. This includes race, religion, disability, national origin, sex, marital status, familial status, age, sexual orientation, and gender identity.
Protection from defamation
Minnesota employers have protection from defamation when they disclose factual information about an employee's job performance.
No smoking
Smoking is prohibited in all indoor Minnesota workplaces.
Marijuana use
The Minnesota Lawful Consumable Products Act prohibits employers from taking disciplinary actions or terminating employees, or refusing to hire applicants, based on their use of lawful consumable products outside of work. Effective August 1, 2023, the new law includes cannabis products as part of the "lawful consumable products" category under the Act.
Drug testing
Minnesota employers can test for drugs and alcohol if they meet specific requirements, such as having a policy, notifying employees, getting acknowledgment, and using a licensed lab.
Employers can drug test job applicants after extending a job offer. An employer can also ask an employee to take a drug or alcohol test once a year as part of a routine physical exam as long as the employee receives two weeks' notice.
Employers can randomly drug test employees in safety-sensitive positions to ensure the safety of others.
Additionally, an employer can ask an employee to take a drug test if they suspect the employee is using drugs or alcohol or has violated the company's policy on drug and alcohol use.
Polygraph testing
In Minnesota, employers can't require or solicit polygraphs or any other tests to determine employee honesty. However, employees can request voluntary tests.
Immigration verification
Beyond Federal I-9 compliance, Minnesota doesn't have any additional employment verification procedures for employers. However, vendors or subcontractors working in the U.S. on behalf of the state of Minnesota under a contract value exceeding $50,000 must use E-Verify.
FAQ
Frequently asked questions
What is the final pay law in Minnesota?
If an employee is fired in Minnesota, they must receive all unpaid wages immediately upon written request. If an employee quits, the employer must pay them by the next payday.
Is there a right-to-work law in Minnesota?
Yes. Under Minnesota's right-to-work law, employers can't discriminate based on labor union membership.
What is the law for breaks at work in Minnesota?
In Minnesota, employees who work eight or more hours are entitled to a 30-minute meal break. They must also receive restroom breaks every four hours.
Can you be fired without warning in Minnesota?
Yes. As an at-will employment state, employers and employees can end their relationship without notice.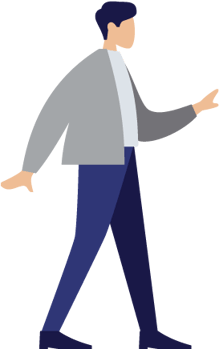 GET IN TOUCH
Looking to enhance your benefits package?
Speak with a PeopleKeep personalized benefits advisor who can help you answer questions and help you select the right benefits package for your team.