Starting in 2014, as part of the Affordable Care Act (ACA), health insurance coverage for individuals and small businesses will become available through new state health insurance exchanges. Most importantly, the key tax credits (e.g. the small business healthcare tax credits) and tax subsidies (e.g. individual health insurance tax subsidies) will only be available for coverage purchased via a state health insurance exchanges.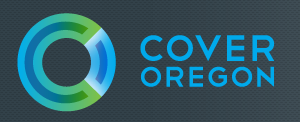 All states have three options for setting up a
state health insurance exchange
for 2014:
Build a State-Based Exchange

Enter into a State-Federal Partnership Exchange

Default to a Federally-Facilitated Exchange
Oregon plans to offer a state-based exchange called Cover Oregon. The Exchange will open in October 2013, for coverage starting January 1, 2013.
Oregon Health Insurance Exchange - What is it?
Cover Oregon (www.coveroregon.com) will be a health insurance marketplace where Oregon individuals and small businesses can shop for health insurance plans and access financial assistance to help pay for coverage. According to the Exchange, the mission of Cover Oregon is "improving the health of all Oregonians by providing health coverage options, increasing access to information, and fostering quality and value in the health care system."
For individuals, Cover Oregon will provide "apples-to-apples" comparisons of health plans, providing a grading system for each plan to make policies easier to compare side by side. According to the Oregon Health Authority the estimated number of uninsured Oregonians in 2011 was 560,000 (14.6%).
For small businesses, Cover Oregon will serve employers with 50 or fewer employees in 2014 and beginning in 2016, up to 100 employees. Oregon's small employers account for more than 50 percent of the private sector jobs in Oregon, but as health care costs continue to increase, only about 34 percent with fewer than 10 employees offer health insurance (Small Business Administration).
Oregon Health Insurance Exchange - How was it Formed?
On June 17, 2011, Governor John Kitzhaber signed SB 99 into law establishing the Oregon Health Insurance Exchange Corporation. That same month, the Governor signed SB 91, which specified requirements of health insurer carriers offering coverage in the state. On March 6, 2012, the legislature passed HB 4164 to approve the final version of the Exchange's business plan. On October 1, 2012, the Exchange announced that its new name would be Cover Oregon. On December 7, 2012, Oregon received conditional approval from the U.S. Department of Health and Human Services (HHS) to establish a state-based exchange.
The legislation defines Oregon's Exchange as a quasi-governmental organization, specifically a "public corporation performing governmental functions and exercising governmental powers."
Oregon Health Insurance Exchange - How Much Will Insurance Cost?
Through Cover Oregon, individuals will be able to purchase policies and access the available individual health insurance tax credits. Cover Oregon provides a calculator on their website to estimate the cost of policies. As an example, a family of three with a household gross income of $47,500 would pay $309/month.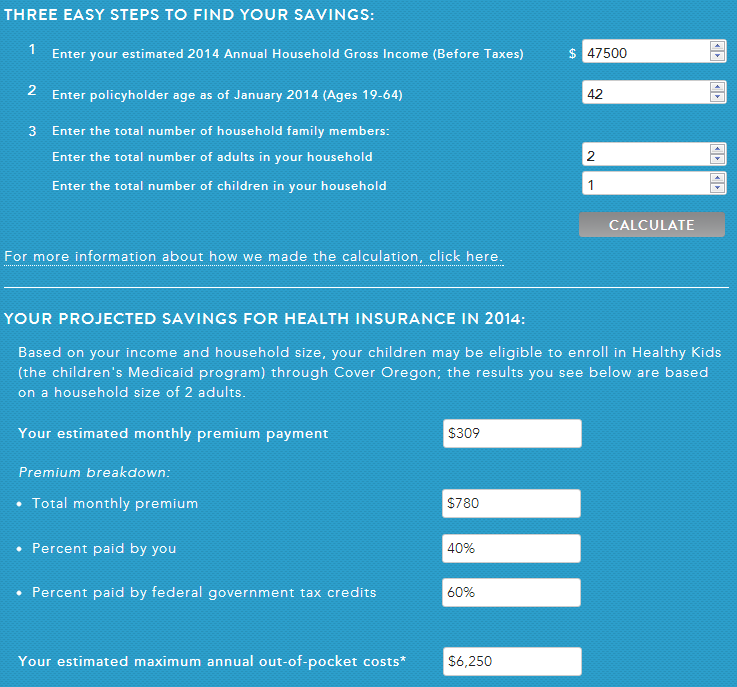 Oregon Health Insurance Exchange - What Plans Will Be Available?
All plans will meet state and federal requirements, such as offering bronze, silver, gold and platinum qualified health plans. On April 2, 2013 the Exchange said that 22 carriers had confirmed intent of providing plans through the Exchange including PacificSource Health Plans, Premier Access Insurance Co., Providence Health Plan and Regence BlueCross BlueShield of Oregon.
Oregon Health Insurance Exchange - Role of Insurance Professionals
According to the Exchange, Cover Oregon will provide the following to health insurance agents and brokers:
Access to secure online eligibility and enrollment system to find affordable health care benefit options for small group and individual clients

Ability to sell plans from all participating carriers

Opportunity to earn commission, administered by Cover Oregon, with secure online access to view and audit statements

Access to book of business management tools
To become a Cover Oregon affiliated agent, Cover Oregon will launch a two-part training program this spring 2013, which will be mandatory for all agents who want to affiliate with Cover Oregon to offer qualified health plans to clients:
Part one: An online, self-paced general overview about Cover Oregon, insurance exchanges, and the Affordable Care Act.

Part two: A full-day, in-person session that includes technical instruction on application assistance and in-depth portal training. Training sessions will be held throughout the state.
Agents and brokers can subscribe for Cover Oregon agent information here.
Oregon Health Insurance Exchange - Enrollment Process
Here's a look at the enrollment process: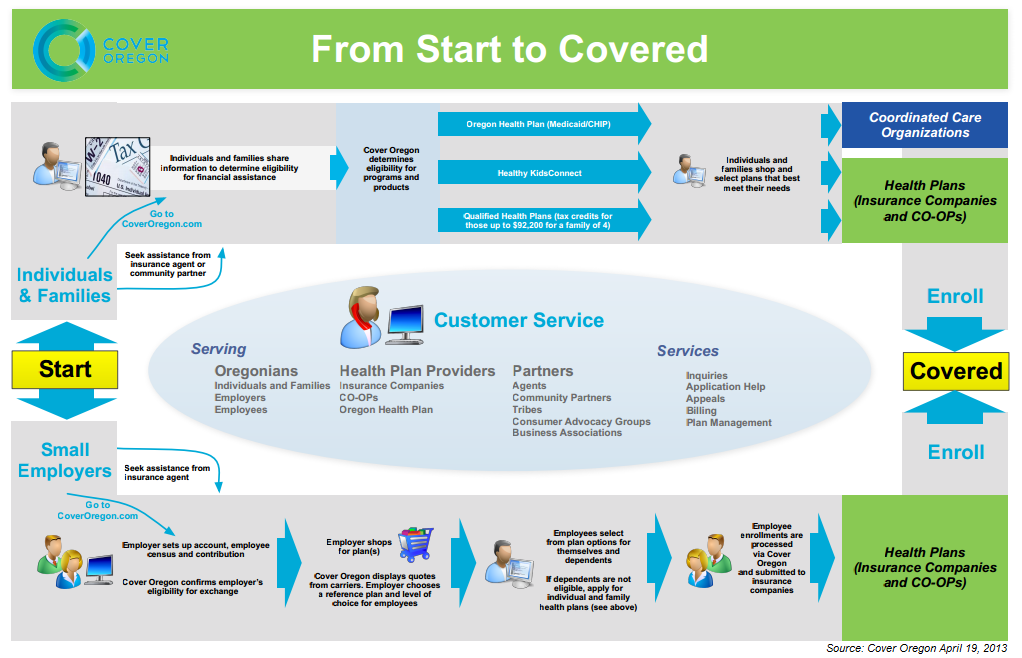 Click here to see full diagram.