Starting in 2014, as part of the Affordable Care Act (ACA), health insurance coverage for individuals and small businesses will become available through new state health insurance exchanges. New York will offer a state-based exchange under the name New York Health Benefit Exchange.
New York Health Insurance Exchange - What is it?
The NY Health Benefit Exchange will be a new online marketplace designed to help NY residents shop for and enroll in health insurance coverage, and access tax subsidies and credits. The NY Health Benefit Exchange will have two programs:
Individual marketplace for individuals and families.

Small businesses "SHOP" exchange (for employers with 50 or under employees in 2014).
Insurance coverage can be purchased through the NY Health Benefit Exchange beginning in October 2013, for coverage effective January 1, 2014.
Today nearly 2.7 million New Yorkers under age 65, about 16%, do not have health insurance
coverage. The Exchange estimates 1 million people will purchase policies through the exchange in 2014, 44% through the SHOP exchange and 56% through the individual exchange.
Here's a look at the Exchange website (healthbenefitexchange.ny.gov):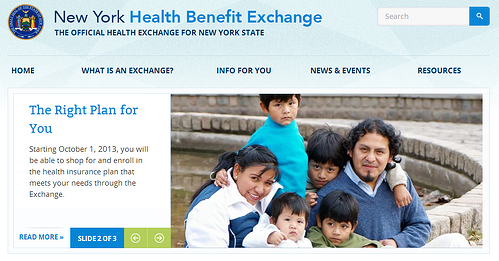 New York Health Insurance Exchange - How was it Formed?
After the New York State legislature failed to pass exchange legislation, Governor Andrew Cuomo signed Executive Order 42 on April 12, 2012, to establish the New York Health Benefit Exchange. The Executive Order establishes the New York Health Benefit Exchange "within the Department of Health" and gives the Exchange authority to work in conjunction with the Department of Financial Services and other agencies to carry out requirements of the Affordable Care Act. On December 14, 2012, New York received conditional approval from the U.S. Department of Health and Human Services (HHS) to establish a state-based exchange.
New York Health Insurance Exchange - Role of Insurance Professionals
On March 22, 2013, the Exchange provided a webinar for agents and brokers outlining their role in the NY Health Benefit Exchange:
Brokers will be a primary distribution channel for small group enrollment in the SHOP.

Brokers will need to be certified to sell products in the Individual Exchange.

Brokers will have the support of a dedicated online portal to facilitate applications and renewals, including a full customer service center.

Commissions will be paid directly from carriers.

Training and certification details will be available mid-summer 2013.
Click here for the full report on the role of producers.
New York Health Insurance Exchange - Role of Navigators
Navigators will provide in-person enrollment assistance to individuals, families, small businesses and their employees who apply for health insurance through the NY Health Benefit Exchange.
Eligible entities include:
Community and consumer-focused nonprofit organizations;

Trade, industry and professional associations;

Commercial fishing industry organizations, ranching and farming organizations;

Chambers of Commerce;

Unions;

Resource partners of the U.S. Small Business Administration;

Licensed agents and brokers who do not receive direct or indirect consideration from health insurers for enrolling individuals, small businesses, or small business employees in health plans or supplementary health plans;

Indian tribes, tribal organizations, urban Indian organizations; and

Other public or private entities that meet the requirements of the Exchange.
Entities that are eligible and interested in becoming Navigators may download information from the NYS Department of Health's public website at www.health.ny.gov/funding.