The U.S. Department of Health and Human Services (HHS) has released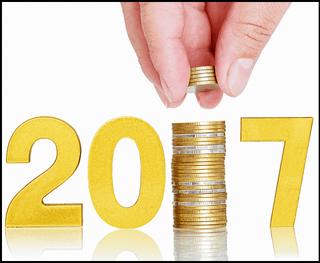 the federal poverty level (FPL) guidelines for 2017. Individuals whose household income falls between 100 and 400 percent of the FPL may be eligible for a premium tax subsidy that can lower their health insurance cost.
What Is the Federal Poverty Level?
Also known as "poverty guidelines," the FPL is used to measure a household's poverty status. Adjusted each year for inflation, the FPL can help determine if a family qualifies for certain government benefits, such as Medicaid, food stamps, or funds for education.
2017 FPL Guidelines: 48 Border States and D.C.
(For households with more than 8 persons, add $4,180 for each additional person.)
| | | | |
| --- | --- | --- | --- |
| Persons in Household | 2017 Federal Poverty Level | Medicaid Eligibility (138% of FPL) | Premium Subsidy Threshold (400% of FPL) |
| 1 | $12,060 | $16,643 | $48,240 |
| 2 | $16,240 | $22,411 | $64,960 |
| 3 | $20,420 | $28,180 | $81,680 |
| 4 | $24,600 | $33,948 | $98,400 |
| 5 | $28,780 | $39,716 | $115,120 |
| 6 | $32,960 | $45,485 | $131,840 |
| 7 | $37,140 | $51,253 | $148,560 |
| 8 | $41,320 | $57,022 | $165,280 |
2017 Federal Poverty Level (FPL) Guidelines - Alaska
(For households with more than 8 persons, add $5,230 for each additional person.)
| | | | |
| --- | --- | --- | --- |
| Persons in Household | 2017 Federal Poverty Level | Medicaid Eligibility (138% of FPL) | Premium Subsidy Threshold (400% of FPL) |
| 1 | $15,060 | $20,783 | $60,240 |
| 2 | $20,290 | $28,000 | $81,160 |
| 3 | $25,520 | $35,218 | $102,080 |
| 4 | $30,750 | $42,435 | $123,000 |
| 5 | $35,980 | $49,652 | $143,920 |
| 6 | $41,210 | $56,870 | $164,840 |
| 7 | $46,440 | $64,087 | $185,760 |
| 8 | $51,670 | $71,305 | $206,680 |
2017 Federal Poverty Level (FPL) Guidelines - Hawaii
(For households with more than 8 persons, add $4,810 for each additional person.)
| | | | |
| --- | --- | --- | --- |
| Persons in Household | 2017 Federal Poverty Level | Medicaid Eligibility (138% of FPL) | Premium Subsidy Threshold (400% of FPL) |
| 1 | $13,860 | $19,127 | $55,440 |
| 2 | $18,670 | $25,765 | $74,680 |
| 3 | $23,480 | $32,402 | $93,920 |
| 4 | $28,290 | $39,040 | $113,160 |
| 5 | $33,100 | $45,678 | $132,400 |
| 6 | $37,910 | $52,316 | $151,640 |
| 7 | $42,720 | $58,954 | $170,880 |
| 8 | $47,530 | $65,591 | $190,120 |