As an owner or HR manager, you don't always have the time to track and analyze decisions around recruiting, hiring, interviewing, and retention. However, understanding return on investment is needed for long-term growth. The good news is, you don't need to love numbers to be able to apply these strategies to your business.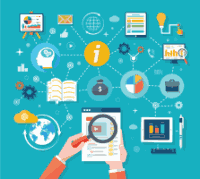 In this article, we'll tackle the importance of tracking HR data and summarize five key data points all small business human resources should track.
Why Track HR Data?
It's easy to skip over tracking key HR metrics. Why is this?
For many, it is because HR activities feel like a necessity, and feel so time sensitive - you have to hire now, you have to fire now, you have to keep employees happy. For others, it's because they don't know what to track, or how.
However, simple measurements and data tracking can help any small business:
Understand the health and stability of your workforce

Track the ROI on your HR expenses

Make informed HR decisions to recruit and retain the best staff

Spend your HR dollars wiser
Many small businesses track only basic HR data such as employee counts, FTE counts, and tenure with the company. This is a good starting point. But, there are five additional calculations that add great value to any small business HR department.
The Basics - What HR Data to Track
As you think about what HR data to track, consider these five data points as a starting point:

1. Employee Retention Rate - Do you know your current employee retention (turnover) rate? Has it gone up or down? Why?

2. Cost of Employee Turnover - Every time an employee quits, how much does it cost your company? If you've implemented retention strategies or benefits, are they working to lower turnover? What is your return on investment?

3. Recruiting Expenses - How much are you spending on recruiting employees? Which methods are attracting the most qualified candidates?


4. Training and Onboarding Expenses - How much are you spending on training and onboarding? How is it effecting your employee retention rate?

5.Current and Historical Compensation Data - Are employees' wages in line with other positions in your industry? Are employees compensated properly for promotions and inflation?

Conclusion
Most small businesses have strong data collection and metrics related to sales, service, and profitability. So why not the same data-driven focus on HR?
With a few simple calculations around employee retention, turnover, recruiting, onboarding, and wages, small businesses can make smarter HR decisions and see the true ROI on recruiting and retention strategies.
Questions? Leave a comment below.