Small business owners know that offering a health benefits package boosts efforts to attract and retain talented employees. And while health benefits are an important safety net for small businesses and employees, the cost and administrative efforts can be overwhelming. This is especially true now, in the midst of numerous health care reform changes.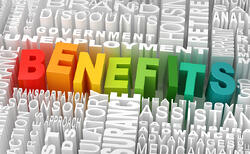 To help make this year's open enrollment a success, here are three health benefits enrollment tips for small businesses.
1. Evaluate current and new small business health insurance options
While many small businesses try to simplify and save money with one plan option, employees have different needs and health benefits are not one-size-fits-all. For example, a fresh-out-of college associate will have different insurance coverage and financial needs than a parent of four.
Work with a health insurance broker to evaluate current and new options that meet both the diverse health needs of employees and your small business's budget. These may include:
Provide employees two or three health plan options to help employees tailor an overall benefits package for their unique situation.

Offer a "pure" defined contribution allowance instead of a traditional small group health plan. With their defined contribution allowance, employees purchase any qualified health plan and are reimbursed by the plan up to the amount of their balance. Employees can work with a broker to enroll in a plan that meets their specific health and financial needs. From a small business perspective, the advantages are complete cost-control and easy administration.

Offer employees voluntary benefits options, such as accident, cancer, life and short-term disability insurance. These voluntary benefits can be employee-paid or a shared contribution.
See these FAQs on small business health insurance in 2014.
2. Take advantage of health reform's premium tax credits
There are two main ways a small business can take advantage of health reform's premium tax credits.
First, if you offer "pure" defined contribution allowances, eligible employees can access the individual premium tax credits to lower their cost of health insurance (and stretch the defined contribution allowances further). To go this route, work with a broker to set up a defined contribution health plan.
Or, if you offer group health insurance and employ 25 or fewer full-time workers, your business may be eligible for the small business health care tax credit. To be eligible, small businesses are required to have 25 or fewer full-time equivalents whose average annual wages are no more than $50,000. As of 2014, the small business tax credit applies only for plans purchased through the SHOP Marketplace. To go this route, work with a broker to assess your eligibility for the tax credit and purchase a group health insurance plan through your state's SHOP Marketplace.
Read more: Pure Defined Contribution vs. SHOP Exchange - Which is Better?
3. Want happy employees? Communication is key
Benefits can be confusing for employees. This is especially true as health care reform changes rules and requirements for small businesses and employees alike. One of the biggest employee enrollment mistakes is choosing the wrong levels of coverage because they don't fully understand their options.
While employees acknowledge these mistakes, they may not be comfortable speaking up and asking for help. Effective communication about health benefits is essential to help employees understand their benefits options and help employees see value in the health benefits you're investing in.
Tips for communicating your small business health benefits:
Communicate with employees year-round about benefits to remind employees of the important health and financial choices available to them. Be sure your communications are easily understandable your employees.

Communicate enrollment details in multiple ways. Remind employees about deadlines via printed fliers, emails, videos, benefits booklets, all-staff meetings, and online tools to help ensure your employees don't miss out on important benefits.
Make enrollment information available to spouses and partners. Spouses of employees are often the decision-makers when it comes to health benefits. In fact, it's estimated that women make 80% of family health care decisions. Make enrollment information available to spouses, and provide resources or contact information to spouses in case they have questions.
What are your health benefit enrollment tips for small businesses? Leave a comment or question below.