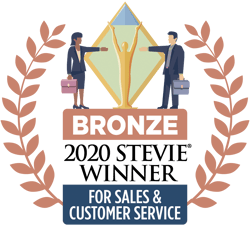 SALT LAKE CITY, UT – February 29, 2020 – PeopleKeep was presented with a bronze Stevie® Award in the customer service category in the 14th annual Stevie Awards for Sales & Customer Service last night.
The Stevie Awards for Sales & Customer Service are the world's top honors for customer service, contact center, business development and sales professionals. The Stevie Awards organizes eight of the world's leading business awards programs, also including the prestigious American Business Awards® and International Business Awards®.
The awards were presented to honorees during a gala banquet on Friday, February 28 at Caesars Palace in Las Vegas, NV. More than 600 executives from the U.S.A. and several other nations attended.
More than 2,600 nominations from organizations in 48 nations of all sizes and in virtually every industry were evaluated in this year's competition. Winners were determined by the average scores of more than 180 professionals worldwide on seven specialized judging committees. Entries were considered in more than 90 categories for customer service and contact center achievements, including Contact Center of the Year, Award for Innovation in Customer Service, and Customer Service Department of the Year; more than 60 categories for sales and business development achievements, ranging from Senior Sales Executive of the Year to Sales Training or Business Development Executive of the Year to Sales Department of the Year; and categories to recognize new products and services and solution providers.
"Receiving this award feels like an affirmation of the specific emphasis we place on the human element of our customer service. We focus on hiring top talent and then give them the autonomy to be themselves, resulting in strong personalized conversations with our customers. We don't have scripts, measure call handling times, or force adherence to strict policies," said Jenn Tomaszewski, Director of Customer Experience at PeopleKeep. "We believe our philosophy creates a more empowered customer service team and amazing experiences for our customers. We're very honored to be recognized."
A judge for the Stevie awards said in their notes, "The PeopleKeep team has chalked out a perfect strategy & are on right way to implementing it to achieve their goals. They are addressing pain points of customers to resolve their concerns with highest quality."
"Stevie Award winners from around the world should be very proud of their achievements. The judges were impressed with the vast range of nominations submitted for 2020 and have agreed that their accomplishments are worthy of public recognition," said Stevie Awards executive chairman, Michael Gallagher.
Details about the Stevie Awards for Sales & Customer Service and the list of Stevie winners in all categories are available at www.StevieAwards.com/sales.
About PeopleKeep
PeopleKeep helps small businesses offer competitive benefits at a price they can afford. Personalized benefits automation software from PeopleKeep allows businesses to manage their benefits in minutes per month. PeopleKeep automates benefits compliance and employee support. Employees receive tax-advantaged reimbursements to pay for health insurance and other medical, dental, and vision expenses. Today more than 3,000 companies across the United States trust PeopleKeep to automate their benefits and keep employees happy.
About The Stevie Awards
Stevie Awards are conferred in eight programs: the Asia-Pacific Stevie Awards, the German Stevie Awards, the Middle East Stevie Awards, The American Business Awards®, The International Business Awards®, the Stevie Awards for Great Employers, the Stevie Awards for Women in Business, and the Stevie Awards for Sales & Customer Service. Stevie Awards competitions receive more than 12,000 entries each year from organizations in more than 70 nations. Honoring organizations of all types and sizes and the people behind them, the Stevies recognize outstanding performances in the workplace worldwide. Learn more about the Stevie Awards at http://www.StevieAwards.com.
Sponsors of the 14th annual Stevie Awards for Sales & Customer Service include HCL Technologies, Sales Partnerships, Inc., and ValueSelling Associates, Inc.
Contact:
Alex Flitton
alex.flitton@peoplekeep.com
peoplekeep.com