On-demand training teaches Insurance and Accounting professionals how to provide Defined Contribution solutions to clients.

Zane Benefits, which provides businesses with comprehensive and flexible defined contribution health benefits and private exchange solutions, today announced it had published a free kit named "Defined Contribution Health Benefits Training Kit for Insurance Professionals and CPAs" to provide insurance and accounting professionals with free training on defined contribution solutions.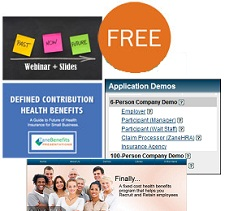 Zane Benefits has worked with insurance and accounting firms of all shapes and sizes over the years. As a result, they've been given a unique glimpse into what challenges they most often face.
According to the Zane Benefits website, employer-based health insurance has evolved. It's no longer just a simple annual renewal. Now, it's defined contribution health benefits and public health insurance exchanges. Defined contribution health benefits can help overcome hurdles like minimum contribution and participation requirements.
The 5-part training kit is available for free download at the zanebenefits.com website and covers the following topics:
• How to retain clients that cancel health benefits
• New ways to generate prospective clients
• How to acquire new clients with defined contribution
• How to help clients that ask for services you don't have
• How to reduce the administrative burden of working with outdated third-party vendors
About Zane Benefits, Inc.
Zane Benefits, Inc, a software company, helps insurance brokers, accountants, and employers take advantage of new defined contribution health benefits and private exchanges via its proprietary SaaS online health benefits software. Zane Benefits does not sell insurance. Using Zane's platform, insurance professionals and accountants offer their clients a defined contribution health plan with multiple individual health insurance options via a private health exchange of their choice. Learn more at http://www.zanebenefits.com.