Employee benefits are defined as a form of compensation paid by employers to employees over and above regular salary or wages. Employee benefits come in many forms and are an important part of the overall compensation package offered to employees.
In this small business "101" article, we'll take a closer look at the definition of employees benefits, discuss different types of employee benefits, and provide examples.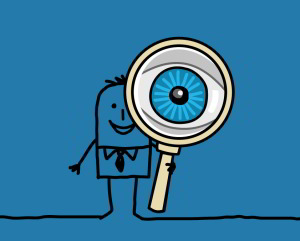 Employee Benefits Definition
Employee benefits are defined as indirect, non-cash, or cash compensation paid to an employee above and beyond regular salary or wages.
Some employee benefits are required by law. For example, employers are required to make payments on employees' behalf for Social Security and Medicare. Employers must also pay for unemployment benefits on employees' behalf.
Other benefits are offered by employers to enhance the compensation provided to employees. Employee benefits such as health insurance, life insurance, paid vacation, and workplace perks are common offerings used to recruit and retain employees.
Related: The Top 5 Types of Employee Benefits
Employee Benefit Examples
Here is a list of popular employee benefits in the U.S.:
Paid time off, such as PTO, sick days, and vacation days

Health insurance

Life insurance

Dental insurance

Vision insurance

Retirement benefits or accounts

Healthcare spending or reimbursement accounts, such as HSAs, FSAs, HRPs, and HRAs

Long term disability insurance

Short term disability insurance

Tuition reimbursement

Childcare benefits

Gym memberships or discounts

Bonuses or incentives

Wellness programs

Relocation assistance

Commuting/travel assistance

Telecommuting options

Workplace perks such as recreational activities, food and coffee, and flexible work schedules
Many of these employee benefits may be provided tax-free. To read more about tax-free fringe benefits, click here.
Ways to Structure Employee Benefits
In addition to the different types of employee benefits, companies must evaluate how to structure the benefit. In general, companies have two different ways to structure, contribute, and offer employee benefits.
1) Organizational-oriented Benefits: Employee benefits structured in the traditional way that are generally employer-owned and employer-selected. Examples include a traditional health insurance policy, retirement pension or 401(k), or formal wellness program.
2) Consumer-oriented Benefits: Employee benefits structured to focus on the end-user (the employee) as an individual consumer. With this approach, each employee uses employer-funded dollars to customize their benefits using technology.
To help clarify these definitions, here is a chart showing examples of common employee benefits using these two approaches.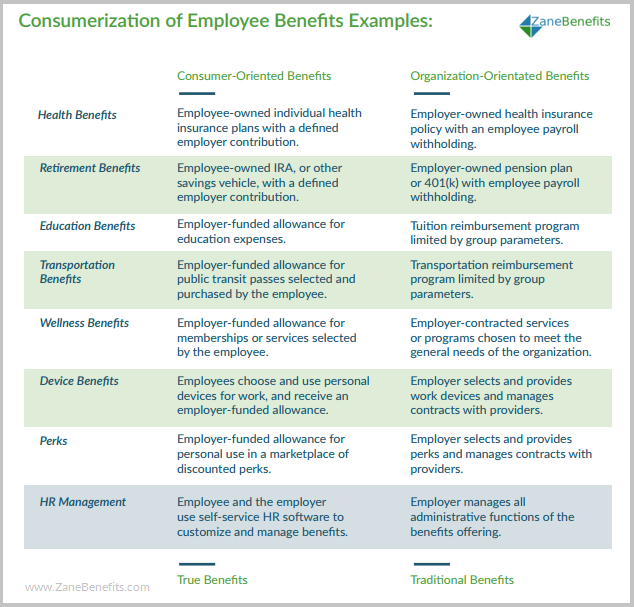 Conclusion
The definition of employee benefits is straight-forward: additional compensation paid to employees on top of regular salary and wages. Some employee benefits are required by law; others are optional and serve as an important part of the overall compensation package used to attract and keep key employees. There are also different ways to structure and offer benefits. Whereas organizational-oriented benefits have historically been the way to offer benefits, many employers are turning to consumer-oriented benefits to better meet the expectations of employees and to better control cost.
What questions do you have about the definition of employee benefits? Leave a comment or question below.