Employee benefits are defined as a form of compensation paid by employers to employees over and above regular salary or wages. Employee benefits come in many forms and are an important part of the overall compensation package offered to employees.
In this small business "101" article, we discuss the definition of employee benefits, discuss different types of employee benefits, and provide examples.
Employee benefits definition
Employee benefits are defined as indirect, non-cash, or cash compensation paid to an employee above and beyond regular salary or wages.
Some employee benefits are required by law. For example, employers are required to make payments on employees' behalf for Social Security and Medicare. Employers must also pay for unemployment benefits on employees' behalf.
Other benefits are offered by employers to improve the company's recruiting and retention efforts. These benefits include health insurance, life insurance, paid vacation, flexible work schedules and workplace perks like on-site snacks and meals.
Looking to maximize your benefit dollars? Read our eBook 11 strategies for employee retention on a small business budget.
Employee benefit examples
Here is a list of popular employee benefits in the U.S.:
Remote work
Healthcare
Paid time off
Flexible hours
Paid family leave
Four-day work week
Free food in the office
Student loan assistance
Pet insurance/pet friendly offices
Fitness perks
For a full discussion of these benefits, read the article What are the most important benefits to employees.
Ways to structure employee benefits
In addition to the different types of employee benefits, companies must evaluate how to structure the benefit. Employers have two different ways to structure, contribute, and offer employee benefits:
Organizationally: These are benefits structured in "traditionally" They are generally employer-owned and employer-selected. Examples include a traditional health insurance policy, retirement pension or 401(k), or formal wellness program.
Employee-oriented: This benefit structure focuses on the employee as an individual. With this approach. With this type of benefit employees use employer-funded dollars to customize their benefits using technology.
To help clarify these definitions, here is a chart showing examples of common employee benefits using these two approaches.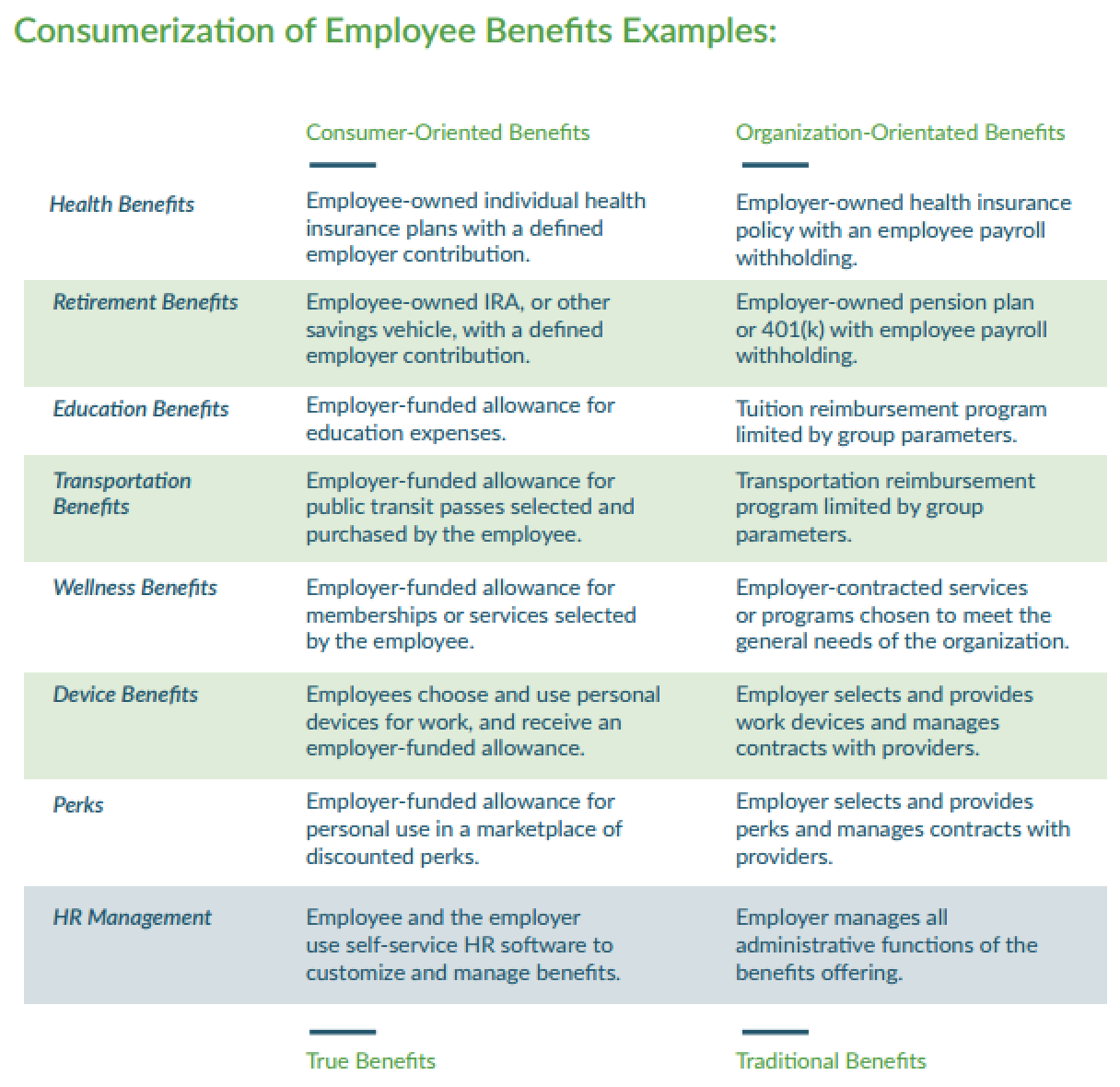 Conclusion
The definition of employee benefits is straightforward: additional compensation paid to employees on top of regular salary and wages. Some employee benefits are required by law; others are optional and serve as an important part of the overall compensation package used to attract and keep employees. There are also different ways to structure and offer benefits. Whereas organizational-oriented benefits have historically been the way to offer benefits, many employers are turning to consumer-oriented benefits to better meet the expectations of employees and to better control cost.
This post was originally published on March 28, 2016. It was last updated December 16, 2020.
What questions do you have about the definition of employee benefits? Leave a comment or question below.