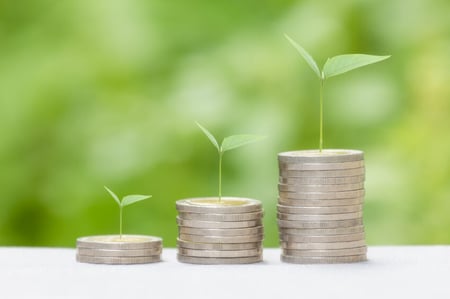 The rising costs of health care aren't just a problem for individuals—they've also impacted businesses that make health benefits a priority for their employees.
Small businesses have been particularly vulnerable. Over the last 15 years, the cost to cover one employee under group health insurance rose nearly 200 percent—from $2,196 to $6,435.
These unsustainable costs, coupled with the hassle and one-size-fits-all nature of traditional group benefits, have caused many small businesses to look for alternatives. And while health care costs continue to grow, the good news is that small group options have as well.
In this post, we'll review five of the most popular health benefits solutions for small groups in 2018:
Qualified small employer health reimbursement arrangements (QSEHRAs)

Traditional group health insurance

Integrated HRAs

Health insurance purchasing co-ops

Taxable stipends
We'll go over how they work, what advantages they offer, and what disadvantages a business might have to contend with should it choose these options.
---
Looking to offer employees a health benefit at a price you control through a QSEHRA?
---
Option 1: The qualified small employer health reimbursement arrangement (QSEHRA)
A new and increasingly popular option, the qualified small employer health reimbursement arrangement (QSEHRA) was created through bipartisan legislation in December 2016.
With the QSEHRA, businesses with fewer than 50 employees offer employees a monthly allowance of tax-free money. Employees then choose and pay for health care, potentially including personal insurance policies, and the business reimburses them up to their allowance amount.
Here's how it works:
Step 1: Businesses set the allowance. The small business chooses a monthly, per-employee allowance of tax-free money to make available. There are no minimum contribution requirements, and small businesses can offer different allowance amounts to employees based on their family status. In 2018, businesses can offer up to $420.83 a month for single employees and $854.16 a month for employees with a family.
Step 2: Employees make purchases. Employees are free to buy what fits their personal needs. There are a variety of expenses eligible for reimbursement, including personal health insurance premiums, copays, deductibles, and prescription drugs.
Step 3: Employees submit proof of expenses. After they incur an eligible expense, employees submit proof to their company through documents that include: a description of the product or service, the cost of the expense, and the date the employee incurred the expense.
Step 4: Businesses review and reimburse employees' expenses. After an employee submits an expense, the business or an approved third party reviews the documentation and reimburses the employee from their monthly allowance.
With the QSEHRA, all reimbursements are free of payroll tax for the business and its employees. Reimbursements can be free of income tax for employees, took if the employee is covered by a policy providing minimum essential coverage (MEC).
The QSEHRA is often the best choice for small businesses because it allows for complete personalization. Employees can purchase what best fits their needs, while small businesses are free to set their own budget.
The QSEHRA also offers value to small businesses with employees in unique situations, such as those living in different states, those who are covered under a spouse's group policy, and even those without insurance.
Option 2: Traditional group health insurance
The SHOP Marketplaces are public state- or federally-run exchanges which sell small group health insurance policies. The SHOP Marketplace could be a good coverage option for employers with 50 or fewer employees if they can meet certain requirements. For example, in Massachusetts employers participating in the SHOP must contribute at least 50 percent of the premium amount, employers with 1-5 employees must have 100 percent of the employees enrolled, and employers with 6-50 employees must have at least 75 percent enrolled.
For eligible small groups, the SHOP Marketplace gives access to the small business tax credits which are generally only available through the SHOP. Brokers registered with the Marketplace can help small groups select and purchase the plan, just as brokers would with private small group plans.
3) Private Health Exchange
Like defined contribution, the term "private exchange" is one of the biggest buzzwords of the past few years. With a private exchange the small group gives employees a set contribution to use towards a menu of plan options. The plan options can be individual- or group-based. Private exchanges are a type of a defined contribution strategy.
Brokers can offer a private exchange option to small groups by working with a defined contribution or private exchange provider. Numerous entities ranging from startups to new divisions of leading insurance companies have been created to offer new private health exchanges and companies like Walgreens are adopting this approach. If you're a broker, see: How to Offer a Private Health Exchange in 3 Steps.
4) Co-Op
Joining a co-op for health insurance is a more traditional approach for small groups. The idea is the co-op increases buying power and spreads the risk to a larger group. Each co-op is structured differently, and whether the co-op offers better insurance rates than the small group could get on the open market or SHOP depends on regional insurance underwriting laws and the co-op itself.
5) Private Small Group Plan
Purchasing a private small group plan is also still an option for small groups. Small groups may find more options and carriers to choose from on the private market as compared to the SHOP, where some states only have one or two plans to choose from. Read more small business health insurance trends here.
The Future of Small Group Health Insurance?
Every day, I hear from small business owners and their brokers about the challenges of a traditional small group health insurance plan - with the primary challenge being cost. As such, it is not surprising to hear that only half (54 percent) of small and medium sized businesses do not offer traditional insurance today.

Which is why I'd argue that #1 (individual health insurance with defined contribution allowances) and #2 (private exchanges paired with individual health insurance) are the best health insurance options for small groups in 2017.
Editor's Note: This post was originally published in November 2013 under the title, "Top 5 Health Insurance Options for Small Groups in 2014."
Do you agree or disagree? What questions do you have? Leave a comment below.