With the rising cost of healthcare such a hot topic these days, entrepreneurs are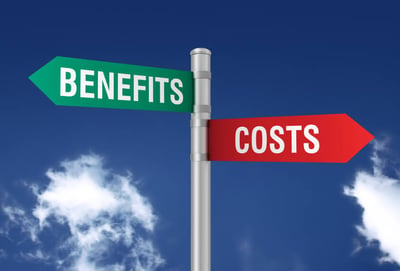 wondering about their small business health insurance options and how price increases might affect them. Answers may seem few and far between, but the latest Employer Health Benefits Survey from the Kaiser Family Foundation (KFF) may be able to help.
We'll also go over some alternatives to group health insurance, such as a health reimbursement arrangement (HRA).
The Average Cost of Small Business Health Insurance
In their 2016 Employer Health Benefits Survey, KFF reported that the average employer-sponsored health insurance premium was $6,435 for single coverage and $18,142 for families (per year). The good news for small businesses is that the average cost for family coverage was actually lower than in large firms, coming in at $17,546.
This of course is the full cost of premiums and does not account for any kind of employee contribution — which is a common practice that most employees have grown to expect.
The Contribution Breakdown: Employers vs. Employees
The employee's share of premiums varies greatly, ranging from zero to more than 50 percent of the total cost of premiums — although, it's not common for an employee's portion to be as low as zero (only 12 percent of businesses paid the whole portion of single coverage). In fact, enrollees in employer-sponsored group health plans contribute an average of 18 percent for single coverage (30 percent for family coverage, and frequently more than 50 percent in small businesses).
Group Health vs. Healthcare Reimbursement
On average, employers with group health insurance pay about $521 per employee per month for single coverage and $1,462 per employee enrolled in family coverage. This amount has the possibility of changing every year, but with a health reimbursement arrangement (HRA), the maximum amount the employer is responsible for is predetermined and the actual amount paid is typically no more than that predetermined amount.
For demonstration purposes, let's say your company sets the allowance amount per employee at $400 per month (for single coverage). Employee A purchases an individual health insurance policy that costs her $350 per month. She is reimbursed for $350, and utilizes 75 percent of her allowance. Your company keeps the leftover $50. Employee B purchases a plan priced at $450 per month. She will receive as a reimbursement 100 percent of her allowance, but will need to cover the last $50 herself.
HRAs can not only help control your costs, but make them predictable from year to year. You, as the business owner, set the allowance amount, which means that your benefits budget only increases if you want it to.
The most popular HRA currently is the qualified small employer HRA (QSEHRA). With a QSEHRA, businesses with fewer than 50 employees can offer up to $5,150 per year in health reimbursement for single employees and up to $10,450 per year for employees with a family in 2019.
Conclusion
Small business health insurance is a frequent source of stress for many entrepreneurs, but it doesn't have to be. If your premiums are above the national average as reported by the KFF or the cost is simply unmanageable, check out HRAs as an alternative option.
What questions do you have about saving money on your small business health insurance? Let us know in the comments below!