Tax filing season is right around the corner, and if you received a premium tax credit this year when you purchased health insurance, you may be wondering how to report or reconcile your subsidy. In this article, I will break down how to deal with premium tax credits when filing your 2014 federal tax return.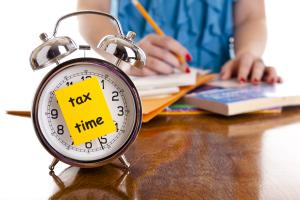 How the Advanced Premium Tax Credits Work
As a quick refresher, you are eligible for the premium tax credits if you meet certain income requirements, and do not have access to affordable health insurance through an employer or another government program. Eligibility is based on a standard called the "federal poverty level" (FPL). The premium tax credits cap the cost of health insurance between 2% and 9.5% of annual income, depending on household income.
What is important to remember in relation to taxes, is that the premium tax credits are directly related to your household income and they can be advanced-payable. By advanced-payable we mean that you can receive them in advance, at the time you purchase coverage. You don't have to wait until tax time to file for the credit.
As such, there is a reconciliation process at tax time to confirm that you did not receive too much, or too little, compared to your actual income for the year.
Now that we've covered how the premium tax credits work, here is what you need to know at tax time.
You Will Receive 1095-A in the Mail
First, you will receive a form from your state's Marketplace by January 31, 2015. The form is titled 1095-A "Health Insurance Marketplace Statement" and it will look like this: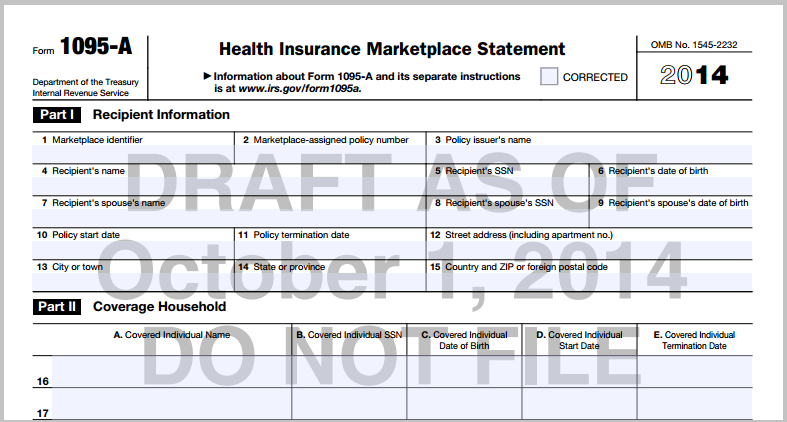 Form 1095-A includes the information you need to complete Form 8962 - Premium Tax Credit (PTC). We'll talk about this form next.
You Will File Form 8962 With Your Federal Tax Return
Next, you will fill out Form 8962 using the information you received from the Marketplace on Form 1095-A.
Form 8962 will ask you to provide information about your family size, actual household income (MAGI), what you paid for health insurance, and the amount of advanced premium tax credit you received.
The form uses this information to reconcile the amount of your premium tax credit you're eligible for with any advanced premium tax credit you received.
Form 8962 looks like this: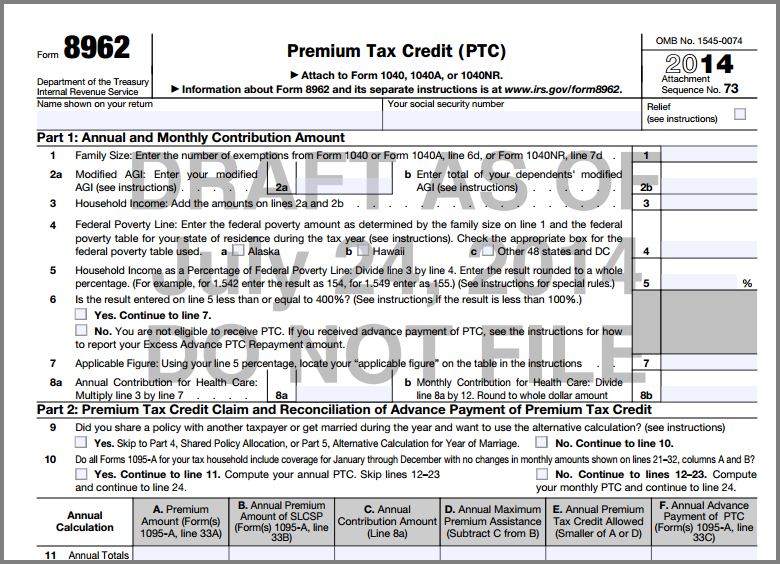 Reconciling Your Advanced Premium Tax Credit
If your actual income was lower than you estimated when you applied for health insurance, you may have received too little in advanced premium tax credits. Form 8962 will identify this, and you would be owed a tax refund.
If your actual income was higher than estimated when you applied for health insurance, you may have received too much in advanced premium tax credits. In this case, you will generally have to pay some or all of it back.
The amount that must be repaid is capped based on a sliding income scale, but people whose income is 400% of poverty or higher will have to pay the entire amount of any tax credit back.
Read more: Health Insurance Tax Credit FAQ - What if My Income Changes?
Do I Need to File Form 8962?
According to the IRS, you must file Form 8962 with your federal income tax return (Form 1040, Form 1040A, or Form 1040NR) if any of the following apply to you:
You are taking a Premium Tax Credit (PTC)

An Advanced Premium Tax Credit (APTC) was paid for you or another individual in your tax family.

An APTC was paid for an individual for whom you told the Marketplace you would claim a personal exemption, if no one else claims a personal exemption for that individual.
Further instructions for Form 8962 can be found here.
Conclusion
Reporting your health insurance and premium tax credit information when filing your taxes is new this year. As you prepare to file your federal taxes, remember that you will report your health insurance coverage for 2014 and file Form 8962 if you received (or are claiming) premium tax credits.
What questions do you have about how to deal with premium taxes when filing taxes this year? Leave a question and we'll help answer.