A Consumer Directed Health Plan (CDHP) is a strategy that requires employees (the consumers) to make decisions about their health care.
CDHPs come in various forms, but most commonly a CDHP means offering a high-deductible health plan paired with a spending account for out-of-pocket costs such as a Health Savings Account (HSA) or Integrated Health Reimbursement Arrangement (HRA). CDHPs encourage employees to make informed decisions and spend wisely - which can lead to lower costs for the company.
For example, a company switches from a lower-deductible plan to a high-deductible plan to realize premium savings. To keep the coverage level and employee exposure the same, they offer an Integrated HRA to cover the additional out-of-pocket deductible costs. The employer reimburses employees through the HRA for their additional deductible costs. The company achieves savings because they have ultimate control over how much they spend.
Interested in offering a health reimbursement benefit? PeopleKeep can help. Check out how the PeopleKeep software works and evaluate whether personalized benefits are right for your business.
History of CDHPs
In the early 2000's employers began utilizing CDHPs as a cost-savings and cost-containment strategy. Since the early 2000's, CDHPs have been on the rise. In 2013, 23% of employers with 10–499 workers and 39% of employers with 500+ workers offered either an HRA- or HSA-eligible health plan.
Growth of CDHPs
CDHPs, HRAs, and HSAs have become a popular option for many individuals and businesses, and they continue to grow in popularity.
In 2013, there was an estimated $23.8 billion in HSAs and HRAs, spread across 11.8 million "accounts".
The number of accounts was up slightly from 2012, when there were 11.7 million accounts. Total assets were up from $18 billion in 2012 (source).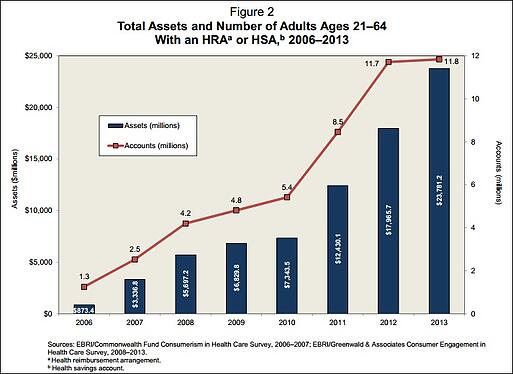 Chart Source: EBRI
A third type of CDHP is a "pure" defined contribution health plan, where the employer offers a plan that reimburses for individual health insurance premiums. With this type of CDHP, the employer does not offer a group health plan. Rather, the defined contribution health plan (i.e. the reimbursement of individual health insurance premiums) is the primary health benefit offered.
What questions do you have about Consumer Directed Health Plans? Leave a comment below.