This infographic provides a look at the health insurance premium tax subsidies that will be available in 2014 under the Affordable Care Act. While simplistic, it provides a visual showing how the subsidies would work for three different types of employees:
A family of 4 with an income of $53,000/year
A retired couple with an income of $25,000/year
A single adult, smoker, with an income of $30,000/year
Here's how the subsidies work. The subsidies cap the cost of what employees pay for health insurance at 2% - 9.5% of household income, if household income is up to 400% above the federal poverty line (FPL). This is equivalent to an individual earning $45,960 in 2013, or a family of four earning $94,200 in 2013.
Individuals are only eligible for tax subsidies if they are not offered qualified, affordable group health insurance through an employer.
Premium Subsidy Scenarios Under the ACA - An Infographic
Disclaimer: The views represented in this infographic does not necessarily reflect the views of Zane Benefits, its staff, or its affiliate partners.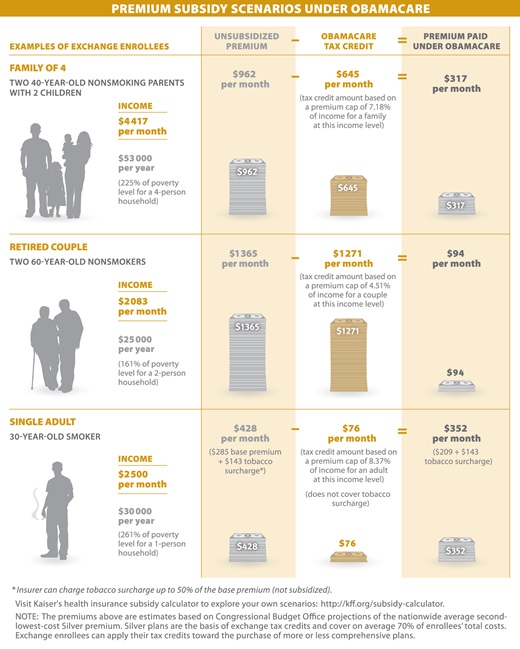 Source: Kaiser Family Foundation and JAMA.
How to Look Up Your Premium Subsidy Amount
There are several different resources online to look up your specific premium subsidy by family composition and income. Here are a few favorites: