Today, small business owners are more stressed than ever. Here's why:
The business environment is uncertain.

Employer-sponsored health insurance costs increase annually.

New fees and penalties take effect next year, and most employers don't fully understand how this will affect their financials.
It is time for employers to examine the specifics of healthcare reform and start thinking strategically vs. emotionally. Change is hard. However, employers that educate themselves and plan ahead can avoid severe financial impacts.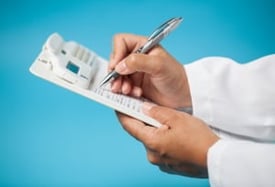 Are you ready for health care reform ("ACA") in 2014?
Note: This article assumes "you" are the employer.
Embrace the Challenge of Change
Treat ACA as a catalyst for a positive transformation. It will not be easy. Change is hard. But, if you can embrace the disruption, you will create an opportunity to ensure your company's long-term financial health as it relates to health insurance.
The more change and disruption your business embraces, the more cost savings (for both the company and its employees) you will be able to realize over the long term.
In order to embrace this change, you must be familiar with the key aspects of ACA. Read on for the basics.
The Healthcare Reform "Guarantee"
The healthcare reform bill guarantees access to health insurance that is both "affordable" and provides "minimum essential" coverage.
But, what does that mean?
The "Employer Mandate" Test
Technically, no business is required to provide health insurance under healthcare reform.
However, effective January 1, 2014 2015, employers with 50 or more full-time-equivalent employees may be subject to penalties if the employer:
Does not pass the affordability test,

Does not pass the minimum value test, or

Does not offer health insurance.
The penalties are capped at $2,000 multiplied by the number of full-time employees minus 30.
Note: The penalty amount only takes into account full-time employees. So, if you have 30 or less full-time employees you will not pay a penalty in any of the above circumstances.
Separately, you are only subject to the penalty calculation if you have 50 or more full-time-equivalent employees.
Note: If you have less than 50 total employees (whether part-time or full-time) you will not pay a penalty in any of the above circumstances.
To obtain the number full-time equivalent employees for your business, add the number of your full-time workers to the full-time equivalency of your part-time workers (i.e. the number of part-time hours divided by 120).
Note: A worker will be considered a "full-time employee" if they work a minimum of 30 hours per week.
The "Affordability" Test
Affordability will be based on the Federal Poverty Limit (FPL) and a percentage of wages. For
employee-only coverage, the employee's contribution may not exceed 9.5% of W-2 income.
As long as a "minimum value" employer-sponsored plan does not require an individual to pay more, you will not be penalized.
The "Minimum Value" Test
Minimum value is generally defined as "covering 60% of total allowed costs". Starting in 2014, health plans will disclose whether they meet this minimum value requirement.
W-2 Reporting
Healthcare reform requires businesses to report the "aggregate cost of employer-provided group health plan coverage". Companies that issue fewer than 250 W-2s annually do not have to provide this information. This is for reporting purposes only. The amounts will not be taxed.
The Individual Tax Subsidies
It's important for you to understand the financial obligations that employees will face under healthcare reform.
Employees will be eligible for a subsidy if their income ranges from 100% to 400% of the FPL. However, if you provide employer-based coverage that passes the affordability test and the minimum value test, your employees will not qualify!
It's important to note that a family of 4 with the average salary of $55,000 would only pay $370 per month ($4,438 per year) for individual health insurance. That's compared with $15,000+ per year for traditional employer-sponsored coverage.
Click here for more information on the tax subsidies.
The Individual "Mandate"
The ACA includes an "individual responsibility requirement", commonly known as the individual mandate. First, ACA does not require Americans to buy insurance. However, if they do not, they will be subject to a tax penalty.
In 2014, this penalty will only be $95/individual, $285/family, or 1% of household income (whichever is greater). However, the penalty will increase:
in 2015 to $325/individual, $975/family or 2% of household income (whichever is greater), and
in 2016 to $695/individual, $2,085/family or 2.5% of household income (whichever is greater).
Beyond 2016, the penalty will be adjusted for inflation.
Click here for more information on the individual mandate.
The Exchanges
The exchanges will be an entirely new health insurance marketplace for individuals and small businesses in America. They'll provide plans that deliver four levels of benefit (value): Bronze, Silver, Gold and Platinum. The first enrollment is scheduled to open October 1, 2013 and close on March 31, 2013 for the first plan year, scheduled to begin January 1, 2014.
Note: The individual tax subsidies (see above) are ONLY available via the individual health insurance exchange.
Cost-Management Strategies and Innovation
You may be tempted to disengage and assume the government will dictate your choices. Resist this urge.
For many businesses, the solution to healthcare reform is simple: Offer a "Business Expense Account" for Healthcare.
A new health benefits approach called "pure" defined contribution healthcare allows employers to get out of the health insurance business, and simply give select employees monthly allowances to spend on their own health insurance policy in a state health insurance exchange. If you understand how business expense accounts work, you will understand how "pure" defined contribution works.
Your 3 Core Options
You should immediately compare the costs and benefits of the following three options:
Offering Traditional Coverage,
Offering a "Pure" Defined Contribution Health Plan (via a Section 105 Medical Reimbursement Plan), or
Dropping Coverage Altogether.
Note: Compare costs and benefits at both the employer and individual level. Depending on your workforce, you may find that dropping traditional coverage is a gift to your employees.