The following is an excerpt from our free resource, The 20 Greatest Recruiting and Retention Tips. If you'd like to download the full resource, click here.

You're a small and growing company, and every employee counts. Not only do they count, each employee directly impacts your performance, your brand, and your bottom line. As such, who you hire and keep onboard is really important. No pressure, right?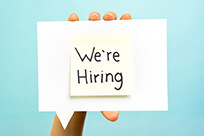 Hire Fast, Fire Fast
The lesson here is to hire fast and fire fast.
As a small business owner or manager, you don't have time to waste. You also don't have time to make the wrong decisions. So, if you find a qualified candidate pull the trigger. Do your hiring due-diligence, but don't delay the hiring process or over analyze.
If you follow the traditional saying "hire slow, fire fast" you might be wasting valuable time with the position going unfilled, or lose the candidate to another company.
Similarly, don't be afraid to let an employee go when you identify it isn't working. All too often we finally terminate an employee only to ask ourselves, "Why didn't I do that sooner?"
This sounds so simple, though often we drag our feet when it comes to hiring and firing. But it's really important. Why?
Simple put, bad employees misrepresent your product and your brand, and they cost your business a lot of money.
Bad Employees Cost a Lot of Money
Here are a few stats to keep in mind:
The Harvard Business Review points out that as much as 80% of employee turnover is due to bad hiring decisions. And, 30% of small business failures are due to poor hiring, according to score.org.

According to an infographic by Mindflash, 41% of companies say a bad hire in the last year cost them at least $25,000.

Why do companies hire the wrong person? 38% said they needed to fill the position quickly, 34% said it just didn't work out, 21% said they didn't test the employees' skills well enough, and 11% said they didn't check references well enough.

"Bad Hires" have the following in common - Failure to produce quality work, failure to work well with others, negative attitudes, immediate problems with attendance, failure to meet deadlines, and customer complaints about them.
7 Tips to Combat Hiring the Wrong Person
There are lessons to be learned from these stats. Let's break them down into seven essential recruiting tips:
Be consistent. Put a hiring process in place that allows you to spend the most time with the most qualified candidates -- and hire the best candidates.

Don't skip important steps in your hiring or firing process, but don't delay the process unnecessarily.

Screen for ability and culture fit.

Screen for attitude.

Reference check.

Test skills.

Evaluate for professionalism and reliability.
Conclusion
Hiring and keeping a bad employee costs your business a lot of money. One way to combat this is to have a consistent recruiting and hiring process, and don't be afraid to hire fast and fire fast.
What do you think? Leave a comment.
Related resources: