Your managers and employees are the keystone to your small business's success. But, like many small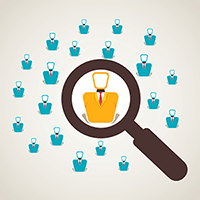 business owners, you're probably tired of trying to find the perfect employees to help your small business climb the ladder of success right? Truth is, finding great managers and employees who rock really doesn't have to be hard - you simply need to know what to look for.
So, we've assembled four life hacks to help you develop an eye for managers and employees who rock. By the end of the article, not only are you going to have some great ideas, but we hope you'll have a new-found excitement and drive to get out there and scout out managers and employees that are one in a million.
Four Life Hacks for Successful Recruiting
Here's what you should be doing in order to find managers and employees who rock:
Life Hack 1 - Put Yourself Out There
If you want to find the manager or employee, you'll need to put in the time and get your hands dirty. This will include interviewing, reviewing resumes, and talking with everyone you know for referrals. Let's face it, just like anything else in life, the harder you work for something, the more rewarding it is.
Don't look at putting in the time as something you have to do, look at it as a personal challenge to find the manager or employee who will help lead your business to success. Think of new employees and managers as a part of your team that you cannot succeed without -- a team with one purpose: to become the best.
Life Hack 2 - Develop an Eye for Great Talent
As you're out in the world, look for candidates who would make a great manager. This means when you're out to dinner with family or friends, at the grocery store, or at a shop getting your car repaired, you need to be watching the way in which employees and other individuals interact with you and those around them.
As certain employees or individuals stick out to you, go up and talk to them. Get to know them a little bit. Don't be afraid to strike up a conversation with random strangers. You never know where you'll find the manager or employee you need.
Life Hack 3 - Make Use of What You Have
To do this, think of your current employees. Chances are, if your current employees are outstanding, they may know someone for the position who is equally as impressive as they are. Additionally, don't count out your current employees as a candidate for a great manager. It makes finding a great manager less difficult when they're right under your nose.
Life Hack 4 - Make a Friendly Offer
If you find a candidate and talk to them, see them working in their element, and if you're impressed don't hesitate to "steal" them from their current position. It can be as simple as "I'm really impressed with your work ethic and have really enjoyed our conversation, what would you say to coming to work for me?" Simple as that.
Quick Tip: If you really want to get a head of the game, start looking at hiring millennials. Why? Simply put, they're the future of your business. If you can learn how to hire and work with them now, your business's future is set.
Conclusion
You have the knowledge, you have the excitement, all you need now is to get out and start your search for the employees and managers to help take your small business to the next level.
Remember:
Don't be afraid to get out there and talk to everyone

As you're out and about, keep a watchful eye on great talent

Don't forget to ask your current employees for referrals

It doesn't matter if someone already has a job, offer them your best
What other life hacks can you think of when finding managers and employees for your small business? Comment below.
See related resources: