Working life can be stressful, but according to a recent survey by workplace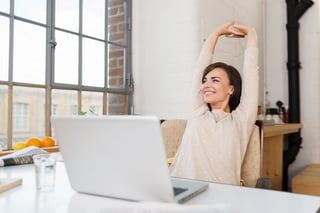 wellness provider MediKeeper, American workers report less stress when their workplace has a wellness program in place.
With workplace stress accounting for $190 billion in U.S. health costs each year, businesses have a strong incentive to reduce job-related stressors. Not only does a wellness program reduce health costs, but it can also improve employee retention and promote an overall better work environment.
Workers with Access to Wellness Programs Are Less Stressed
The MediKeeper survey analyzed data from more than 3 million entry-level to executive workers from companies of various sizes over 3 years.
Employees were asked to rate their stress levels from 1 to 5, with 1 being the lowest and 5 being the highest. For 2016, the largest group of workers (35.9 percent) reported a stress level of 2—an improvement from 2014, when the largest group (32.82 percent) said their stress level was a 3. This is quite a significant decrease over just two years.
Even more interestingly, the percentage of workers choosing a 1 (the lowest) stress level rose by 58 percent, and workers reporting the highest stress level possible (ranked at 5) decreased by 39 percent from 2014 to 2016.
This survey shows that employee stress is on the decline. But although stress among the workers surveyed has gone down, stress levels in the general population have risen, according to the 2015 Stress in America survey conducted by the American Psychological Association (APA). The APA also reported a jump in "extreme levels of stress" compared to 2014. It's a surprising discrepancy.
Sources of and Solutions for Employee Stress
Both surveys asked respondents to rank their top stressors, and the results are telling. In the MediKeeper study, top causes of stress included financial worries, concerns over family life, and feeling overworked. In the general population surveyed by the APA, work replaced family responsibilities as the second-highest source of stress.
The key difference, according to MediKeeper, is that the employees reporting lower stress had access to wellness programs at work: "These contrasting results lead us to believe that our sample of employees with access to wellness programming are not only less stressed about work than the general population, but they are also less stressed as a whole."
Starting a Wellness Program for Your Business
Statistics show that happier, healthier employees are more productive. Setting up an employee wellness program can boost employee retention and promote a less stressful work environment.
Businesses interested in starting their own employee wellness program have plenty of options, from adding healthier snack options to the office kitchen to creating an incentive program that rewards workers for achieving their health goals.
Conclusion
Modern life can be stressful. Most people balance a lot of responsibilities, which inevitably leads to tension and worry. Employers can do their part to ease employees' stress by implementing wellness policies that make work a better place to be.
What is your business doing to reduce workplace stress? Share your ideas and successes in the comments below.