Small businesses make up the majority of US employers, with 78% of employers (6.1 million) employing fewer than 50 employees. Small and medium businesses combined account for approximately half of all jobs, more than 40% of private sector payrolls, and 65% of new job creation.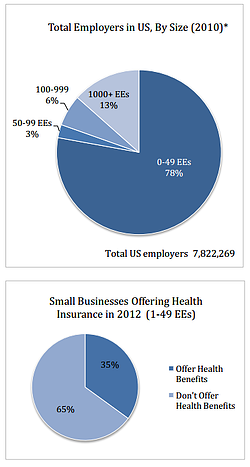 Additionally, small businesses are less likely to offer health benefits to employees. Only 35% of US small businesses (with less than 50 employees) offered health benefits in 2012. That's nearly 4 million small businesses that don't offer health insurance in the US. However, the majority of small businesses want to offer health insurance to recruit and retain employees.
Before defined contribution health plans, there was little a small business could do to offer tax-free health benefits if they couldn't afford a group health insurance plan.
And, before defined contribution health plans, there was little a broker could do to gain the business of a small business that couldn't afford group health insurance.
But now, because of defined contribution, the small business market is widening for health insurance brokers and small businesses alike.
So, taking a step back, how do small businesses buy health benefits? Here are four characteristics of how small businesses commonly research, analyze, and buy health benefits.
(*Chart source: Employer Health Insurance Facts & Figures)
Highly Centralized Buying Process
With small businesses, the final buying decision is often highly centralized, with a smaller number of people involved in the health benefits decision making process. Common buying teams may include the owner and/or a small leadership team. This can mean:
Easier access to the decision maker

Less people involved in the decision

Simpler and quicker buying cycle
Personal Business Decisions
Because small business owners wear many hats, the owner is usually the final decision maker and the consumer of the product. This means the owner is likely researching health benefits for employees, and also for themselves and their family. They weigh how decisions will impact their business's bottom line and them personally. They're likely factoring in their own health needs.
An Eye on ROI
Small business owners wear many hats, and juggle these responsibilities with limited access to resources. Therefore, return on investment (ROI) is a priority. When selling health benefits, focus on ROI and the value of benefits they are receiving for their investment.
Risk Averse
Small business owners are often thought of as a "cowboy" decision maker (snap and uncompromising), however in reality they are risk averse. Why? They have personal skin in the game, which heightens their risk awareness and sensitivity to financial risk management. They are often spending their own personal investment. When selling health benefits, show that you are credible and trustworthy to do business with.
If you're a health insurance broker or a small business owner, are these buying characteristics of small businesses correct? Join the discussion in the comments below.