Under the Affordable Care Act (ACA), a Qualified Health Plan (QHP) is an insurance plan that is certified by the Health Insurance Marketplace, and meets ACA requirements for coverage to provide essential health benefits.
What is a QHP?
QHPs are insurance plans that:
Have been certified by the Federally Facilitated Marketplace (FFM)
Provide coverage of essential health benefits;
Follow established limits on cost-sharing (like deductibles, copayments, and out-of-pocket maximum amounts); and
For example, all QHPs offer the same core set of benefits, including coverage for preventive services, mental health and substance abuse services, emergency services, prescription drugs and hospitalization. Some plans include benefits beyond the core set.
QHPs are categorized and labeled by a standard coverage level to help consumers compare plans "apples to apples". The four standard levels are metallic tiers and offer minimum "actuarial coverage," which is the percentage of services the plan typically pays for:
Bronze: the plan must cover 60% of expected costs for the average individual
Silver: the plan must cover 70% of expected costs for the average individual
Gold: the plan must cover 80% of expected costs for the average individual
Platinum: the plan must cover 90% of expected costs for the average individual
The image below illustrates the metal tiers, and offers recommendations for their use: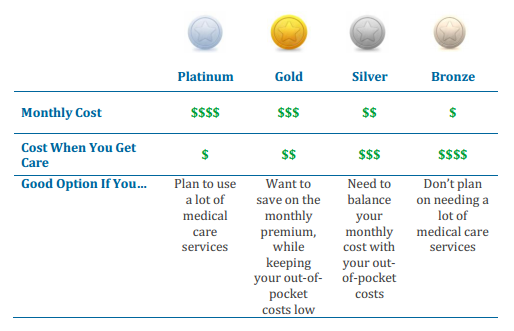 Another option is a catastrophic plan. Catastrophic plans have a high deductible and offer less coverage than the metal level plans. Premium tax credits may not be used with these plans. Consumers must be under 30 or meet other criteria to be eligible to purchase a catastrophic plan.
How to buy a QHP
Visit your Federally Facilitated Marketplace (FFM), which sells only QHPs This is either on HealthCare.gov or your state exchange. See our state-by-state open enrollment guide for information about the FFM for your state.
Talk to your health insurance agent or broker. They can help you find exactly the right plan for your current health needs and budget and can find you QHPs on private marketplaces or directly from some health insurance carriers that are often more affordable.
This post was originally published on May 14, 2014. It was last updated December 11, 2020.
What questions do you have about Qualified Health Plans (QHPs)? Leave a comment below.