I get this question all the time from employers and agents: "Can an Employer Contribute to an employee's HSA?" -- its a tough question to answer in one breath because the FULL answer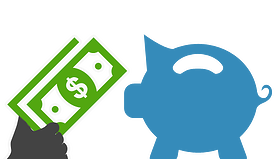 requires an understanding of several different IRS legal term and plans. Anyway, I got the question again today and decided to write a blog post about it. So, here's how employer contributions to HSAs work...
Employers can make tax-free contributions to their employees' Health Savings Accounts (HSAs) in the following two ways:
Without a Section 125 Plan

With a Section 125 Plan (Cafeteria Plan)
Remember that once an employer contributes money into an employee's account, the money is owned by the employee from that point forward, regardless of employment. In other words, employees own the HSA accounts (similar to how they own a checking account) -- They decide how and when the money is spent. Before an employer makes contributions to their employees' HSAs, they should first consider making contributions to an employee's HRA.
Employer Contributions without a Section 125 Plan
Employers can make tax-free contributions to their employees' HSAs without using a Section 125 plan, as long as the contributions are "comparable" for all employees participating ("comparability rules"). Comparable contributions are contributions that are the same dollar amount or same percentage of the employee's deductible for all employees with the same category of coverage (i.e. self-only or family; FT or PT).
Employer Contributions with a Section 125 Plan
To avoid the comparability rules on their HSA contributions, employers often utilize a Section 125 plan. HSA contributions through a Section 125 plan are not subject to the comparability rules, but Section 125 nondiscrimination rules do apply. Nondiscrimination rules restrict employers from making contributions excessively in favor of highly compensated employees. Employers typically use a section 125 plan to offer matching contributions to their employees and to save payroll taxes (7.65%) on all employee contributions.
See IRS Publication 969 for more information.

Did this make sense?