Have you been wishing that we'd talk about something other than healthcare reform on this blog? Well, you're in luck. I develop software at Zane Benefits and I feel like indulging myself by going all-out nerd for this one post. I want to talk about how Insurance Agents (and most other sales people) can use improved operations and technology to make business run smoother.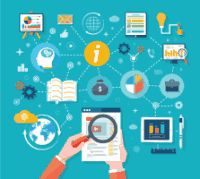 This is focused mostly on individual insurance sales because that's what I have the most experience building software for. If you sell group insurance (or anything else), it should be pretty easy to translate this advice to fit your business model.
So here are the five tools that I think every insurance agent should be using right now. I'm not suggesting you try one or two out. You need them all. If you're missing any one of these five things, you're missing out on some serious opportunities. Insurance agents need to be using technology to help them run their business.
1. A CRM (Customer Relationship Manager)
This is by far the most important sales tool regardless of your industry and it's something that is largely overlooked. A CRM is basically a contact manager that lets you keep track of any and all information you have about a person.
Information is the key to any sale. If you're calling a lead that you talked to a year ago, you should have notes about that call. You should know about preexisting conditions, dependents, long-term goals, and anything else that this person might have told you. Imagine how much easier customer service is if you can instantly look up a client's contact records and see a full report of everything you've ever known about them.
I meet a shocking number of salespeople that just keep all their contacts in Outlook or in an Excel spreadsheet. If you do something like that, you should seriously consider upgrading your technology. It is probably the single easiest and most important change you can make to improve your effectiveness as a sales person.
If you are interested in using a CRM system, I'd suggest looking at these options:
This is a program from 37Signals (a really great software company). They take the approach of building less than the competition instead of more. It makes the tool really easy to use, but there are some missing features that some of you might want.
This is by far the most popular CRM software. That means some people obviously like it (which is why I'm including it in this list) but I think it's pretty bad. It's overly complicated and it's insanely overpriced.
This is the worst of the CRM tools on this list, but it's free. If you absolutely refuse to pay for a CRM, use Zoho. If you are willing to pay for better software to help your business, this shouldn't be a consideration.
2. A Website
Whether you like it or not, a lot of business is moving online. Insurance sales are unique because most people still don't trust such an important purchase to an online quote engine, but that doesn't mean a website can't help insurance agents.
Having your own website helps in a lot of ways. It gives you an online presence so that you can send people to your website for information about your services. The same way many agents choose to have a office so that people can physically find the agent, a website does the same thing to let people digitally find your business.
If you want to build an online presence but don't know where to start, I'd suggest looking at these options:
Both of these websites let you publish your own blog. A blog might not be the most professional way to establish yourself online, but it's dead simple and it's free. Also, you don't have to use your blog in a traditional way. If you want, just put up one post about yourself and your business and never update it again. It will look just like a normal website to most people.
Google offers this tool to let people put together basic sites. It's a little more complicated than setting up a blog, but it's still free and there are a lot more options to customize.
If you or someone you know has some basic HTML chops, you might consider building your own website. There are a lot of companies that host personal websites, but Dreamhost is my favorite in terms of value and service. You'll have to pay at least $7.95 per month, but that can be well worth it if you can create a website for yourself.
3. Remote Access
One of the big technology debates going on right now is whether software should be web-based or installed directly on your computer. Traditionally, programs like word processors, email clients and CRMs have all been installed on your computer. This isn't the way things should work.
As computers become more commonplace, they also become more disposable. Most people I know have at least two computers (home and work) plus maybe a laptop. Aside from having multiple computers, the need to upgrade comes every 2-4 years. Since I got my first computer in the late 90s, I haven't gone more than two years without buying a new one. I'm probably extreme in that regard since I make a living off technology, but the reality is that you'll need a new computer sometime in the next few years.
Having said all of that, it simply doesn't make sense to store all your applications and data on your computer. What happens if you're at home and you need to access the CRM on your work computer? Maybe you just bought a new laptop and you need some way to sync information between that and your desktop. If you're like me, there's just no way to manage multiple computers unless most of your work is done online.
So whatever software you use, it's worth putting some serious thought into switching to online alternatives. Using online applications is referred to as "Cloud Computing" because all of your data is in the "cloud". You never need to back anything up or copy data. It's always with you, regardless of where you are or what computer you use.
4. Email Marketing Tools
Email marketing can benefit virtually any business, but it's especially useful if you sell individual insurance. Because the commissions on most policies decrease after the first year, you can't just sell a policy and live off that revenue for the rest of your life. Most people think of email marketing as a way to get new clients, but it can also be a great way to keep in touch with existing ones.
It's in the client's best interest to consider getting a new policy each year, and it's in your best interest to facilitate that. This process is a lot easier if you allow your clients to opt in to a quarterly newsletter. You should also keep track of when policies are sold so that you can send an email a year or two later to make sure everything is ok.
There are a lot of different email blast tools out there, and they're all pretty similar. Here are two I'd recommend:
This is a simple, easy to use email application. It doesn't really do anything other than basic email sending and reporting, but it gets the job done. We set up an account with them at Zane Benefits and had some problems with the sign-up process, but everything worked smoothly after that.
I have no experience with this service, but they're one of the industry standards. If you're looking for the traditional option, I think this is it.
5. Better Office Software
This is going to be the controversial one. I don't think anyone should rely on Microsoft Office products for day to day tasks. One of the main reasons is because they don't satisfy my remote access requirement from above. They also just aren't very good. Email in particular has been crippled for years by Outlooks limitations.
I'm very opinionated about this, so I expect everyone to get a good chuckle at how ridiculous this sounds, but I suggest switching over to Google for email, calendar, word documents, spreadsheets and presentations.
The organizational tools, online access, and improved user interface take a while to get used to, but they dramatically increase productivity. We made this switch at Zane Benefits recently and after about a week of transition, most people seemed to much prefer the new system.
If you want to stick with normal software that you install on your computer, I suggest checking out Open Office. It's basically the same thing as Microsoft Office but it's completely free and it works with Windows, Macs and Linux.
Well, this turned into a 2000 word essay. Sorry about that. Hopefully you try a couple of these tools out if you haven't already. I'd love to hear your thoughts in the comments. Are there any great tools that I missed?