The Affordable Care Act requires state health insurance marketplaces to establish a "navigator" program that will help eligible individuals learn about their options and purchase coverage through their state health insurance marketplace. So, where do brokers fit in? How do navigators differ from brokers?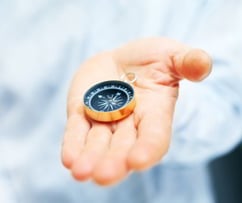 With the new health insurance exchanges a broker can act either as a traditional broker or a navigator (but not both). While some details are not yet confirmed, this articles explains how navigators will differ from brokers, and two different ways brokers can benefit from the health insurance exchanges.
What is a Health Insurance Navigator?
Under current health care reform law, navigators will have five duties:
To conduct public education about the availability of qualified health plans.

To distribute fair, impartial information about enrollment in qualified plans and about the availability of premium tax credits and cost-sharing assistance in the exchange.

To facilitate enrollment in qualified plans.

To refer people who need help resolving a problem with their health plan or with their premium assistance to a consumer assistance or ombudsman program or to another appropriate agency that can help with a grievance or appeal.

To provide information in a culturally and linguistically appropriate manner to the population being served by an exchange
Compensation for navigators will be paid through a navigator grant, or if working under a navigator organization, hourly compensation may be available (rates and details will vary by state).
Who Can Become a Health Insurance Navigator?
The law lists a number of different kinds of entities that could become navigators including: community and consumer focused nonprofits; trade, industry, and professional associations; commercial fishing, ranching, and farming organizations; chambers of commerce; unions; Small Business Administration resource partners; licensed insurance agents and brokers; and other entities.
Under the law, a licensed health insurance agent or broker can be a navigator, however this disqualifies them from acting as a traditional producer (selling policies on or off the exchanges and receiving commissions).
Click here to read further guidelines on navigators.
What is the Role of Brokers on the Exchanges?
The role of brokers will be similar to the role of brokers now: selling individual and small group health insurance policies on and off the Exchanges.
Whether commissions will be available for brokers, and how this will be managed, will vary by state. In general, commissions will likely be paid for QHP policies sold on the Exchanges. Commissions will be managed either by Exchange or paid directly from insurance carrier to broker. Brokers must register with the Exchange and will receive a unique ID number to track sales and commissions.
How Do Brokers Register with the Exchanges?
All states will require brokers to attend training and register with the state in order to sell policies through the Exchange. Details will vary by state (see State by State Guide to Health Insurance Marketplaces). Many states are still finalizing these procedures and final details are expected by August 2013. The federal government has provided the following basic guidelines for how brokers will register with the federally-facilitated exchanges:
Establish an Account: Agent/brokers must register and establish an account through the Exchange Portal in order to interface with the Exchange.

Complete Training: Agent/brokers must register for, and successfully complete, Exchange-specific training which enforces their understanding of eligibility and enrollment requirements in Exchanges. Agent/brokers must also apply this understanding to the development of any non-Exchange Web site used as a tool for enrollment.

Sign Agreement: Agent/brokers must sign an agreement that documents their commitment to the FFE requirements, their willingness to periodically update the information collected at their initial enrollment, and their recognition that for the purposes of compliance monitoring they may be asked to make their records available to the FFE when required.