Starting September 23, 2012, health insurance issuers and group health plans, including health reimbursement arrangements (HRAs), will be required to provide eligible participants with an easy-to-understand summary about a health plan's benefits and coverage. The new regulation is intended to help individuals better understand their health insurance options.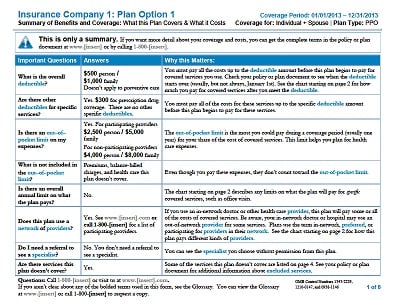 Overview
Also known as the "four-page summary", the Summary of Benefits and Coverage (SBC) is a short document that is supposed to describe the benefits of health plans in layman's terms, relying heavily on "plain language" and charts reminiscent of the "nutrition facts" charts on the sides of cereal boxes and other foods. The purpose of the SBC is for beneficiaries to compare insurance coverage at a glance instead of wading through pages of legalese.
All insurance companies and group health plans will use the same standard SBC form to help consumers compare health plans. Eligible plan participants will have the right to receive the SBC when shopping for or enrolling in coverage or by requesting a copy from the issuer or group health plan.
What the Summary of Benefits and Coverage (SBC) Means for Individuals
The SBC is designed after the Nutrition Facts label required for packaged foods which helps consumers make healthy and informed decisions about their diet. The SBC's standardized and easy to understand information about health plan benefits and coverage allows individuals to more easily make "apples to apples" comparisons among health insurance options. The measure brings more openness to the insurance marketplace for the more than 180 million Americans with private health coverage.
What the Summary of Benefits and Coverage (SBC) Means for Group Health Plans
This provision applies to all health plans, whether offered through an employer or purchased directly from an insurance company, beginning September 23, 2012. All health plans must provide an SBC to eligible participants at important points in the enrollment process, such as upon initial enrollment and annual renewal. If a participant does not speak English, he or she may be entitled to receive the SBC and uniform glossary in his or her native language upon request.
How Summary of Benefits and Coverage (SBC) Affect HRAs
The purpose of this provision was to help people navigate their insurance plans, but HRAs have been swept into the mix via the statutory language. Thus, SBCs will be required for distribution with HRA plan enrollment information beginning on or after September 23, 2012.
An HRA is a group health plan, and thus HRAs are generally subject to the SBC requirements. A stand-alone HRA generally must satisfy the SBC requirements (though many of the limitations that apply under traditional fee-for-service or network plans do not apply under stand-alone HRAs).
According to HHS guidance:
"To the extent a plan's terms that are required to be in the SBC template cannot reasonably be described in a manner consistent with the template and instructions, the plan or issuer must accurately describe the relevant plan terms while using its best efforts to do so in a manner that is still consistent with the instructions and template format as reasonably possible. Such situations may occur, for example, if a plan provides a different structure for provider network tiers or drug tiers than is contemplated by the template and these instructions, if a plan provides different benefits based on facility type (such as hospital inpatient versus non-hospital inpatient), in a case where the effects of a health FSA or an HRA are being described, or if a plan provides different cost sharing based on participation in a wellness program."
So, basically, HRAs need to use "best efforts" to make the SBC work for an HRA plan.