Being an "Employer of Choice" means that your small business has a great working environment and an outstanding brand. The best talent in the industry want to work for you - and they do. It means you're able to attract and retain the best staff at a lower cost.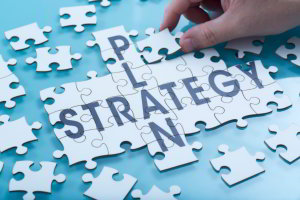 Any employer - whether a small business, a startup, or a nonprofit - can become an Employer of Choice. Where small employers may lack resources, you make up by having a unique, tight-knit, and "I can make a difference here" culture.
So, how can you fine tune your company culture, brand, and recruiting retention strategies to become an Employer of Choice? I've outlined five tactics to get you started.
#1 Define What Type of Person You are Trying to Recruit
Before you get started on anything else, the first step is to define what type of person you are trying to recruit and retain.
Why is this so important? Hiring the right employee makes a huge difference to the success of your business. The bottom line is that you cannot be everything to everyone. And you don't want to be. You want to recruit and retain people who fit your company culture, and who will become a leader at your business.
Who is your ideal employee profile? What type of people do you want running your business? Type-A go-getters? Cutting-edge techies? Innovative problem solvers?
Create a vision for your workforce, and then hire to bring it to life.
Then, as I'll talk about next, attract these people with the benefits and perks they want.
#2 Identify the Perks and Benefits That Attract and Retain Your Ideal Employee
Offer perks and benefits that are attractive to the employee you want to attract and keep on staff. While there are many lists about the top perks employees want, none of these really matter if they don't appeal to your workforce and your company brand.
For example, if you own a thriving snow sports retail store, you likely want to attract and retain outdoor enthusiasts. A perk to help do this? Discounted ski passes or pro-deals on equipment.
Likewise, if you own a growing health benefits software company, you likely want employees who value a healthy lifestyle and are tech savvy. For this workforce, a FitBit, wellness competitions, or discounted gym pass may align well with attracting the right employees.
Small businesses can also compete with the larger companies by offering employees standard fringe benefits such as health and retirement benefits. Think you can't afford it? The good news is there are now more affordable health benefit solutions, such as employer-funded individual health insurance, that allow you to fully control the cost.

#3 Know What Your Competition Is Doing
When it comes to attracting and recruiting candidates, know how you stack up against your competition. Candidates, and your current employees, are looking around to see how other companies treat their employees.
While you may feel like you can't compete with larger business's compensation packages, you can compete by having an awesome company culture and providing unique perks, benefits, and professional development.
To get a sense for what your competition is doing, network with managers from other companies, look at competitor's career web pages, and talk to employees and candidates about what they are seeing or hearing.
#4 Offer Interesting and Challenging Work
Offering challenging work keeps employees engaged. Make sure the work is challenging from the beginning of employment, and throughout employment.
Is the work challenging, but not burn-out difficult? Are there clear role definitions so it is straightforward, but not easy? As employees grow and become more efficient, do their responsibilities grow with them? Along with the work you're asking employees to do, are they excited about the overall company vision? Are employees passionate about the vision?
Offering interesting and challenging work, along with a strong company vision, will create a buzz about working for your business.
Similarly, demonstrate opportunity for advancement. If you want employees to stay with your company for a long portion of their careers, you have to give them a career path. This includes a clear path to promotions, regular evaluations, training for new skills, and mentoring opportunities to help employees get there.
#5 Recognize Employees
Lastly, employee recognition is important to company culture and morale. Recognition can be done in many ways. Fair pay is part of the picture, but so are rewards for accomplishments and for time spent with the company. Contests (such as sales goals) also help employees feel valued, as can bonuses, free food, benefits, and other perks. Recognition should be done on an individual, team, and company-wide basis.
Conclusion
Being an Employer of Choice helps you recruit and retain the right employees for your business, at a lower cost. But don't worry, it does not have to be time consuming or expensive to compete with the larger companies.
There are simple tactics you can easily implement on a small business budget such as identifying the type of employee that will help your business grow, tailoring benefits and perks to these employees, understanding your competition, offering challenging work, and recognizing employees.
What tactics are you employing to become an Employer of Choice? Leave your ideas in the comments section below.