In one week, we release our book The End of Employer-Provided Health Insurance, which discusses the obvious solution to our nation's employer health insurance woes - employer-funded individual health insurance. The book is available for pre-order on Amazon.com and BarnesandNoble.com.
This article is part of an on-going series of articles on The 10 Reasons Group Health Insurance is Bad for You, Your Family and Your Company.
The second reason group health insurance is bad for you, your family, and your company is because it is overpriced -- you pay $4,000 to $12,000 more for the same coverage.
Group Health Insurance is Overpriced
The average cost to cover an employee with group health insurance has increased from $2,196 per year in 1999 to $5,884 per year in 2013. For family coverage, the cost has increased from $5,791 per year in 1999 to $16,351 per year in 2013. This is not sustainable for employers or employees.
Prior to 2014, the annual cost of individual health insurance was about $2,500 a person—but there was a catch. Everyone medically qualified for group coverage but, in 45 states, only healthy people and their healthy families medically qualified for individual health insurance.
Then, the Affordable Care Act (known as ACA or Obamacare) was passed in 2010. The ACA mandated that the price, benefits, and qualifications for individual health insurance be roughly the same or better than most group coverage.
Even if you work for a company that pays 100 percent of the cost for you to participate in the group health insurance plan, you are probably paying between 50 and 100 percent of the cost to add your spouse and children to your group plan. Most people don't realize the cost of their family is typically deducted from their net wages via their paychecks.
Group health insurance has been hit by soaring costs in recent years, making it less affordable for employers and employees. From 1999 to 2013, the annual premium that U.S. health insurance companies charged for group health benefits plans increased approximately 182 percent to roughly $16,350 per family. For single coverage, the cost has increased about 168 percent to $5,884 per single (Kaiser Family Foundation 2013).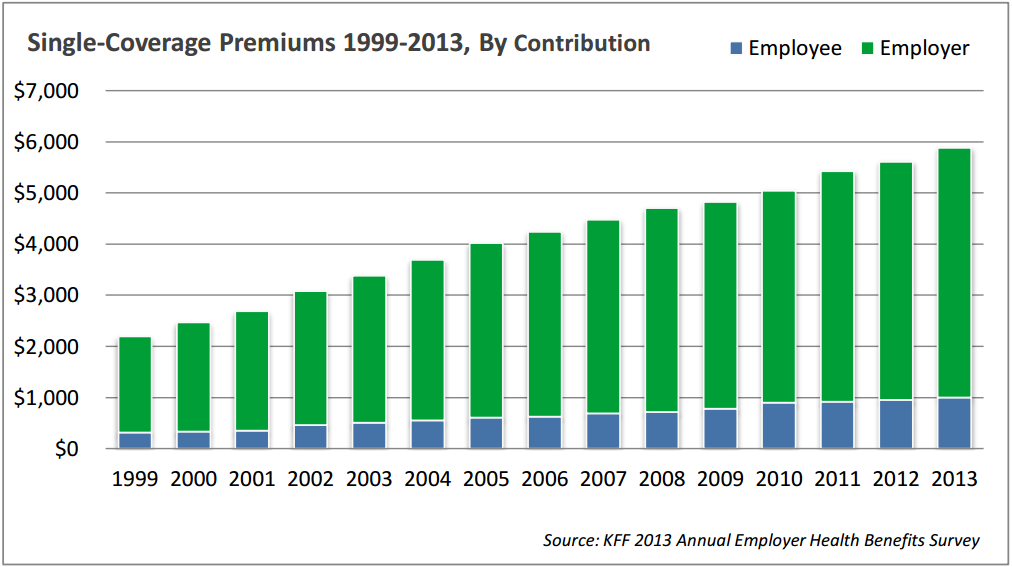 During this period, many employers stopped providing health benefits entirely. The percent of jobs that included health benefits fell to 57 percent—9 percent fewer U.S. jobs provided health benefits in 2013 versus 1999. The average cost of group health benefits is expected to reach approximately $20,000 per family and $8,000 per single in 2016. On average, employees on group health insurance will be paying more and getting less in terms of higher deductibles, higher copays, and higher out-of-pocket maximums.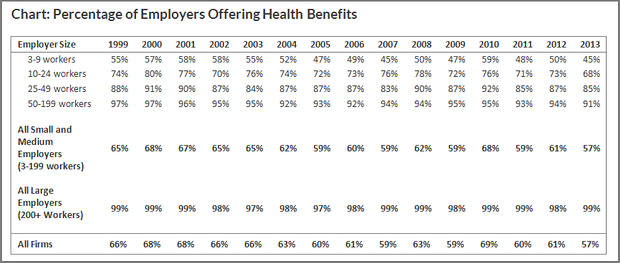 What's the solution?
You should switch to individual health insurance because it's 20 to 60 percent less. With an individual plan, you pay $4,000 to $12,000 less for the same coverage.
For people who obtained insurance through the exchanges this year (2014), the average premium paid was $346 per month. Once subsidies were applied, the average premium was reduced by more than 75 percent — to $82 a month.
I will be going through reason number three (group health insurance is risky) tomorrow.
Click here to read all articles in the series.