Most employees greatly value health insurance. After all, medical care in the US is expensive. Having a baby costs between $30,000 and $50,000 on average, and so does a three-day hospital stay (averaging $15,000/day). Health insurance is a way to reduce those costs by sharing the risk with others, and health insurance gives you access to in-network pricing discounts.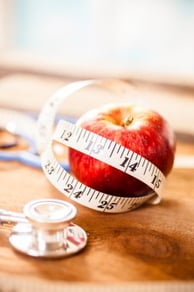 Whether you're selecting a health insurance plan at work, or purchasing one on your own, here are three important questions to ask when picking a health insurance plan.
1. What Does the Plan Cover?
Before health reform, different health insurance plans might cover different types of medical care. For example, some might not cover mental health, prescription drugs, or maternity care.
But as of 2014, all insurance plans sold to individuals and small businesses must now cover these ten "essential health benefits".
Emergency services

Hospitalization

Laboratory tests

Maternity and newborn care

Mental health and substance-abuse treatment

Outpatient care (doctors and other services you receive outside of a hospital)

Pediatric services including dental and vision care

Prescription drugs

Preventive services (such as immunizations and mammograms) and management of chronic diseases such as diabetes

Rehabilitation services
The rules for insurance provided by larger employers are a little different but most of them will cover the same set of benefits. If you are selecting from plans from a larger employer and are unsure what the plans cover, ask your employer for the Summary of Benefits and Coverage (SBC), a standard form that will state exactly what the plan covers and does not cover.
2. How Much Does the Plan Cost?
When you're looking at the cost of health insurance plans, consider two main factors:
The amount you will pay to the insurance company for your plan, usually paid monthly. This is called the premium.

The amount you will pay out of your own finances when you receive medical care. These amounts will be reflected as a combination of deductibles, coinsurance, and copays. These are called your out-of-pocket costs, explained below in more detail.
To make plan and cost comparison easier, the plans sold in state marketplaces will be displayed in standardized "metallic tiers of coverage" with various combinations of premiums and out-of-pocket costs.
For example, a Platinum plan will generally cost the most monthly, but you'll pay the least when you receive medical care. This could be a good option if you plan to use a lot of medical care services. On the other end, a Bronze plan will generally cost the least monthly, but you'll pay more when you receive medical care. This could be a good option if you don't plan on needing a log of medical services.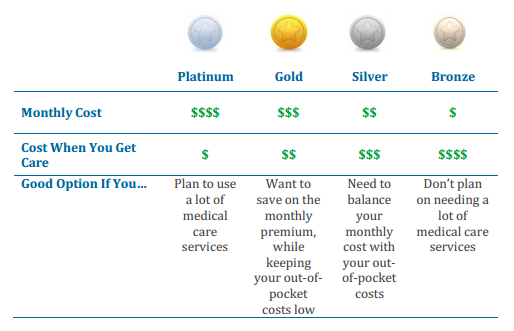 Which plan coverage is right for you depends on your health and financial situation. For example:
If you have an expensive medical condition or have a planned medical procedure, consider a plan with a higher premium that covers more of your costs.

If you are generally healthy you might come out ahead by paying a lower premium and a bigger share of your health costs. Of course, you need to be prepared to pay more if you unexpectedly become sick or injured.
Out-of-Pocket Costs
The term "out-of-pocket costs" refer to the part of your medical bills you are responsible for paying when you receive health care. Here are the four health insurance terms it's important to understand:
Deductible: The deductible is the amount you must pay for covered services before your health insurance begins to pay. Insurers apply and structure deductibles differently. For example, under one plan, a comprehensive deductible might apply to all services while another plan might have separate deductibles for covered services such as prescription drug coverage.

Co-pay: A co-pay, or copayment, is a flat dollar amount you will pay your healthcare provider for a covered service. For example, you may have to pay a $20 copayment for each covered visit to a primary care doctor, and $10 for each generic prescription filled. Copayments vary from plan to plan and are sometimes different depending on the type of covered service you receive.

Co-Insurance: Co-insurance is the percentage of allowed charges for covered services that you're required to pay. For example, your health insurance may cover 70% of the charges for a covered hospitalization, leaving you responsible for 30%. This 30% is known as the co-insurance. If the plan has a deductible, you usually pay the co-insurance for covered services after the deductible is met.

Out-of-Pocket Maximum: An out-of-pocket maximum is the maximum amount of money you will pay for covered services during a benefit period (for example, over the course of a year). The out-of-pocket maximum never includes your premium, balance-billed charges, or services your health insurance plan doesn't cover. The out-of-pocket maximum will vary from plan to plan but can include copayments, deductibles, and co-insurance. Once you have paid the full amount toward your out-of-pocket maximum, your insurance will pay 100% of the allowed amount for your covered healthcare expenses. The new health law says that in 2014, the out-of-pocket limit for plans sold to individuals and small businesses cannot be more than $6,350 for an individual or $12,700 for a family (not including your monthly premium). Some plans may have lower out-of-pocket limits than that.
3. Can I Keep My Same Doctor?
Every health insurance plan has a network of providers—doctors, hospitals, laboratories, imaging centers, pharmacies, etc. Each insurance company has contracts with these types of medical providers agreeing to provide services to plan members at a specific cost.
If a doctor is not in your plan's network, the insurance company may not cover the bill, or may require you to pay a higher share of the cost. So if you have doctors you want to continue to see, make sure they are included in the plan's network.
If you are shopping for health insurance on your own, review the plan's provider directory before you purchase the plan. If you are looking at insurance options through your employer, you can obtain provider lists from participating insurance companies, or from the company's employee benefits department.
Tip: A health insurance agent is a great resource to help guide you through these questions.
Do you have questions or tips about picking a health insurance plan? Leave a comment below, and we'll help answer them.