Health Reimbursement Arrangements (HRAs), like the Small Business HRA, are a popular way for churches and nonprofits to offer health benefits. Can these types of medical reimbursement plans work with health care sharing ministry programs? Let's take a look.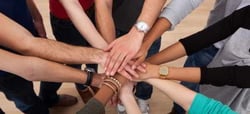 What Are Health Care Sharing Ministry Programs?
By definition, a health care sharing ministry is a nonprofit organization that facilitates sharing of health-care costs between individual members.
There are several faith-based organizations who offer these types of health care sharing ministries, and all programs are set up differently.
However, the basic concept is that members donate a monthly amount, and then are able to apply for a grant (or access "shares") when a medical expense is incurred. There is often a threshold to apply for assistance (for example, a medical expense must be more than $300 to apply for assistance).
Individuals that belong to a health care sharing ministry are exempt from the individual responsibility requirements of the Patient Protection and Affordable Care Act, or Affordable Care Act (ACA) for short. In other words, if an individual belongs to a health care sharing ministry, they are not subject to the "individual mandate."
According to the federal definition outlined in the PPACA, a health care sharing ministry program:
Must be a 501(c)(3) organization

Must have members who share common ethical or religious beliefs

Must not discriminate membership based on state of residence or employment

Cannot discontinue membership due to development of a medical condition

Must have existed and been in practice continually since December 31, 1999 (a grandfather clause)

Must be subject to an annual audit by an independent CPA which must be publicly available upon request
Can an HRA Reimburse Health Care Sharing Ministry Membership Donations?
No. Health Reimbursement Arrangements cannot reimburse employees for their membership fees/donations ("premiums") to a health care sharing ministry program. Why?
IRC Section 213 governs which types of expenses and health insurance premiums can be reimbursed through these types of reimbursement plans.

IRC Section 213 specifies in "(D) for insurance (including amounts paid as premiums under part B of title XVIII of the Social Security Act, relating to supplementary medical insurance for the aged) covering medical care referred to in subparagraphs (A) and (B) or for any qualified long-term care insurance contract (as defined in section 7702B (b))."

Health care sharing ministry programs are not offered by an insurance company, and the benefit is not insurance. Therefore, the membership fees/donations are not reimbursable according to IRS guidelines.
What questions do you have about HRAs, reimbursement plans, and health care sharing ministry programs? Leave a comment.
Article last updated on 1/17/2017.