A Third Party Administrator (TPA) for employee health benefits is a person or organization that performs administrative services (e.g. claim processing, adjudication, record-keeping), usually on behalf of an employer that self-insures health benefits.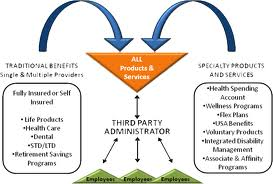 Most TPAs operate as an entity independent from the health insurance carrier and the insured (employees or plan participants).
Currently, more than 40 states have a TPA licensing requirement and several more have similar minimum requirements.