A Health Savings Account (HSA) is a tax-advantaged financial account paired with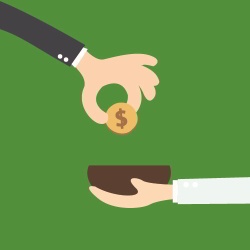 a qualified high-deductible health plan (HDHP). An HSA may be used to pay for qualified medical expenses tax-free, and to save for the future. Many employers offer employees HSA contributions as part of their healthcare benefits packages.
With an HSA, there is an annual contribution limit adjusted each year by the Internal Revenue Service (IRS). This article outlines the HSA contribution limits, and other HSA guidelines, for 2017.
HSA Guidelines for 2017
| | | | | |
| --- | --- | --- | --- | --- |
| | HSA Contribution Limit | HDHP Minimum Deductible | HDHP Maximum Out-of-Pocket | HSA 55+ additional contribution amount |
| Single | $3,400 | $1,300 | $6,550 | $1,000 |
| Family | $6,750 | $2,600 | $13,100 | $1,000 |
Compared to the 2016 HSA contribution limits:
The HSA contribution limit increased $50 for single, and stayed the same for family.
The HDHP minimum deductible did not change.
The HDHP maximum out-of-pocket amount stayed the same for both single and family.
The "catch-up" amount for those age 55 years and older did not change.
HSA contributions for the 2017 tax year may be made until April 15, 2018. If you use an HSA to pay for unqualified medical expenses in 2017, the tax penalty is 20% of the HSA distribution. Funds spent for nonqualified purposes are also subject to income tax.
The 2017 HSA guidelines were released on April 29, 2016 by the IRS (see Revenue Procedure 2016-28).
Additional Resources to Understand Account-Based Health Plans
HSAs are just one type of account-based health plan employers and employees use for tax-free medical spending or reimbursement.
Wondering how HSAs compare to other type of accounts such as Health Reimbursement Accounts (HRAs) and Flexible Spending Accounts (FSAs)? Here are additional resources to help:
Conclusion
An HSA is a financial account established by an individual or family to pay for qualified medical expenses tax-free, and to save for the future. In 2017, the HSA contribution limit is $3,400 for those with single coverage and $6,750 for family.
What questions do you have about Health Savings Accounts or the guidelines for 2017? Leave a comment below.