It's a subject most people don't want to talk about openly, but the national epidemic of obesity presents significant problems for US employers. Obesity and its related diseases contribute to lost productivity, wage replacement, and increasing medical costs. All of these effects of obesity impact a business's bottom line. Can employers play a role in mitigating these negative effects? While wellness programs and consumer-driven health plans address the growing problem of obesity, the question of how to provide effective help to overweight workers is a sensitive and challenging issue, and solutions remain to be discovered.
These are the issues, strategies, and conclusions discussed in the Northeast Business Group's "Weight Control and the Workplace" report released this week. The report provides a look at the scope of obesity in the US, how workplaces are taking on obesity through wellness and weight control programs, and how obesity is a growing challenge for US employers and employees.
The Impact of Obesity on Health Care Costs
Obesity is an epidemic in the US and one of the driving factors in the growing cost of health care. According to the report:
More than one-third of American adults are obese, a number that grows every year.

Health care spending due to obesity is as high as $210 billion (in 2008 dollars), which is approximately 21% of total health care spending. If indirect costs are included, spending costs due to obesity are as high as $450 billion.

According to the CDC, chronic diseases such as arthritis, diabetes, and heart disease, which are linked to obesity, account for 75% of national health care expenditures.

More specifically, 95% of diabetics are type II diabetics, and of those, 55% are obese. Diabetes care costs the nation $147 billion annually.

Each year cancer costs the US $200 billion and 4.4–7.5% of new cancer cases can be attributed to obesity.

The CDC projects, if trends continue, that obesity rates will double by 2030 and rise even higher in some states, increasing expected spending by $48–$66 billion.
The Impact of Obesity on Employers
According to the report, overweight employees place a financial toll on employers.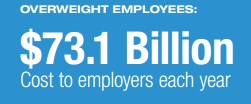 Overweight employees cost their employers $73.1 billion a year and file twice the number of workers' compensation claims.

The average medical claims cost per 100 employees is $51,019 for obese employees, compared to $7,503 for non-obese employees.

Obese men take six more sick days a year than non-obese men. Obese women take 9.4 more days a year than non-obese women. The resulting obesity-related absenteeism costs employers $6.4 billion/year.

67% of employers identified employees' poor health habits as one of their top three challenges to maintaining affordable health coverage.
Strategies to Curb Obesity in the Workplace
The prevalence of obesity has a direct cost to employers and many employers see the opportunity to curb obesity. After all, employees spend 55% of waking hours at work. Through wellness, specifically weight control programs, employers are looking to influence healthy behaviors to keep health care affordable and to contribute to employees' long-term health and well-being. So, what are we talking about? According to the report, three examples of popular wellness and weight control strategies include:
Lifestyle modification programs - onsite Weight Watchers, onsite workout areas, standing or treadmill desks, healthy foods in vending machines, etc.

Competition - Weight-loss or fitness competition across the company.

Incentives - Reward employees for participating in a health risk assessment, disease management program, weight loss program, smoking cessation program, etc.
Can Workplace Weight Control Programs Make a Dent in Obesity?
The report emphasizes that for workplace weight control programs to make a difference, the program needs to have:
Leadership support for the program - financially and culturally.

Employee engagement - weight control programs only work when the employees most in need participate.

A positive brand - market the program with employees to grow awareness, build trust, and create a buzz.

A business case - make sure all activities are benchmarked and measurable, so you can report ROI to the company.
Will these programs have an impact on obesity in the workplace and across the nation? The report makes the following recommendations for the future success of workplace weight control programs:
Weight control programs need to be customized, and incorporate employer leadership, employee engagement, program branding, business case development, and clear definitions of success. The program needs to adapt and best fit the needs and resources of each employee and each organization.

Employee engagement is key, including employees involvement with designing, rolling out, and optimizing the weight control program. Employee involvement help reaches the people who most need these programs.

These programs will only have impact if they are leveraged across the country. Therefore, scale and adoption is important. Addressing how employee obesity and weight control programs can be scaled according to employer size and needs is important for adoption and sustainability.
For the full report see Northeast Business Group on Health's website.
What do you think - as more workplaces take on obesity, will weight control programs work? Have you implemented a weight control program? Has it worked? Leave a comment below.
Photo Credit: Hubspot