While group health insurance has typically been the standard choice for employer-sponsored health coverage, rising group premiums and the "one-size-fits-all" nature of the plans are becoming unsustainable for many organizations, especially small and medium-size businesses (SMBs).
One alternative that has been growing in popularity is the individual coverage health reimbursement arrangement (ICHRA)—an IRS-approved health benefit that allows employers to reimburse their employees, tax-free, for their own individual health insurance premiums and qualifying out-of-pocket medical expenses.
So what exactly is it about the ICHRA that makes it a more attractive benefits solution to some employers, and how likely is it to stick around? These are the questions we asked in a survey to our PeopleKeep customers to get an in-depth sentiment analysis on the ICHRA and its users.
In this article, we'll highlight the results of the survey to reveal how employers feel about the ICHRA, why they chose it over other group health insurance options, their likelihood to renew their benefit in 2022, and more.
Short on time? Download an infographic summary of the results.
Why do quality health benefits matter?
First off, in order to understand how the ICHRA works as a health benefits solution, we first have to understand why offering a quality health benefit matters to employers. The short answer? Because they know their employees expect it.
According to our survey, 84% of employers say that receiving employer-sponsored health benefits is either important or very important to their employees.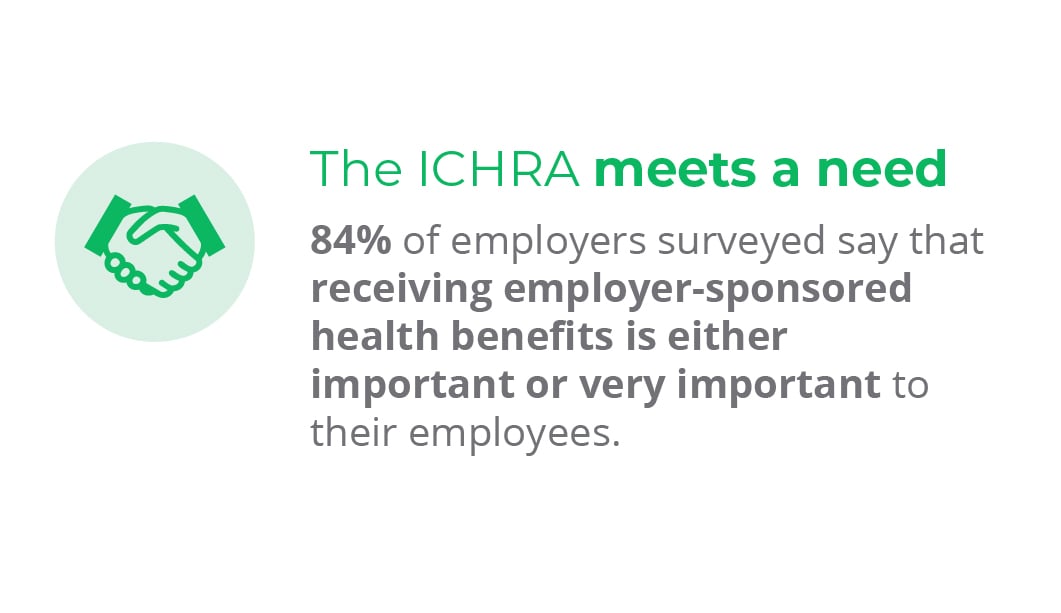 Being unable to afford a health benefits package or offering one that doesn't meet employees' needs is not a viable option for SMBs that want to recruit and retain top talent.
Is an ICHRA more affordable than group health insurance?
Now that we know that offering health benefits is essential to employers, we also know that SMBs will need to dedicate a significant portion of their budget to make it happen. That's why the ICHRA's cost-controlled nature is attractive to employers.
64% of employers surveyed agree that the ICHRA is more affordable than other group health insurance options.
Not only does the ICHRA allow employers to set a monthly allowance that employees can't exceed, any unused funds are returned to the organization at the end of the plan year. What's more, unlike a salary stipend, reimbursing employees for their health expenses with an ICHRA is completely tax-free.
See how much it would cost your organization to offer an ICHRA with our benefits designer tool
Is an ICHRA more flexible than group health insurance?
Next, we asked our customers whether they felt an ICHRA is a more flexible health benefit than other group health insurance options they've used or considered. An inflexible health benefit will have strict participation and contribution requirements, and little or no choice in the network availability, deductible, or premium cost.
With an ICHRA, you'll find no such participation or contribution requirements, plus employees can choose an individual health insurance plan that works with their current doctors, network, and budget, giving both employers and employees far more freedom.
It's no wonder that nearly 70% of employers surveyed feel that the ICHRA is more flexible than other group health insurance options.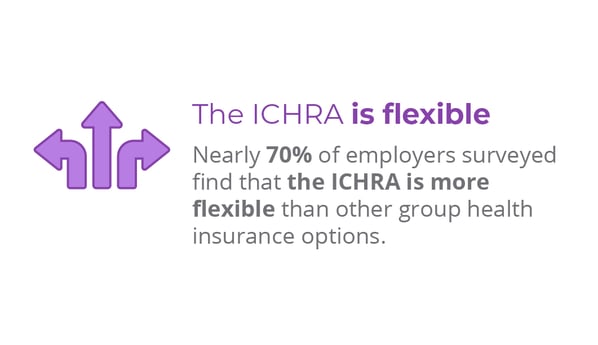 Does an ICHRA take less time to administer than group health insurance?
Another area we asked our customers about is the time-saving element of their ICHRA. With PeopleKeep, administering an ICHRA only takes a few minutes every month because we automate all the most time-consuming tasks like preparing and updating legal documentation and reviewing reimbursements while providing award-winning customer support to employees.
More than half of employers surveyed (55%) stated that their ICHRA takes less time to administer than other group health insurance options.
Will employers keep using their ICHRA?
Next, we wanted to know if employers are getting enough value from their ICHRA benefit to continue using it in 2022. Our survey showed that not only are 90% of employers planning to renew their ICHRA benefit for the following year, but 66% of employers would also recommend it to others looking for an alternative to group health insurance.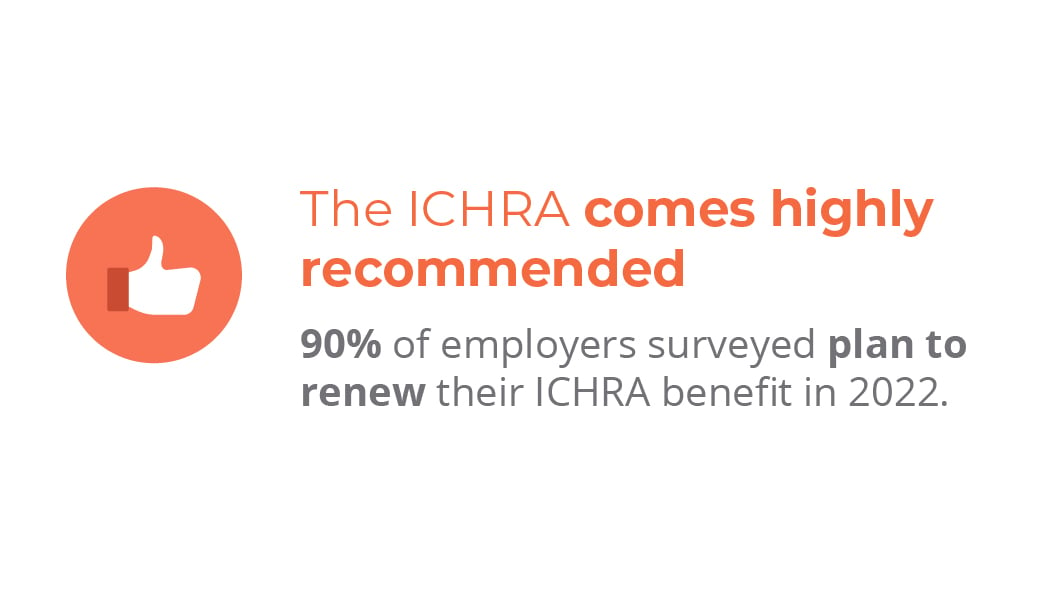 What makes an ICHRA different from group health insurance?
So far we've learned that employers agree that an ICHRA is more affordable, flexible, and saves more time than group health insurance—but which of these matters most to employers, or is there something else entirely that keeps employers renewing their ICHRA benefit each year?
Our survey revealed that the number one reason employers want to offer an ICHRA is because it allows their employees to choose their own health insurance plan. At the end of the day, employers simply want to do right by their employees and offer the kind of benefit they'll actually use and enjoy—and an ICHRA is that benefit.
The ICHRA's cost savings and ease of administration come in as the top two and three reasons the benefit comes out ahead of group health insurance for our customers.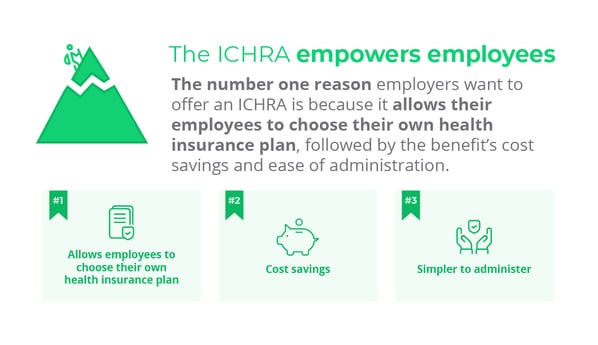 Are employers interested in other alternatives to group health insurance?
Finally, the ICHRA may just be the beginning of choices employers have in the future when it comes to exploring alternatives to group health insurance. We asked our customers if they'd be interested in seeing the federal government expand the number of employer-sponsored health benefits options, like the ICHRA, that are available to employers, and 65% agreed.
PeopleKeep can help your organization offer an ICHRA
If your organization is interested in offering an ICHRA, PeopleKeep's administration software and award-winning customer support team come highly recommended. Nearly 90% of employers would recommend PeopleKeep to other employers looking for an alternative to group health insurance.
Schedule a call with a personalized benefits advisor to see how an ICHRA can help you offer hassle-free health benefits