Our 2021 report is now available!
Click HERE to see next year's results
---
Prefer to listen? Play the audio version of this article and follow along!
(00:15) The new year has come and passed, and that signals the return of the annual usage report for the qualified small employer health reimbursement arrangement (QSEHRA). Every year, PeopleKeep gathers data which represents how its customers are using the health benefit, and summarizes it all in a visual report.
PeopleKeep encourages readers to use the report as a reference point for ensuring their health benefits are competitive with businesses of comparable size and geographic location as they design a competitive health benefit for employees. The report includes year-over-year data that shows usage trends, in addition to relevant highlights from 2019.
Below, we break down each of the sections in the infographic and provide in-depth looks at what the data reveals in context.
Click HERE to download the full infographic.
Section 1: Annual Allowance Caps By Family Status

(01:02) In 2020, the IRS implemented increases in allowance caps for the qualified small employer HRA for both single employees and employees with a family. As shown in the graphic, companies are allowed to reimburse single employees $100 more ($5,250/year) and employees with families $150 more ($10,600/year) in 2020.
Section 2: Total Allowance Usage

(01:30) But how are employees using the qualified small employer HRA? It turns out that 18% of single employees and 19% of employees with a family used their entire allowance.
This is an important set of statistics for business owners who worry about setting and controlling their health benefits budget.
One of the most powerful benefits of an HRA is the ability employers have to set an allowance cap that fits their budget. As a result, they never have to worry about exceeding it. And as long as they are in line with, or below the government-regulated allowance cap, the qualified small employer HRA allows small businesses to compete with larger employers with robust benefits packages. One final note, is employers have a very low chance of paying out the full budgeted allowance amount. As shown above, only 18% used the full amount in 2019.
Section 3: Average allowance by family status

(02:56) In 2019, the average allowance amounts for single employees was $280/month and $514/month for employees with a family.
The average allowance amounts for each family status accounted for about half of the total allowance cap set by the IRS. In this case, IRS regulations seem to be setting standards that meet and even exceed the needs and capabilities of small businesses.
Section 4: Average monthly reimbursement amounts by family status

(02:56) For single employees, the average monthly reimbursement amounts stayed the exact same between 2018 and 2019, despite health insurance premium costs increasing by about 4% nationwide since 2018.
For employees with a family, the story is a little more interesting. On average, they submitted about 3% less in monthly reimbursements than the previous year. Although it's not a significant drop in spending, it does demonstrate at least a minor shift.
Section 5: Average number of reimbursements

(03:29) In 2019, each HRA participant averaged at least one reimbursement per month, totalling 12 average reimbursements, per employee, for the entire year. This is an important metric because despite the decrease in spending for employees with a family, that does not mean they have reduced their engagement with the benefit. In fact, employees have remained just as engaged with their HRA as in previous years.
Section 6: The Most Common Reimbursements

(03:57) The five most common non-premium reimbursements employees submitted include:
Prescription drugs
Medical office visits
Chiropractic care
Dental care
Mental health counseling.
These expenses speak well to the unique appeal that an HRA has for employees. Since individual health insurance covers a broad range of medical care, it is important that small business owners have resources like the qualified small employer HRA to offer a way for employees to make their healthcare affordable.
Giving employees direct access to essential health resources like prescription drugs or mental health counseling helps improve quality of life while extending the reach that they would otherwise not have without the benefit.
Section 7: The Two Most Popular Reimbursements

(04:45) Taking a deeper look at the two most popular, non-premium reimbursements, we see that 55% of users submitted at least one reimbursement for a medical office visit. In addition, 45% submitted at least one reimbursement for prescription drug expenses.
These two data points clearly demonstrate the value an HRA provides that a typical group health insurance plan doesn't. People clearly have a need or at least a desire to have their out-of-pocket medical expenses supplemented by an employer.
Section 8: Average allowance amounts by company size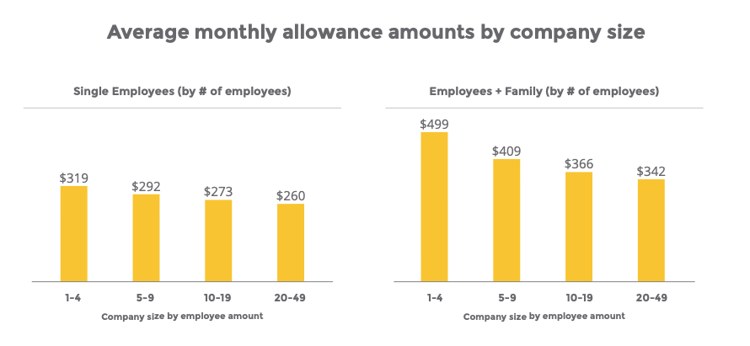 (05:21) This graphic reveals a little bit about the way companies operate and prioritize benefits as they grow. What is most clear is that as companies increase in size, the less they offer to employees.
One hypothesis we have about why this might be, is smaller employers have to place a more significant emphasis on leveraging health benefits to recruit and retain employees than their larger counterparts.
Section 9: Highest average allowance vs health premiums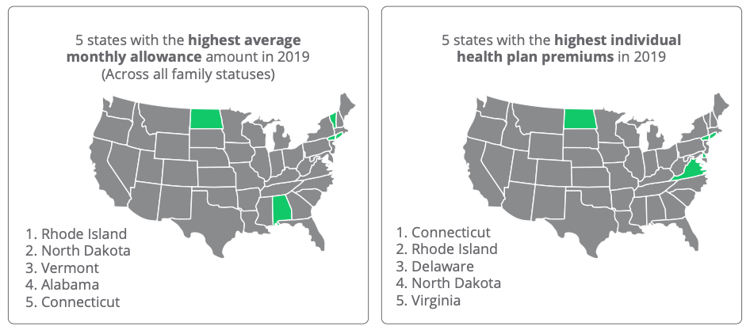 (05:51) In our first state-by-state analysis, we compare the top five states by the highest average allowance amounts with the highest individual health plan premium costs. This is important to review because businesses in states with high health expenses should increase allowance amounts as a result.
In these maps, we can see that businesses in Rhode Island, North Dakota, and Connecticut are doing well to correlate the allowances they offer with the cost of health insurance in their states.
Section 10: Lowest average allowance vs health premiums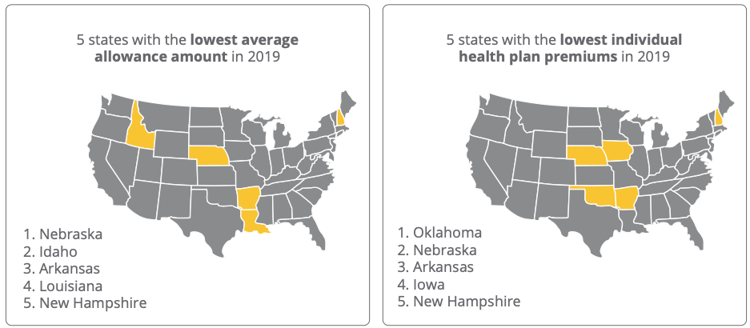 (06:24) These two maps measure the inverse of the previous graphic. In this case, we compare the states that offer the lowest average allowance with the states that have the lowest health insurance premium costs.
Businesses in states like Nebraska, Arkansas, and New Hampshire are in line with the allowance amounts they offer compared to the cost of health insurance in their states.
Section 11: Greatest increases in allowance amounts and reimbursements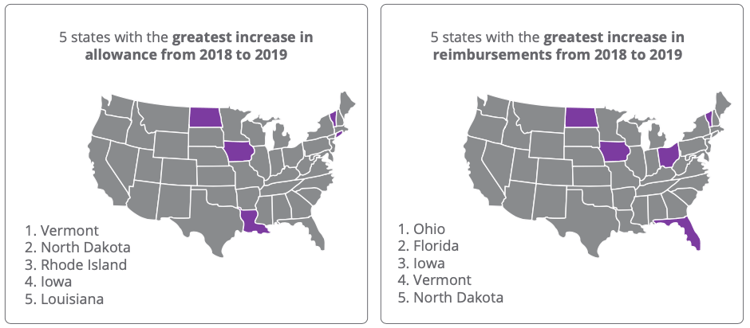 (06:50) These two maps demonstrate a different trend. In the previous maps, we compared costs and budgets. In these two maps, however, we look at how reimbursement usage correlates with changes in allowance amounts.
What we see is businesses in states listed in the first map showed the greatest year-over-year increases in allowance amounts. Now what is interesting to note, is many of the states in the first map are also listed in the second. Meaning, as businesses increase the allowances they offer, employee reimbursement averages follow suit.
As a direct example, businesses in states like Vermont, North Dakota, and Iowa all increased their allowance amounts significantly, and as a result, employee engagement followed suit.
Conclusion
(07:34) This year we were very excited to show year-over-year data, as well as state-specific information relating to how businesses and their employees are using the qualified small employer HRA.
We can clearly see in many of these examples that expenses and overall employee participation are increasing year-over-year. But what we haven't seen is a subsequent increase in average allowance amounts from employers.
As a result, we are seeing that the larger businesses with 10-49 employees will likely need to increase the allowance amounts they offer if they want to compete with smaller businesses.
One final observation we would like to make is it seems that the traditional advantage that larger businesses had with group health insurance is turning around in favor of smaller businesses. The qualified small employer HRA enables small businesses to effectively compete with larger businesses offering group health insurance.
Interested in downloading the full annual report?
Click the image to download now.