Salt Lake City, Utah (July 14, 2017) – Zane Benefits, the leader in personalized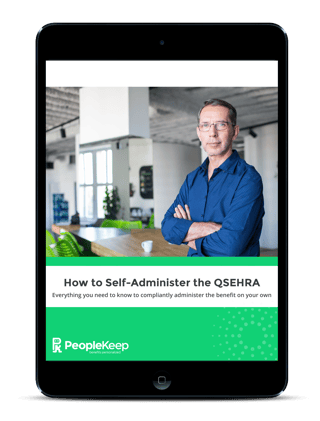 employee benefits for small businesses, today announced the launch of its newest resource, How to Self-Administer the QSEHRA. This first-of-its-kind eBook is the only industry resource to provide a comprehensive look at Qualified Small Employer Health Reimbursement Arrangement (QSEHRA) administration, from drafting plan documents to complying with tax reporting requirements.
This new eBook explains what businesses need to self-administer the QSEHRA from start to finish. It also compares manual self-administration with other solutions, like using outsourced administration or software-as-a-service (SaaS) automation, such as Zane Benefits product PeopleKeep, as support.
Traditionally, administering a small business health plan was the insurance carrier's responsibility. As more small businesses realize the advantages of the QSEHRA, however, the question of administration is often up in the air. Small businesses aren't connected directly to a carrier through the QSEHRA, which means they need to decide how to set up and run the plan.
At the same time, self-service has become increasingly popular among small businesses. Technology has expanded businesses' reach and knowledge base, and the allure of cost savings has caused many to take on roles they usually outsource—including health benefit administration.
But the IRS and ERISA requirements governing the QSEHRA are complex. Until the release of this eBook, small businesses haven't had a way to navigate that complexity or to compare this kind of manual self-administration with other options.
How to Self-Administer the QSEHRA is available for free download at www.ZaneBenefits.com. The 34-page eBook covers the following topics, among others:
Establishing legal plan documents
Establishing administrative procedures
Complying with IRS, HHS, DOL, and ERISA requirements
Helping employees buy individual health insurance
The costs of manual self-administration
Comparing manual self-administration, outsourced administration, and SaaS automation
Zane Benefits is a trusted voice in the employee benefits space, and the company's more than 270 eBooks and webinars on personalized benefits have been downloaded by health insurance brokers, trusted advisors, and small business owners more than 120,000 times.
About Zane Benefits
Zane Benefits was founded in 2006 with a mission to personalize employee benefits for small business. We envision a world where small business can compete with big business for the best people. We will realize this vision by personalizing the way small businesses hire and keep their people. Our solutions are simple, compliant, and personalized. We will know we have realized this vision once we are helping 100,000 small businesses succeed.
PeopleKeep is our employee health benefits solution. PeopleKeep automates compliance and simplifies administrative tasks so small businesses can provide personalized health benefits to their employees. With PeopleKeep, employees buy their own health insurance and the company makes available tax-free dollars to help with out-of-pocket costs. PeopleKeep includes a compliant health reimbursement plan, personalized online shopping assistance for employees, and simple administrative tools. For more information, visit www.ZaneBenefits.com.