New Chart Helps Small Businesses Understand How to Correctly Reimburse Employees' Individual Health Insurance
Zane Benefits, the leader in individual health insurance reimbursement for small businesses, announced today the publication of a new quick reference chart, "Are We Reimbursing Employees' Health Insurance Correctly?" The easy to use chart helps small businesses understand how to correctly reimburse employees' individual health insurance.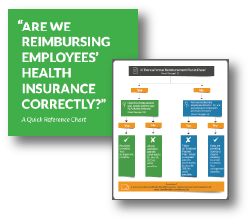 According to Zane Benefits, health benefits are an important tool for attracting and keeping the best employees, but there's a problem. For most small businesses, traditional group health insurance is out of reach.
For example, over 2.7 million U.S. small businesses do not offer traditional group health insurance today. The primary reason is cost. However, this doesn't mean small businesses have given up on health benefits altogether.
Instead, they have adopted a new health benefits strategy - reimbursing employees' for their individual health insurance. With new rules and regulations, however, small businesses need to go about it the right way.
The new reference chart walks through different reimbursement scenarios and helps small businesses answer the question, "Are we reimbursing employees' individual health insurance correctly?"
The 6-page reference chart is available for free download at the zanebenefits.com website and covers the following topics:
How to evaluate if a reimbursement arrangement is compliant

Ways to reimburse employees' health insurance correctly

Steps to avoid costly fees and penalties

New Affordable Care Act rules
About Zane Benefits, Inc.
Zane Benefits is the leader in individual health insurance reimbursement for small businesses. Since 2006, Zane Benefits has been on a mission to bring the benefits of individual health insurance to business owners and their employees. Zane Benefits' software helps businesses reimburse employees for individual health insurance plans for annual savings of 20 to 60 percent compared with traditional employer-provided health insurance. Zane Benefits' software has been featured on the front-page of The Wall Street Journal, USA Today, and The New York Times. Learn more at www.zanebenefits.com.