Salt Lake City, Utah (October 19, 2017) — PeopleKeep, the leader in personalized benefits automation software, today announced a new resource that answers several questions raised by recent federal actions on health care.
The 70-page eBook, Personalized Benefits: A New Way to Hire and Keep People, clarifies and explains the future of employee benefits for small businesses.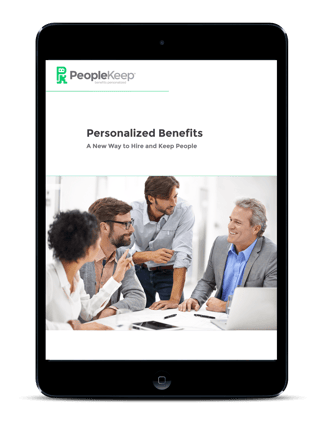 Containing dozens of footnotes as well as original research, Personalized Benefits explores the deterioration of the traditional group benefits market—and offers a practical solution to its myriad problems.
The eBook introduces a new way to offer benefits called personalized benefits. With personalized benefits, small businesses give employees tax-free money to spend on the consumer services they find most valuable, like a health insurance policy.
There are no minimum contribution requirements, no wrangling with benefits providers, and no decisions that benefit some employees but not others. On average, a personalized benefits approach saves businesses and employees 35 percent in taxes compared with wages, and employees recognize their company's offer as a real benefit.
Personalized benefits programs are highly adaptable, and businesses can use them to offer several benefits, including:
Health

Cell phone

Education

Transportation

Retirement

Discounts
As Personalized Benefits explains, this new category isn't just an alternative to traditional group benefits. It's the way of the future.
Right now, roughly 5,000 small businesses across the country offer personalized benefits. By examining key trends in the market, Personalized Benefits demonstrates that one million small businesses will offer personalized benefits by 2025.
It also discusses how small businesses can adopt personalized benefits, with a step-by-step guide to building a personalized benefits program.
The eBook's release comes after recent federal actions on health care have caused hundreds of small businesses to question the benefits market and their future in it. An executive order released earlier this month by President Donald Trump has caused particular uncertainty, as it seeks to embrace new forms of health policies and expand the utility of health reimbursement arrangements (HRAs).
By exploring the past, present, and future of the small business benefits market, Personalized Benefits puts these actions into context and explains how they contribute to the inevitable rise of the personalized benefits category.
Personalized Benefits: A New Way to Hire and Keep Employees is available for free download at PeopleKeep's website, www.ZaneBenefits.com.
PeopleKeep is a trusted voice in the employee benefits space, and the company's more than 270 eBooks and webinars on personalized benefits have been downloaded by small business owners, health insurance brokers, and trusted advisors more than 120,000 times.

About PeopleKeep
Formerly known as Zane Benefits, PeopleKeep has created a new way to offer benefits called personalized benefits. For small businesses that think offering traditional group benefits sucks, PeopleKeep is personalized benefits automation software that makes offering benefits simple, painless, and personal for everyone. Today more than 3,000 companies use PeopleKeep to hire and keep their people across the United States. PeopleKeep is based in Salt Lake City, Utah.