Infographic

Helps Small Businesses and Brokers Understand the Top Employer Health Insurance Trends of 2013
Zane Benefits, the #1 online health benefits solution, announced today the publication of an original infographic "Employer Health Insurance in the US - 8 Key Trends All Small Businesses Need to Know." The new infographic helps small businesses, nonprofits, brokers, and accountants visualize the changing landscape of employer health insurance in the U.S.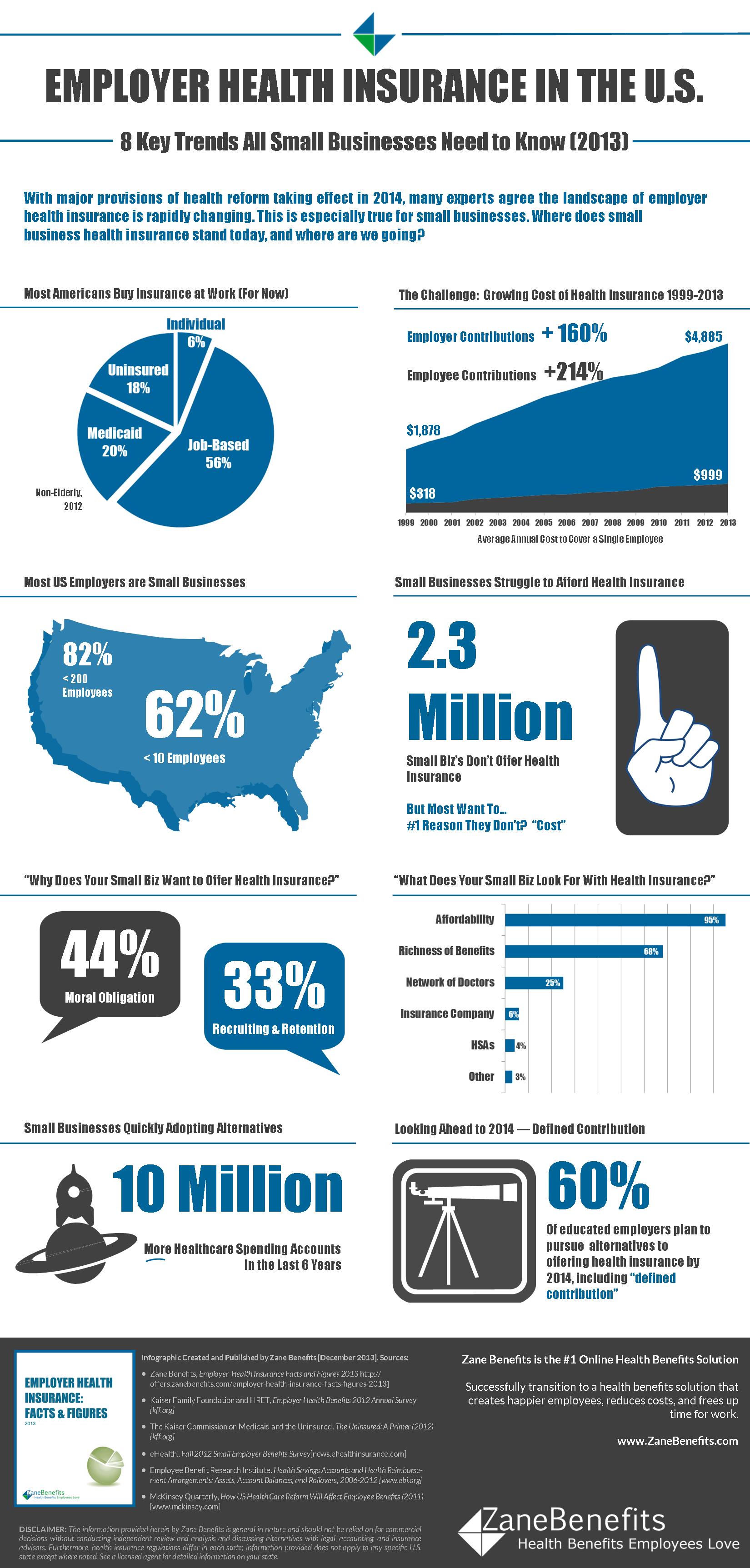 With major provisions of health reform taking effect in 2014, many experts agree the landscape of employer health insurance in America is rapidly changing.
This is especially true for small businesses who have been hit the hardest. As a result there are over 2.3 million small businesses in the U.S. who do not offer health insurance. But just like larger businesses, they want to offer health insurance to recruit and retain key employees. The number one reason they don't? Cost.

This new infographic summarizes the eight key health insurance trends all small businesses need to know including where small business health insurance stands today and indicators of future trends.
The free infographic is available at the zanebenefits.com website (no download required) and provides a look the following topics:
✓ How Americans are insured today
✓ The unsustainable growth of health insurance costs 1999-2013
✓ What small businesses look for in health insurance
✓ The growth of alternatives such as healthcare spending accounts and defined contribution
If you find the infographic helpful, please share it with friends or colleagues. You can embed the infographic on your wesbite or download the PDF from SlideShare.
--
About Zane Benefits, Inc.
Zane Benefits, the #1 online health benefits solution, was founded in 2006 to revolutionize the way employers provide employee health benefits in America. We empower employees to take control over their own healthcare, while helping employers recruit and retain the best talent. Our online solutions allow small and medium-sized businesses to successfully transition to a health benefits program that creates happier employees, reduces costs and frees up more time to serve their customers. For more information about ZaneHealth, visit www.zanebenefits.com.