Updated Whitepaper Helps Small Businesses and Insurance Agents Understand HRAs - The Future of Health Benefits
Zane Benefits, the #1 online small business health benefits solution, announced today the re-release of its most popular health benefits whitepaper "Health Reimbursement Arrangements (HRAs) 101." The updated whitepaper helps small business owners, HR managers, insurance professionals, and CPAs understand the foundation of defined contribution health plans -- HRAs.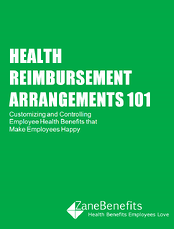 Health Reimbursement Arrangements (HRAs) are the basis for defined contribution health benefits. With health care reform taking full effect in 2014, HRAs and defined contribution health benefits are expected to become a mainstream employee benefit.
Zane Benefits' flagship HRA 101 whitepaper has been updated with the most current small business health insurance data and new information on health reform and HRAs.
Small business owners, non-profits, CEOs, CFOs, HR managers, insurance agents, and CPAs should download this whitepaper to learn why HRAs are the future of health benefits.
The newly updated 20-page whitepaper is available for free download at the zanebenefits.com website and covers the following topics:
Why group health insurance is broken

What is an HRA, and what are its advantages?

How to implement an HRA for a small business

The difference between HRAs, FSAs, and HSAs

How to use HRA Administration Software to offer better health benefits
About Zane Benefits, Inc.
Zane Benefits, Inc., a software company, helps insurance brokers, accountants, and employers take advantage of new defined contribution health benefits via its proprietary SaaS health reimbursement arrangement (HRA) software. Zane Benefits does not sell insurance. Using Zane's platform, insurance professionals and accountants offer their clients a custom defined contribution plan. Learn more at www.zanebenefits.com.