New Guide Helps Businesses Create Affordable Health Benefits Employees Will Love
Zane Benefits, the #1 online small business health benefits solution, announced today the publication of a free eBook "A Guide to Lovable Employee Health Benefits." The new eBook helps business owners and HR managers understand how defined contribution health benefits can reduce the cost and time associated with traditional health insurance, while maintaining all of the benefits employees love.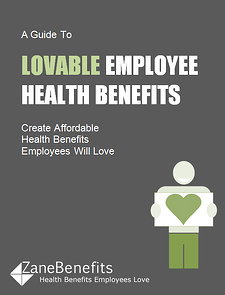 For businesses to thrive in today's economy, finding and retaining the best employees is top priority. However, the landscape of small business health insurance is changing and the cost of group health insurance is no longer sustainable. Businesses need new ways to offer the same or better health benefits at a controllable cost.
Because of this, businesses are transitioning to a defined contribution health benefits approach.
Small Business Owners, CEOs, and Human Resources Managers should download this guide to learn how defined contribution health benefits create controllable costs for the business, and quality health benefits for employees.
The 12-page eBook is available for free download at the zanebenefits.com website and covers the following topics:
How to design affordable health benefits that employees love

The top 3 reason businesses are transitioning to defined contribution

How defined contribution compares to group health insurance

Strategic ways to free up more time for meaningful work
About Zane Benefits, Inc.
Zane Benefits, Inc., a software company, helps employers, insurance brokers, and accountants take advantage of new defined contribution health benefits via its proprietary SaaS health reimbursement arrangement (HRA) software. Zane Benefits does not sell insurance. Using Zane's platform, insurance professionals and accountants offer their clients a custom defined contribution plan. Learn more at www.zanebenefits.com.