New Guide Helps Small Businesses Recruit and Retain The

Best

Employees
Zane Benefits, the online alternative to group health insurance, announced today the publication of a free eBook "A Small Business Owner's Guide to Section 105 Medical Reimbursement Plans." The new eBook helps small business owners recruit and retain employees using a Section 105 Medical Reimbursement Plan.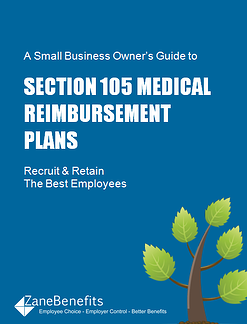 Offering employees health insurance is vital to recruiting and retaining key employees. This is especially true for small businesses.
And yet, less than 50% of small businesses offer health insurance due to cost or minimum participation requirements... and because they don't know an alternative small business health insurance option exists.
Section 105 Medical Reimbursement Plans (also known as Health Reimbursement Arrangements) provide small businesses a new tool to offer tax-free health benefits without the cost or complication of group health insurance.
The new guide provides small business owners an executive-level overview to Section 105 Medical Reimbursement Plans.
The 16-page eBook is available for free download at the zanebenefits.com website and covers the following topics:
How small businesses can design a health benefits program on their own terms

How to get control over the cost of health benefits

How to recruit and retain employees with a formal health benefits program

How to take advantage of new health reform opportunities for small businesses
About Zane Benefits, Inc.
Zane Benefits, Inc., a software company, helps employers, insurance brokers, and accountants take advantage of new defined contribution health benefits via its proprietary SaaS health reimbursement arrangement (HRA) software. Zane Benefits does not sell insurance. Using Zane's platform, insurance professionals and accountants offer their clients a custom defined contribution plan. Learn more at www.zanebenefits.com.