New Checklist Helps Businesses Stay Compliant with Health Care Reform, and Protect Their Bottom Line
Zane Benefits, the online alternative to group health insurance, announced today the publication of a free eBook "The Employer's Essential Health Care Reform Checklist." The new eBook helps businesses understand, and ensure compliance with, health care reform regulations in 2013, 2014, and beyond.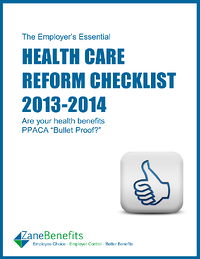 Health care reform is changing the landscape of employee health benefits. By 2014 all businesses need to:
Understand new compliance obligations,
Analyze cost-saving opportunities, and
Implement changes before January 1.
Businesses need to act now to ensure compliance with current PPACA provisions and to prepare their employee health benefits for 2014.
This top-level guide is written for Business Owners, CEOs, and HR Professionals. The checklist helps businesses ensure compliance with key PPACA regulations, and learn about new cost-saving options for employee health benefits.
The 8-page guide is available for free download at the zanebenefits.com website and covers the following topics:
The 13 regulations all businesses need to know now, and into 2014

Concise descriptions of regulations, with links for in-depth resources

How PPACA impacts employer-sponsored health insurance

How PPACA impacts stand-alone HRAs and FSAs
About Zane Benefits, Inc.
Zane Benefits, Inc., a software company, helps insurance brokers, accountants, and employers take advantage of new defined contribution health benefits via its proprietary SaaS health reimbursement arrangement (HRA) software. Zane Benefits does not sell insurance. Using Zane's platform, insurance professionals and accountants offer their clients a custom defined contribution plan. Learn more at www.zanebenefits.com.