New Buying Guide Helps Small and Medium-Sized Businesses Evaluate Defined Contribution Healthcare Providers
Zane Benefits, the online alternative to group health insurance, announced today the publication of a free eBook "Defined Contribution Buying Guide." The new buying guide outlines how businesses can evaluate the defined contribution healthcare providers.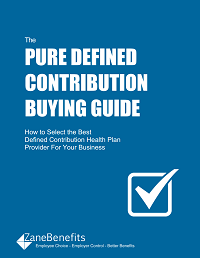 Defined contribution health plans are a new alternative to employer-sponsored group health insurance plans. Rather than paying the costs to provide a specific group health plan benefit (a "defined benefit"), employers can fix their costs on a monthly basis by establishing a defined contribution health plan.
With a defined contribution health plan, both the business and employees save money.
The business gives each employee a fixed dollar amount (a "defined contribution") that the employees choose how to spend.

Employees purchase their own individual policy directly from a health insurance company of their choice (typically, this saves the employee 25-50%).

Employees use their defined contribution to reimburse themselves for their individual health insurance costs or other medical expenses such as doctor visits and prescription drugs.

The business fixes all costs and has complete control of the plan.
Small and medium-sized business owners, non-profits, CEOs, CFOs, HR professionals and accountants should download this buying guide to learn how to evaluate defined contribution health plan providers.
The 15-page buying guide is available for free download at the zanebenefits.com website and covers the following topics:
How defined contribution health plans work

Why and how to use Defined Contribution Software

How to compare features with Defined Contribution Software

Questions to ask when researching providers

Your role in administering a defined contribution health plan
About Zane Benefits, Inc.
Zane Benefits, Inc., a software company, helps insurance brokers, accountants, and employers take advantage of new defined contribution health benefits via its proprietary SaaS health reimbursement arrangement (HRA) software. Zane Benefits does not sell insurance. Using Zane's platform, insurance professionals and accountants offer their clients a custom defined contribution plan. Learn more at www.zanebenefits.com.