Chamber Insurance Trust partners with Zane Benefits to offer defined contribution and private health exchange solution to chambers of commerce
Zane Benefits, today announced an exclusive partnership with Chamber Insurance Trust (CIT) to offer Connecticut Chambers of Commerce defined contribution solutions with new private health exchange technology. The goal of the program is to provide local chambers with an affordable health insurance solution to offer to members.

"The Chamber defined contribution program is a reasonable approach for businesses with limited dollars to allocate and provide quality health insurance to their employees. The program is a private solution for the rising cost of healthcare and is a win-win for all parties", said Stephen Glick, President & Administrator of the Chamber Insurance Trust.
Under the program, Chamber members give each employee a fixed dollar amount (a "defined contribution"), which the employees choose how to spend. Employees then use their defined contribution to reimburse themselves for out-of-pocket health insurance costs or other medical expenses 100% tax-free. Employees will be able to choose unique individual Aetna products designed specifically for chamber members.
Stephen Glick continues to state, "We are proud to join with Zane Benefits to provide the chamber members an exclusive solution. What makes this program unique is that once an employer determines the defined contributions, the employees work with the Chamber member broker to select an individualized Aetna health plan."
The employer's role is limited to reimbursing employees using their existing payroll system, which typically takes less than 3-5 minutes per month.
"The primary reason most small businesses do not offer health benefits is due to lack of awareness – they simply do not know this new defined contribution concept exists," says Rick Lindquist, President of Zane Benefits. "Our partnership with CIT will help chamber partners drive membership value through education, discounts and special offerings."
Overview of the Private Health Exchange market
Small employers are increasingly canceling group health benefits for 2012. Approximately 50% of U.S. small businesses with less than 50 employees do not offer group health insurance to their employees. This figure is expected to increase in 2012 due to:
1. Employer Contribution Requirements – Insurance companies require a minimum percentage of the premium for each employee that must be paid by the employer, or the entire plan is cancelled.
2. Employee Participation Requirements – Insurance companies require a minimum percentage of employees join the group plan, or the entire plan is cancelled.
3. Cost per Participant – Group health plans for 2012 are facing the greatest increase in the history of U.S. health benefits, due to increasing health care costs and new coverage requirements imposed by ACA (Health Care Reform).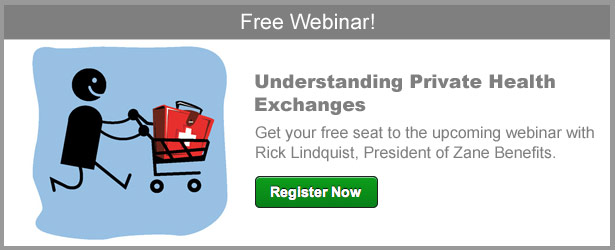 The CIT-Zane solution directly address each of these issues
With the CT Chambers of Commerce Private Health Exchange, there is:
1. No Employer Contribution Requirement – The business sets a fixed dollar amount that it wishes to contribute to each class of employee.
2. No Employee Participation Requirement – The business sets its own eligibility and participation requirements. The plan can be active even if only 1 employee participates.
3. Lower Cost Per Participant – Aetna Individual health policies typically cost half the cost of equivalent group coverage for healthy employees, and new options, such as PCIP, are now available for employees who don't qualify due to pre-existing medical conditions.
Chamber members will also receive access to Aetna's industry-leading individual health and voluntary plans, as well as other Aetna resources specifically designed for small businesses:
The Connecticut Chambers of Commerce Private Health Exchange is being sold by local agents who are also Chamber of Commerce members. Chamber members from any Connecticut Chamber of Commerce can receive free defined contribution health benefits assessment for their business by calling the Chamber Insurance Trust at 1-800-953-4467 or visiting www.cit.zanehra.com.
About Chamber Insurance Trust
Chamber Insurance Trust (CIT) of Connecticut and Chamber Insurance Program (CIP) of Massachusetts is a voluntary alliance of participating Chambers of Commerce across Connecticut and Massachusetts. Created to bring the combined buying power of thousands of Chamber members, CIT's complete range of insurance options offer small, mid-sized and large businesses competitively priced benefit packages. From its inception in 1992, CIT serves more than 8,000 businesses from the Chambers of Commerce in Connecticut and Massachusetts.
About Zane Benefits
Zane Benefits, Inc, a software company, helps insurance brokers, accountants, and employers take advantage of new defined contribution health benefits and private exchanges via its proprietary SaaS online health benefits software. Zane Benefits does not sell insurance. Using Zane's platform, insurance professionals and accountants offer their clients a defined contribution health plan with multiple individual health insurance options via a private health exchange of their choice. Learn more at www.zanebenefits.com.
About Aetna
Aetna is one of the nation's leading diversified health care benefits companies, serving approximately 36.4 million people with information and resources to help them make better informed decisions about their health care. Aetna offers a broad range of traditional, voluntary and consumer-directed health insurance products and related services, including medical, pharmacy, dental, behavioral health, group life and disability plans, medical management capabilities, health care management services for Medicaid plans and health information exchange technology services. Our customers include employer groups, individuals, college students, part-time and hourly workers, health plans, health care providers, governmental units, government-sponsored plans, labor groups and expatriates. For more information, see www.aetna.com.