As an optometrist and owner of your own vision clinic, you work hard -- you're dedicated and passionate about what you do and the people you serve. You have little to no time to waste and are always looking for ways to make your employees and patients happy. Having said that, group health insurance is taking up your time and money,and because of this, many vision clinics are switching to individual health insurance to cut down on costs and save time.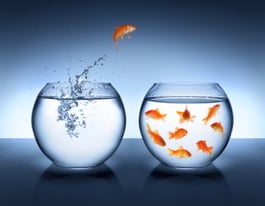 In fact, by switching your vision clinic health insurance to individual health insurance, you'll save 20 to 60 percent on premium costs, but that's only part of it. Here's why vision clinics are switching to individual health insurance and saving money and time.
Individual Health Insurance Makes Employees Happy
Happy employees naturally lead to happy patients for your vision clinic -- and providing a way for your employees to get good health insurance is one great way to make them happy.
How will individual health insurance make your employees happy? Individual health insurance offers you and your employees plans that are equal to, and in many cases better than, group health insurance. So you can feel peace of mind knowing your employees are taken care of. Additionally, you'll save a great deal of money, too. For example, individual health insurance costs about half the price (pre-subsidy) and about one-quarter the price (post-subsidy) than group health insurance.
With individual health insurance, you and your employees get to:
Pick the plan that best fits your needs, including your doctors.
Keep your individual health insurance policy for as long as you want, completely independent of your employment.
Receive a federal subsidy for, on average, about half the cost if you are a family earning less than $100,000 per year or a single person earning less than $45,000 per year.
Employees' Individual Health Insurance Premiums are Reimbursable
Individual health insurance is now better than traditional group health insurance because it is less expensive, enables choice, and stays with employees if they switch jobs. These advantages have prompted many vision clinics to transition employees to individual health insurance and reimburse employees for all, or a portion, of their health insurance premium.
To learn more about vision clinic health insurance reimbursement, download this free guide.
For vision clinics, individual health insurance is becoming the way for you to offer health benefits to employees. As you take a closer look at whether or not you want to adopt individual health insurance for your clinic, think how it can benefit you and your employees. With it, you can retain and recruit the top talent you need to become the best in your industry. Plus, your employees will be happier with a health insurance plan that fits their needs and is affordable.
Individual Health Insurance Gives You Back Your Valuable Time
With individual health insurance, you don't have to spend time trying to figure out the numerous details of health insurance. In fact, as your vision clinic transitions to individual health insurance, your employees pick their own plans on the state's Health Insurance Marketplace, from a broker, or directly from an insurance company.
Furthermore, if you choose to offer premium reimbursement to your employees, it can take as little as five minutes per month to manage their premium reimbursements. As such, the time you would have spent on understanding and dealing with group health can now be spent on the core of your business - your patients and employees.
What do you think about individual health insurance as a health insurance solution for your vision clinic? Comment below and join the discussion.